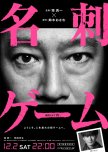 Important note : this drama is definitely NOT   for teens or UNDER 18 VIEWERS  , since it has few disturbing  scenes, which made me sad seeing them and since its a adult theme drama so, u should expect that much at least.... haha
Theme :  this will be a serious /dark theme drama about VARIETY SHOW industries , which is was and  quite interesting to watch also , there are some truth also shown in this drama like,  how idols/ celebrities do the things no matter what it takes to survive in the industry, even if its against their don't like to do it.
they focused the character of a producer and the people around him  , since  a producer plays a very important role the entertainment industry .
episode 1 and 2 was interesting to watch , as they revealing the secrets one by one
episode 3 was also going pretty good, BUT  then the ending scene though ...i got goosebumps hahaha #TWIST .
episode 4 : this episode was bring all the pieces together from last 3 episodes( obviously,since its the last episode LOL )
and the biggest highlight was the ending , i was DUMBFOUNDED , i got confused for a bit, but it was worth watching .#GRAND TWIST
MY  THOUGHTS : i don't know whether i should like this drama or hate it but i think i liked it..lol idk....guys what do u guys think about this drama ?
Was this review helpful to you?