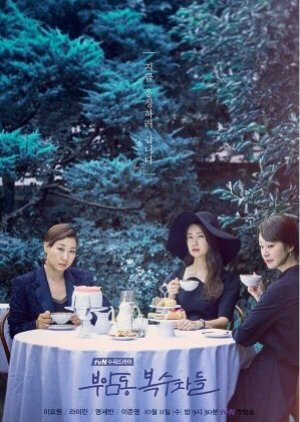 Who says women can't be friends?

At a time where bromance are portrayed desirably in dramas and films, this 12-episode drama, whose main characters are ahjummas who originally banded together towards a common goal and soon found lifelong friendship in each other, is such a rarity. Hell, even in reality, sisterhood is a rare find.

Put aside the extremities of their economic status, these actresses are playing real, complicated, women. Middle-aged women who have not known any other life than being a mother or a housewife. Women who has been subjected to mistreatment so frequently, they accepted it as fate. Almost. Because they've learned to say enough is enough.

But, you ask, and understandably so, what can these ahjummas do to change their fate?

Well, you know what they say, hell hath no fury like a woman scorned. But no need to be that dramatic - of course, it should be done within legal boundaries, and, of course, without anyone being hurt. So, really, this is not your typical story of witches whose vindictive machinations were summoned when pushed to the brink. This is an adorable, heartwarming tale of ahjummas who met under not-so-funny circumstances and who only wanted to have revenge on people who constantly belittles them without breaking the social strata but, with the help of a 19-yr old boy, learned how to value themselves and see their own worth. And, in the process, have found not only friendship but family in each other.

And what better poetic justice than that?
Was this review helpful to you?