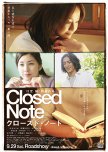 This review may contain spoilers
I've never written in my diary for quite some time now but after watching this movie I felt compelled to write in it again. This movie reminds me how beautiful letters are, how feelings and thoughts became tangible once put into paper, never lost. The story tells you of lost love, interweaving fates, and UFO (Yes, you didn't read that wrong ;)). It's a unique, peaceful, well-designed "slice of life" story.
And an amazing storytelling style - an aspect I scrutinize the most when I'm rating a drama. Watching this movie feels like reading a book in the first-persona view. It feels like I'm actually Kae Horii - I see what she sees, hear what she hears, and feel what she feels. And because the story was told in a view solely hers, I'm clueless just as she is about what the other characters actually feel. And for that same reason, I am able to know Mano Ibuki's feeling firsthand through the diary. In a word, I'm seeing Mano through Kae's eyes, if that makes any sense. And both are being played by outstanding actresses - believability, it appears, are both their strong point. Not to forget the quirky but intelligent use of Kae's fave blockbuster actor as... sigh...I have to stop right now or else I'll pay no heed to that bold red no-spoiler warning sign.
Beautifully told, I tell you. However, it's not perfect. The first half is slow-paced (but these I don't mind, it help builds up the character), there are few scenes that I think unnecessary, side characters I kept wondering why they're introduced in the first place, having no chemistry between the protagonists, and moments that should be accompanied by mellow music rather than nothing (though I suspect it's due to the fact that the director wants the movie to be as close to real life as possible which generally is a success).
Nevertheless, amidst its imperfections, it is still a meaningful movie; and that's all it takes for a movie to be worth a watch.
Was this review helpful to you?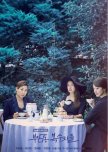 Who says women can't be friends?
At a time where bromance are portrayed desirably in dramas and films, this 12-episode drama, whose main characters are ahjummas who originally banded together towards a common goal and soon found lifelong friendship in each other, is such a rarity. Hell, even in reality, sisterhood is a rare find.
Put aside the extremities of their economic status, these actresses are playing real, complicated, women. Middle-aged women who have not known any other life than being a mother or a housewife. Women who has been subjected to mistreatment so frequently, they accepted it as fate. Almost. Because they've learned to say enough is enough.
But, you ask, and understandably so, what can these ahjummas do to change their fate?
Well, you know what they say, hell hath no fury like a woman scorned. But no need to be that dramatic - of course, it should be done within legal boundaries, and, of course, without anyone being hurt. So, really, this is not your typical story of witches whose vindictive machinations were summoned when pushed to the brink. This is an adorable, heartwarming tale of ahjummas who met under not-so-funny circumstances and who only wanted to have revenge on people who constantly belittles them without breaking the social strata but, with the help of a 19-yr old boy, learned how to value themselves and see their own worth. And, in the process, have found not only friendship but family in each other.
And what better poetic justice than that?
Was this review helpful to you?