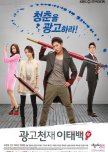 This was a drama that I thought was okay, I ended up skipping over a lot. It is the first drama in which I have suffered from second-male lead syndrome.
Here it's not that the second male lead just stood by and watched either, he was straight-forward and acted on his feelings honestly from the beginning - it was the first male lead that took the longest time to say anything. That was a nice change, but the ending I think was what made me rate this drama lower that what it really could have and deserved to have been.
I think it suffered from an overall cliché storyline. I kind of knew exactly what was going to happen, even though there was ample opportunity to amp it up. I don't think it needed to be too much - the simple underdog storyline was nice, but personally I wished they hadn't played into the love triangle too much, or made it so serious towards the end.
They turned Addie/Eddie (Who happened to be my favourite character in this drama) into a shell of his former self. I enjoyed the fact that he was ambitious enough to aim for a higher job so that he wouldn't have to do 'bad' things any more, or make up an ad he didn't agree with - but in essence had to in order to get anywhere in the industry.
In contrast to that, we see Lee Tae Baek, who is the underdog and works really hard. I liked his character, his kindness was endearing and it was a nice change from the typical jerky leading man.
In that sense, I think Addie/Eddie was more realistic in terms of a character, I don't think you can go through life always doing 'the right thing' and then eventually succeeding. I think that in some cases some means justify an end - and in this case, doing something bad for the sake of a better future on the whole may work out well, which was the original intention for the character.
I really liked Baek Ji Yoon, she was straight-forward and not wishy-washy with her feelings from the beginning, however again towards the end I think her just going along with everything, it didn't suit her character and all it did was make me sympathise more with the second male lead - when I should have been rooting for the first male lead.
I believe the acting was pretty good all-round, nothing outstanding, but then again the story didn't call for extremes with emotions.
In terms of chemistry, my personal belief is that Addie/Eddie and Baek Ji Yoon had the best chemistry pairing wise - especially romantically, but I won't deny that Lee Tae Baek and Ji Yoon also had some sparks.
Overall an okay drama, I wouldn't re-watch again but it's okay on first watch. It has heart and warmth, but I still think there was something missing to make it really spectacular.
Was this review helpful to you?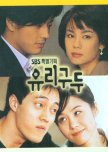 This drama was good, but frustrating in terms of the story and some of the characters.
The writing was the biggest issue I had, while being sometimes riveting there was too much back and forth, not a lot explained, wishy-washy feelings and just not enough clarity.
There were a few things touched on and left unexplained I thought - such as a certain gang leaders propensity to stare at the older sister like he couldn't believe she was really there. (There is a history there, it's quite interesting, I just wished it would have been fleshed out more.) I actually would have liked to have something romantic happen there, I think the older sister deserved it after what she had been through with the second male lead.
I thought So Ji Sub was brilliant and endearing, his character was probably the best written of the bunch and wonderfully played.
Kim Hyun Joo as the younger sister (Kim Yun Hee) was appropriately spunky in the beginning and she played her part moderately well - she and So Ji Sub had brilliant chemistry, however I began to roll my eyes at her character the minute she and second lead met. Her character had been good up until then. After that, as much as I liked Kim Hyun Joo - she couldn't really save the affection I once held for the character. I think it was more the writing than anything. As above I mention the wishy-washy feelings, this is where it is.
Kim Ji Ho as the older sister Kim Tae Hee, An okay character I felt, however she could have been so much more. Again - she was brought down by the writing in the latter part of the story, but she did have some stronger moments, more-so I think than Kim Hyun Joo. As above, I wished they had used that history I mentioned above and done something more for her, in the end she was more of a weak fourth wheel for the main love triangle and TBQH I think she deserved more.
Han Jae Suk as Jang Jae Hyul, it doesn't help my review in that I never cared for his character to begin with... I didn't really get him to be honest, there was no sincerity there for me (as a character) I just don't understand how he managed to have two girls (smart as they are meant to be) under his spell.
On the whole, I think there were parts that could have been done better, I liked the story - it kept me to my seat in general and I only fast-forwarded through a few bits.
Was this review helpful to you?