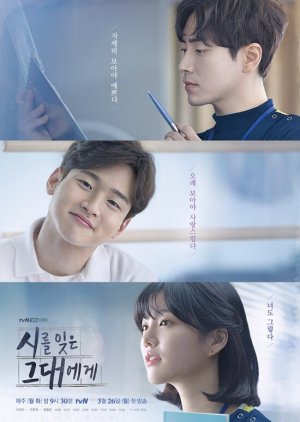 'the pain can also become a path'.

have you ever watched a drama that makes you so happy that you want to become a better person? 'a poem a day' felt like home to me. it made me feel like i really belong somewhere.

story:
the story was nothing that... impressive? at least at first sight. there is no much drama, pressure, it doesn't make you nervous about what will happen next. but it gives you a warm feeling, it makes you happy. it was interesting for me, although i have no interest in physiotherapy.
the romance between je wook and bo young was one of the most beautiful romantic stories i've ever seen in kdramas. i know, i've read in many comments, a lot of people find it boring, too 'formal', but no, it was just real. they were one normal couple. they loved each others, they supported each other, there were hugs and kisses, so i didn't really understand why some people thought that their relationship was unnatural. it just felt real.
another thing i have to mention is the patients stories. i cried my eyes out, they just felt too real.
i really liked the poems. they were so beautiful and they perfectly matched with the story.
but i was slightly disappointed in the end, i think some things should have happend but this doesn't change the fact that the story is good.

characters:
woo bo young - oh, our beautiful female lead. she was just a good person, she was trying to do her job right and to help the patients to recover. she truly cared about them. the thing i liked the most in her it's that she wasn't trying to hide her sensitivity. bo young was a strong female lead in one word.

ye je wook - i haven't seen a person who likes giving advices as much as him lol. he seemed cold in the beginning but after that you can see what a warm person he actually is. he treated everyone with respect and he was always telling what he thinks, he was honest with himself and with the others.

shin min ho - you either like him or you don't. personally, i like him. yes, sometimes he acted childishly, he had no sense of responsibility but at the end, he made the right decision no matter how hard it was for him. yes, he was sometimes selfish, but aren't we all like that? when we fall in love we want the person to have eyes only for us, we don't want to let him/her go. so how can we blame minho for that?

the side characters were really funny and pleasent to watch. their had their own hardships but they always found a way to endure it. i like seeing their character development, escpecially han joo yong's. i like how his friendship with dae band developed in a really good way.

acting:
the cast was completely new for me, the only actor who i knew was seo hyun chul.
i have no much to say, the acting was perfect. there wasn't anyone whose acting seemed unnatural, they all did a great job.

music:
beautiful ost, i love all of the songs. they suited the drama really well and they made it even better.

overall:
11/10 if you ask me. i like dramas that are close to reality and 'a poem a day' was a masterpiece for me. totally recommended!

Was this review helpful to you?