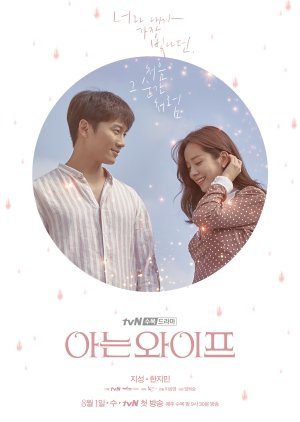 Familiar Wife deserves a solid 8, because it was just beautiful. I enjoyed every episode more or less.

I was really hyped about this drama since the plot reminded me of Go Back Couple which I loved, plus Ji Sung was the main lead. And, of course, the writer of Weightlifting Fairy KBJ. I couldn't ask for more.

However, the beginning disappointed a lot of people, because the plot seemed to be too similar to Go Back Couple and the characters were... not really likeable. But trust me, it gets better as the story progresses.

It's true that the plot is pretty similar to Go Back Couple, but there are a lot of differences. I still feel like the point of the two dramas is completely the same, but it is showed in a different way. Familiar Wife is more dark-themed, it felt too realistic although it's a time-travel fantasy.
I can say that the story developed well - the relationship between the main leads and the other characters was progressing with every episode. Ji Sung and Han Ji Min had good chemistry, I truly believed that they loved each other.
I didn't like the last episodes though (except for the ending). The plot felt too dragged, as if the writer was asking herself''So... what now?'' There was toooo much time-travel that it became confusing and sometimes boring. But the ending was beautiful and touching, I loved it. It was written well.
Yang Hee Sung is really good at writing characters, I admit. Maybe the thing I loved the most in this drama is how realistic all the characters looked. I mean, none of them was perfect. They all had their own negative sides, they all made mistakes and they regretted them. Especially Joo Hyuk, I've seen a lot of negative comments about his character, but the truth is that he was just a human being.

The acting was brilliant. Ji Sung never disappoints and Han Ji Min pulled off her role as well. Kang Han Na is really good at portaying this kind of characters, she deserves more.

Familiar Wife teaches you how important is to talk and listen. It proves that we should speak out our thoughts and problems. Because communication is important not just in marriage, but also in any kind of relationships. So if you are looking for something light and romantic that will make you think about a lot of things, then watch this. You won't waste you time, trust me.
Was this review helpful to you?