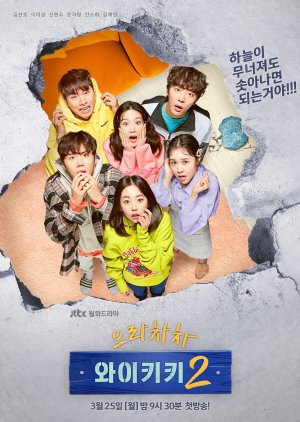 Firstly, I will not compare the two seasons in this review. And in case you are wondering - there's no need to watch the first season and then start the second, they are not connected. Of course both seasons are good so you can watch both, why not.

I am a person who doesn't laugh easily at dramas. It's very hard for a drama to make me cry from laughter, but Eulachacha Waikiki 2 somehow managed to do it. The comedy element in this is perfect, the screenwriter has a sense of humour, he did a brilliat job with the script.

Of course what makes Eulachacha Waikiki 2 so special are all the characters. Each of them has it's own charm and you can comfortaby connect with their personalities. I could easily relate to their life struggles-- actually, everyone can relate to them, because the problems they all went through are so familiar to every one of us - giving up on your dreams, not being able to do what you love the most, money, friendship, dating etc etc. Seeing them suffereing makes you feel sad and you can can't help but love them even more. Despite being a sitcom, Waikiki 2 adds some depth to the plotline which makes it meaningful. It's not just focusing on comedy and I loved that the most. It's not there just to make you laugh, but also think and feel.

We have three couples here and my favourite is Ki Bong and Yoo Ri. At first I didn't like Yoo Ri at all, she seemed too selfish and impudent, but as the story progressed, I fell in love with her and she became my favourite character. I believe they are the perfect match with Ki Bong and their interractions always made me so happy. I didn't care that much about the other two couples, I don't really know why. I liked Jun Ki and Jung Eun as friends, but nothing more. Jun Ki was legendary here (as always) and I didn't want to see him in a romantic relationship, I wanted the story to focus only on his character and his struggles because he has the funniest personallity. I think I liked Woo Shik and So Yeon the least - their story is the reason why I'm not giving the highest possible rating. I feel like they dragged the plot too much and it became a little boring. But at least we have the friendship between Woo Shik, Jun Ki and Ki Bong.

All the actors/actresses did a great job. But, of course, kudos to Lee Yi Kyung - this man is born to play in comedy dramas. His expressions were the funniest! It was also nice seeing Kim Ye Won playing different kind of role.

Overall, Waikiki 2 is a good watch. I hope you give it a try because it will make you happy for sure.
Was this review helpful to you?