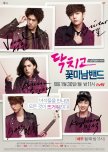 The story isnt THAT original,since we know the stories of some legendary bands,like the Beatles,Queens etc.
But the thing is,this is a kdrama version,plus this actors are super hot.And the story is put in a very interesting way.
The cast is surprisingly very well put.I mean they all have their own function,there are 2 love lines,and 2 possible love triangles,and there is humor,friendship and rivalry between the "genius" composer guy and the boys of the Eye Candy.
I dont think you will get bored in this drama because every episode shows a different development in the music career of the boys,so the story doesnt drag around but continues in a very fast pace.
For me,this drama which airs at the same time as the DR 2 has more of a priority,since this one is more interesting,realistic and tbh THE ACTING in comparison is much better.
This boys are new to acting,they arent very seasoned like Hyunbin or Won bin but I hope you can give them a chance since I think they are doing a very good job till now :)
Was this review helpful to you?