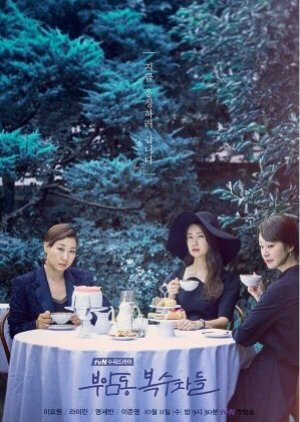 It's always something when strong women take over your screen, and it's happening a lot nowadays. What makes Avenger's Social Club stand apart is the fact that it focuses on strong women who are not 20-somethings trying to take on the world. Instead, it puts well-established women in the spotlight as if to say, damn it, we can change the world too.

Some might argue this, and that's fine, but as I watched ASC, I admired what I felt was a tightly-written narrative about three women who decided to take a stand in a world that would otherwise tell them to sit down, shut up, keep up appearances, and melt in with the masses. Thus, while ASG is a comedy (and it is incredibly funny), it is also a wonderful social commentary about sticking one's head out, taking a risk, and bringing down corruption.

I can't say enough about the cast, in particular, our three women protagonists, played by Lee Yo Won, Ra Mi Ran, and Myung Se Bin. Their sisterly chemistry is off the charts, and it truly shows in how they interact with each other despite being from different backgrounds. In fact, that might be one of my favorite aspects of this ensemble--the fact that three women of three distinct backgrounds were able (in drama transcript) to rally together. It's something not often seen in dramas. Lee Yo Won as Kim Jung Hye is incredible; one might find her a slight bit rough around the edges at first, but later, she shows amazing gusto with effortless poise. Ra Mi Ran is great as the neighborhood ahjumma with great charisma and an even greater heart; her bond with the two younger women is beautiful. Myung Se Bin does well with her character as well, and her observable growth in the show is great.

Revenge is sweet, of course, and is always better when accompanied by nice background music that adds details to every plan and playful mischievousness to every new revenge-filled  venture. In this, the ASC OST shined.

I'm definitely going to watch this again, even if it's just to hear Jung Hye say, "You son of a b****~" once again.
Was this review helpful to you?