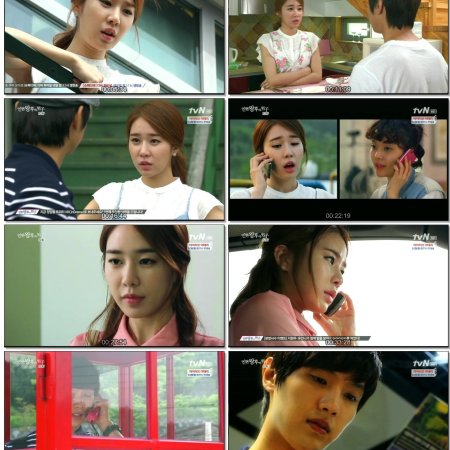 Queen In Hyun's Man Episode 12
---
---
Boong Do and Hee Jin go on a date. She pretends to throw the talisman into a fire, which annoys Boong Do. They had to cut the date short because Hee Jin receives a call. Dong Min is in the hospital.
Queen In Hyun's Man Recent Discussions
Reactions
I like that Boong Don feels torn between the two worlds. It's realistic. Jesoen is all he knows and aside from Hui Jin he has no one in the modern world. It would weigh heavily on me too. I'm extremely ... extremely glad though that he decided to stay. He and Hui Jin should not be a part!
Having said that I can't rest easy! I have a premonition that something bad's about to happen. I don't like it at all!
Was this review helpful to you?
That Han Dong Min sure is a real piece of work! He's got the narcissistic playboy actor made ... now all I want to do is swat him away like the nuisance fly he is! This guy is soooo breathtakingly annoying. Man....!
Since the beginning, we can see a cute couple in love: he acts jealous and protective, all she can see is him.
As we see how far the couple gets to progress in an isolated environment, we can also feel that something bad is bound to happen (too much happiness in a drama = it's either the last episode or something atrocious is coming up next).
Honestly speaking you can't blame him for being indecisive, Joseon is home. On the other side, you are rooting for a blooming love in the present time (and who cares about Joseon..)...and he when does exactly what you wish for...
Was this review helpful to you?
I think I'm not going to watch another episode, until they are ALL subbed.
Was this review helpful to you?
Gosh... do they learn how to melt every woman's heart in that damn Sungkyunkwan? What is that BoongDo doing to me?????
Was this review helpful to you?
love this episode. as for oppa he dump women left and right but when hee jin tell him to break up hilarious! well onward to the next episode please!!! :)
I'm just a bit worried about the next episode - the preview made me worry. But I'm just thinking that something ultimately bad can't happen, right?
Was this review helpful to you?
Another cute episode. Riding with bike together was totally cute and the phone booth too.
Was this review helpful to you?
You want to see cuteness done right with some downright fantastic KISSES, this is the episode! We get to see the final leg of the relationship developed in spades! We saw glimpses in previous episodes but if you were not convinced how much the OTP cared for each, no worries. Besides the scary planning of the General in the background, what is even more scary is Dong Min's volatile behavior! Talk about do what I say not as I do mentality! If people continue to think he is cute, so be it! I thought the water spraying and pillow throwing showed just how immature he is. And his ultimatum?! He gets no brownie points from me! But why, Hee Jin, did you just take it! After spray #4, I would have been out of there so fast, lightening couldn't have caught me!
I feel like having an overdose of cuteness and romance!!!
the phone booth scene is just WOW!!!
favourite couple EVER!
Was this review helpful to you?
subs are not out yet but of course I watched this ep without understanding more than 10% of what they were saying but still loved it sooooooooo much!!!
Was this review helpful to you?
This episode had lots of little cute moments along with plenty of plot development. (Some of those developments have me worried... Nobody better die!) I think it was just barely not quite as good as the last episode (I don't know how they're going to top that KISS), but I'm still really enjoying it. Can't wait to see what happens next!
Was this review helpful to you?
I really dont know where this story is going and I LOVE IT! The date they had was just the cutest. I am going to die from sweetness overload! But I got a really bad feeling when Boong Do got annoyed at Hee Jin when he thought she threw away the talisman. This couple should never feel anything other than happiness. The telephone box scene was so touching...Dying to know what will happen in the next episode!! It's driving me insane...