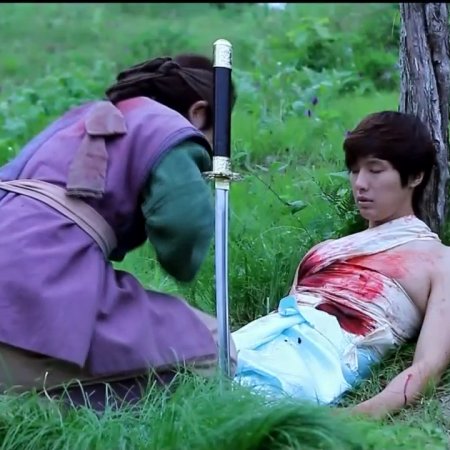 Queen In Hyun's Man Episode 13
---
---
Back in the Joseon era, Boong Do is openly attacked in the middle day in the busy market streets. The talisman both saves and condemns him by making him disappear in front of everyone and taking him to modern day Seoul. This new turn of events changes history once again.
Queen In Hyun's Man Recent Discussions
Reactions
The phone call between Boong Do and Hue Jin was damn heartbreaking. I really felt her desperation to save him, unfortunately the guy is just too sharp for her to outsmart. I think she should have rushed to the house then since she knows what will become of him when he goes back.
If you know this is the last time you'll see the person you love wouldn't you go to him before he goes to his death? Grrr!! It's these little things that get me annoyed with Asian dramas. Their characters are so real, and yet writers & directors still have do them shit that defy logic. #smdh
Was this review helpful to you?
This episode is driving me crazy. Kim Boong Do is too damn smart for his own good! Does he really believe he can save his entire village?! For a smart man he's acting extraordinarily dense. I don't like where this is headed! Don't like it at all. There'd better be a good spin on this or I'mma freakin' blow a gasket, I swear.
Anyways, it was a the saddest episode yet and I'm afraid it will get worse..
I totally freaked out as I heard Hee Jin lying.. I thought it would ruin their relationship or something.. But I'm glad Bong Gu understood and I understand her too.. completely.. I might have done the same thing.
I wasn't smart enough to think what might happen if she burnt it... :D .. so I would have caused a catastrophy. :D
Anyways, I still love this drama, because the last episodes are expected to be thrilling and a bit sad. :)
Was this review helpful to you?
There must be a meaning why he gor hurt while transferring to modern days.. there might not be many chances for him to return anymore ?
I wanted to shake him when he was looking for the talisman in her aparment. "They are all dead anyway!!!! 300 years have passed remember?!?!?" But....*sigh* you have to both want to smack and admire a man with that sense of honor.
I cried when she cried while telling him not to leave. And I didn't mind her crying since Hee Jin only cries when she needs to...just at the right moments.
Was this review helpful to you?
This episode was so heartbreaking. She tried to lie to him, she really tried, but even I could tell she was lying and of course Boong Do knew she was lying. But I completely understand why she lied.
and hee jin was trying to protect him by saying that he disappeared cause if she told him the truth and said well the queen's mother died and the queen was beheaded he would have left her right then and there
great drama only 3 more episode to go!!
Was this review helpful to you?
kim boong do you cant save them all. he is a perfectionist which can be a bad thing cause look what happen to the queen. she got beheaded cause the king thought that boong do and the queen had an affair and the queen's mother died cause whoever killed her was dressing like boong do. so i guess the talisman is starting to become a curse now (my opinion).
HeeJin's lie was so obvious but so welcome in my opinion... Now I'm thinking WHY the hell he has to be so smart...isshh, sometimes it's not welcome...
And he guessed that she couldn't have burnt the amulet... aiii... Kim Boong Du, I'm on the verge of pulling my hair out...
And their phone conversation at the end... HeeJin's trembling voice asking him not to leave... brought tears to my eyes... Yaa, Kim BoongDu, do you think you're the Superman??? Just live your short life happily, why do you have to be so damn perfect? Do you think you're almighty??? T_T
P.S. Is it only me, or everyone who has gone through K2H therapy, every time hearing the word 'Chunya' imagines JaeHa's diary starting the record? :P
Was this review helpful to you?
Aiiiish, Kim BoongDu, you loyal idiot!!! Kajima!!!!