Details
Last Online: 6 minutes ago
Gender: Female
Location: USA
Total Edits: 1,026
Birthday: July 23
Roles:

VIP

Join Date: January 20, 2012

NewKDramaAddict
USA
NewKDramaAddict
USA
Just started watching dramas Jun 2011 and now have been totally sucked into watching not only KDramas but TDramas as well as JDramas. I especially like the historicals which I tend to end up marathon watching them so I am careful about when I watch them. 
My top two favorite actors are Lee Jun Ki and So Ji Sub; closely followed by Hyun Bin; 
My favorite females are Ha Ji Wan and Moon Geum Young.  Next to sageuks, I prefer crime and medical dramas. I especially like revenge drama, I don't know why that is the case but I generally watch them but prefer to marathon them instead of watching them week to week (Equator Man was the exception). I don't really watch a lot of comedy dramas because the funnies tend to go over my head! I absolutely hate dramas that are solely about love triangles! I hate adultery dramas also. I like a good romance any day but  not the complicated ones, I tend to avoid them like the plague! I find that the romances in Taiwanese dramas are a little better even though there are exceptions to the rule.
As far as music, I listen to a vast amount of genres but K-Pop is new to me and still foreign; however, when I hear a song on a drama that sticks in my head, I will search the internet for hours for it and my iPod and iPhone is full of music from various dramas. 
Of course, I have my favorites, with K.Will being on top of that list as I am a ballad person, not really into groups.
Follow me on twitter (NewKDramaAddict), pinterest (http://pinterest.com/newkdramaaddict/). Facebook is for family so I hardly talk about dramas unless I'm a member of a group. Check out my Movie Monday reviews:http://koreandramareviews.com/. Come join us there!!
And visit me on my new (but elementary) blog at http://newkdramaaddict.wordpress.com/ (Finally somewhere to rant!!) Now on Tumblr: http://newkdramaaddict.tumblr.com
Plex Share Library Dramas/Movies: Plex List
---
My Current Favorite Drama for 2015
War of Money (Zeni No Sensou)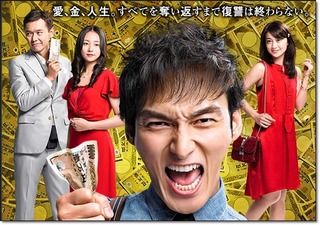 This drama was simply AWESOME!! I was so happy that I found it and downloaded it. There was never a dull moment and this was truly the first time seeing Kusanagi Tsuyoshin in the lead (I've yet to watch The Specialist). 
---
                                                My Current Favorite Drama for 2014
Zero No Shinjitsu
This drama is AWESOME! Some may expect some nonsensical romance, this is not a romance! This is a medical suspense and revenge drama. Light on the revenge and heavy on the suspense and drama!
---
My Top Favorite Drama for 2014
The King's Daughter, Su Baek Hyang,
My new drama love, Choi Ro Woon!!
What's up with weekend dramas lately and there incredibly f**ked up endings? I've sworn off watching them week to week from this day forward. Wonderful Days is the one and only one AND might be the last one if it goes the route of its predecessors!
                                                 My favorite romance for 2013!!
                                                                Ugly Alert
My New Found Craze: Webtoons!
There have been several movies that have literally taken me into reading webtoons! Even I'm amazed! It all started with watching Ore Monogatari anime. I had to see that one. Then the announcement of Cat and Dog webtoon being made into Live Action, I had to read it first. So, as a result, my explorations into the world of webtoons has begun. Currently reading and loving the following:
My Sensual M
 Don't let the subject matter fool you! This one is pure comedy! I've already started thinking of possible cast members for this one!!
Cat and Dog
There is already talks of MBC Korea making this into a drama! I hope! I hope!
My Dear Maria
Gold-digger looking for a husband in church? Rom-Com in the making!
Confession
Esthetically beautiful drawings! The possible cast would have to fit the beauty of these two! Mediocrity would be un-acceptable.
Statistics
790d 14h 9m
ALL TIME
23,337 episodes, 1,597 shows
75d 12h 57m
ALL TIME
978 movies
List Updates
Currently watching

12

/16

7 hours ago

Currently watching

23 hours ago

Currently watching

8

/16

6 days ago

Currently watching

4

/16

6 days ago