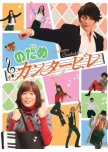 Naeil's Cantabile is the adaption of the Japanese drama(along with manga, movies and anime).

I'll always love Nodame Cantabile! One of my first dramas of all time. But in Naeil's Cantabile, there were scenes that were added that I really enjoyed.

Both are super funny, heartfelt, and musically enjoyable. The music in both are fantastic to listen to for classical music lovers everywhere.