If you're looking for new J-dramas to watch then you may be interested to know that the new season is starting soon and that a new wave of Japanese dramas will be hitting Dramaland in no time. Here's a quick peek at what's coming this Fall.
Monday Schedule: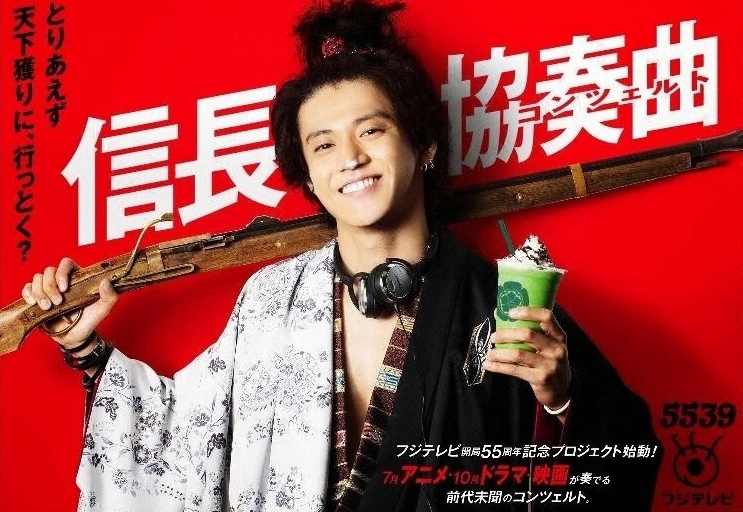 Genres: Historical, Political
Plot Summary: Saburo, an ordinary high school student, travels back in time to the Sengoku era (1549). He encounters a young lord who looks exactly like him and is told, "Be my substitute. I'm the eldest son of the Oda family, Oda Nobunaga." After the young lord leaves, Saburo is mistaken for Nobunaga by a vassal and taken to the castle. He starts to live as Oda Nobunaga from this day. The young samurai of the Oda family which is merely a minor feudal lord, set out towards the extraordinary dream of unifying the whole country through the power of Saburo. Saburo, a person from modern times who has no experience killing people, does not understand the willingness of the warlords of the Sengoku era to lay down their lives for their family. It is the same for the vassals too. They have had a hard time understanding Nobunaga's actions ever since the ill-mannered, willful Saburo took over. Despite this "generation gap across space and time", they are soon on the brink of achieving their dream.
The Interesting Side:  Oguri Shun in a time travel drama. That should be enough, right? If not, then let me add that the plot is really interesting. It's based on (some) true events about the life of one of Japan's most influential figures - Oda Nobunaga . Let's not forget Oguri's amazing co-stars in this: Yamada Takayuki, Shibasaki Kou, Fujiki Naohito, Mukai Osamu and Kaho to name a few. The anime version of the drama which is narrated by Oguri Shun himself, resumed airing recently.  The film will be the drama's sequel and is scheduled to hit theaters next year.
---
Genres: Detective, Investigation
Plot Summary: Mizusawa Sakura is the ultimate "good listener". In the morning, she hears the voices of listeners as the DJ of a small FM radio network. In the afternoon, she lends an ear to residents' complaints at the inquiry counter of Komagome Chuo Police Precinct's Community Safety Division. At night, she obtains information from regular customers at the small restaurant which her grandmother Ume, a former police woman, runs. Once a case occurs, Sakura will hide her identity and go undercover. She is actually a special investigator under the orders of "Iron Lady" Igarashi Kyoko, the chief of the police precinct. Sakura partners the hot-blooded detective Takeuchi Masato whom she frequently encounters at investigation scenes, and unlocks the mysteries of the cases.
The Interesting Side: So this is another detective drama and whether or not it will rise above the rest, is still a valid question... However, Nakama Yukie will be playing a different type of investigator. This is also one of Sato Ryuta's rare main lead roles which is worth anticipating.
---
Tuesday Schedule: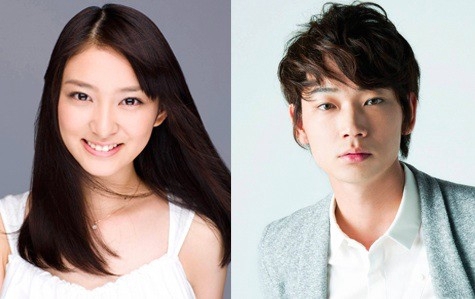 Genres: Investigation, Mystery.
Plot Summary: The brilliant invincible duo of Saikawa Kohei, a university associate professor in architecture, and his wealthy student Nishizono Moe take on bizarre locked room murders and figure out the shocking tricks.
The interesting Side:  Ayano Go and Takei Emi will be trying to solve 'locked room murders.'. It's also NOT a detective drama (as there are no police or detective figures); it's just the curiosity of a professor and his student. It sounds intriguing enough, especially with that pairing.
---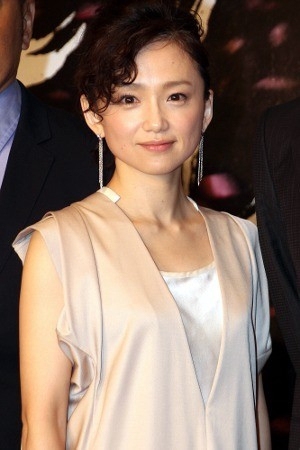 Genres: Life, Friendship, Drama
Plot Summary: In the autumn of their first year in high school, some incident spurred Tomomi and Kaoru to promise to be friends forever. However, at their present age of 41, the two of them have gone through different lives. Tomomi has built a happy family that everyone envies, while Kaoru lives for her career as a movie producer. The differences in their lifestyles have created a distance between them. The two friends meet again for the first time at a class reunion after 20-something years and return to their former closeness. However, Tomomi has one suspicion. Kaoru knows too much about her own family. Is her husband and good friend having an affair? When Tomomi gets to the bottom of the matter, an inconceivable fate awaits her and Kaoru. The two of them are at the mercy of a harsh destiny, and before long, they learn what is hidden in each other's hearts.
The Interesting Side: This NHK production sounds like an interesting dramatic take of the friendship theme between women (sismance?). It also features  Fujiki Naohito as a possible unfaithful husband. For some people this may seem like an irresistible drama.
---
Genres: Supernatural, Romance, Sci-Fi
Plot Summary: When Natsuki Aizawa was a child, she was kidnapped which left her traumatized. Natsuki grew up relying on her friend Kentaro Yuki. She now studies physics at a university. One day, she meets newly appointed professor Shuya Tatsumi. Afterwards, mysterious events continually happen around Natsuki Aizawa. Shuya is time traveller who travels between the future and the past. 
The Interesting Side: Kuroki Meisa and Gackt in a time traveling drama. Does anything more even need to be said?
---
Other Tuesday dramas:
Sutekina Sentaxi (Drama Special): Drama
Onna wa Sore o Yurusanai: Law
---
Wednesday Schedule:
Genres: Romance, Comedy
Plot Summary: Aoishi Hanae is a plain, inconspicuous office lady who has had no experience in love and no boyfriend. On her 30th birthday, she happens to end up drinking with Tanokura Yuto, a cool university student nine years her junior who is also a part-timer at her company, on the way home from a welcome party for new employees. Hanae gets drunk. When she wakes up the next morning, she finds a naked Yuto sleeping next to her. She has her first experience and first boyfriend out of the blue. Even when Hanae and Yuto go on to date, it is a daily process of trial and error because everything is a first for Hanae, including an amusement park date, a sleepover, Christmas Eve or a couple's trip. To complicate matters, she also gets a proposal from Asao Yu, the CEO of an Italian food company who is popular with women, and a love triangle develops.
The Interesting Side: Japan really doesn't cater to the Romantic Comedy crowd too much. This season, NTV decided to bring in a breath of fresh air into the usual J-dramas' schedule. The story is basically a love triangle between Ayase Haruka,  Fukushi Sota (who plays the role of a younger university student), and an older company president played by  Tamaki Hiroshi.
---
Genres: Drama, Romance
Plot Summary: Half a year has passed since Yoshinari Chinami rose to the position of editor of her dream fashion magazine First Class and saved it from closing down despite harassment in the editorial department. She has now become an up-and-coming designer in the fashion brand industry. See her transform from "everyone else but me is bad" to "everyone is bad including me".
The Interesting Side:  The first season witnessed good ratings/reviews to the point that Fuji TV decided to make a second season of it. The original cast members are reprising their roles starting with the female lead Sawajiri Erika. The production value of this season seems higher than its prequel.
---
Other Wednesday Dramas:
Shinya Shokudo Season 3: Food
Aibou Season 13: Detective, Investigation
---
Thursday Schedule:
Genres: Medical, Investigation
Plot Summary: Freelance surgeon Daimon Michiko gets embroiled in an escalating struggle for supremacy between the factions of Totei University Hospital and Saikyo University Hospital which represent Japan's east and west at the National Medical Care Centre, the most technologically advanced hospital in the country.
The interesting Side: The Doctor X series seem to be a captivating take on the medical field mixed with some investigation/mysteries. Producing another season for the third year in a row is  proof of its remarkable success amongst the lovers of the genres.
---
Genres: Slice of Life, Drama
Plot Summary: Two years after the birth of her second child, 34-year-old Yoshioka Toko is diagnosed with breast cancer. Furthermore, surgery is not possible because she is terminally ill, but the doctor is not certain of her life expectancy. Toko vows that she will not let illness get the better of her for the sake of her son and daughter and lives a positive life, but at times, she is tormented by a wave of fear and anxiety. A few days later, her husband Kenichi is also notified that he has end-stage lung cancer. Despite the short time they have left to live, the Yoshiokas still have dreams. They do not forget humour and how to be a loving family.
The Interesting Side: It's notable to mention that Japan tends to produce interesting 'Slice of Life' dramas. Those of you who want a change from the usual Korean melodramas', should definitely turn to Japanese slice of life dramas. The subject of this drama may seem rather morbid, but for fans of this genre, this may be a winner.
---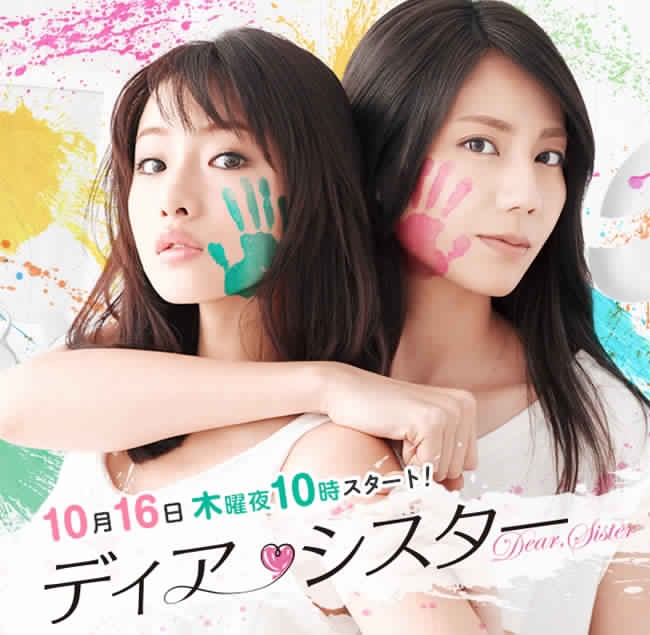 Genres: Life, Family, Drama
Plot Summary: 27-year-old Fukazawa Misaki and 29-year-old Hazuki are sisters who are polar opposites in both lifestyle and personality. Although they would hurt each other's feelings, they would also make up for each other's deficiencies. The beautiful Misaki is the typical younger sister, who is good at putting on the little girl act. She did not fare well academically, but knows how to swim with the tide. After graduating from high school, she left home and went missing. But one day, she suddenly moves into Hazuki's apartment and behaves with wild abandon. However, Misaki has a secret which she keeps to herself. Hazuki works at a ward office and has set her sights on an early marriage to her boyfriend who works in the same office. She is the well-organised, fastidious chairperson type, but is a wee bit socially awkward. Hazuki feels that Misaki snatched all their mother's love in childhood. What will happen now that Misaki has moved in with her? Hazuki actually has a secret which she cannot tell Misaki too. As these two sisters clash while living under the same roof, their values start to change little by little.
The Interesting Side: Sisterhood is a relationship that's bound to become captivating if the right plot is used for it. This seems like the perfect dark, twisted plot that may just bring out the best out of both sisters.
---
Other Thursday Dramas:
Bonkura: Investigation, Mystery
Kasouken no Onna Season 14: Medical, investigation
Binta!: Law, Comedy
---
Friday Schedule: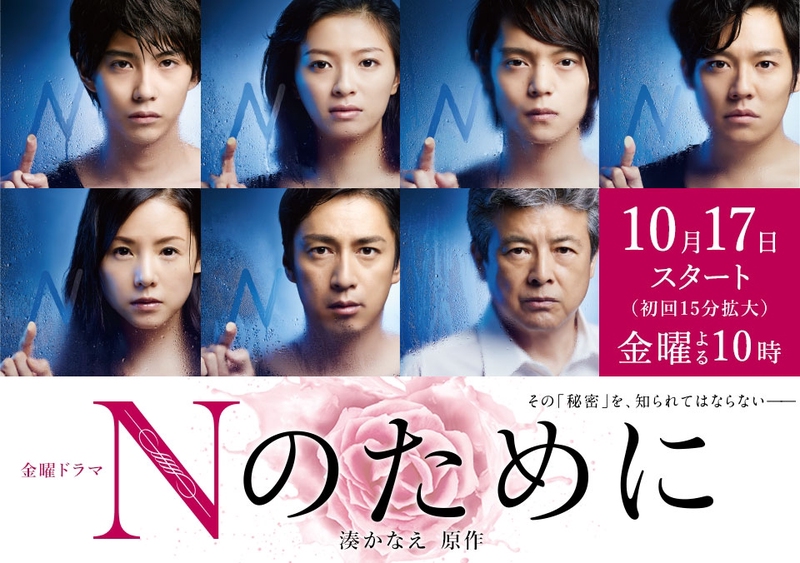 Genres: Mystery, Suspense
Plot Summary: University student Sugishita Nozomi, Naruse Shinji, Ando Nozomi and Nishizaki Masato end up coming upon the scene of the murder of the Noguchi couple, because of a plan they had devised. Nishizaki is arrested at the scene and is given a 10-year prison term because of his voluntary confession. 10 years later, Takano Shigeru, a former police officer who has misgivings about the verdict of this case, starts to pursue the truth. He is convinced that it all began as a result of an incident caused by Nozomi and Naruse on an island in the Seto Inland Sea in the summer 15 years. "They committed a crime at that time. It was for the sake of each N."
The Interesting Side: Personally, this is my most anticipated Fall drama. My reasons for it are: 1) It's a mystery drama produced by TBS, which is a great channel when it comes to serious dramas. 2) It's based on one of Minato Kanae's novel by the same title. She's the same genius novelist behind the film  Confessions and last year's Yakou Kanransha. 3) The screenwriter is Okudera Satoko, who penned last years script for Yakou Kanransha. 4) The main cast is EXTREMELY promising.  So for all of those reasons, this is definitely the one i'm looking forward to the most. 
---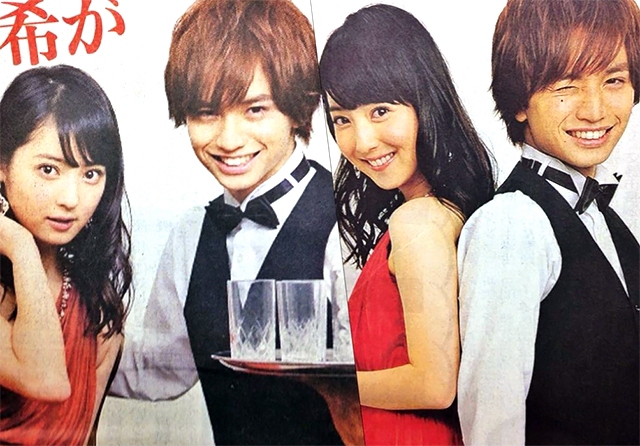 Genres: Drama, Romance
Plot Summary: Ogawa Akira is a student who has failed medical school entrance exams twice and is retaking it for a third time. His father is a doctor and his parents yearn for him to enter medical school. One day, he happens to encounter the beautiful hostess Kyoko. It is love at first sight for him. Because of this, he goes into the Ikebukuro nightclub where Kyoko is the top hostess, and starts working as a black-suited staff member. Inexperienced in the ways of the world and naive, Akira starts to learn about the harshness of living in the nightlife and begins to change.
The Interesting Side: This is a Japanese drama that may appeal to a variety of audience. The female lead, Sasaki Nozomi, is an interesting quirky actress that is a perfect fit for such a role. This also comes from the writers of  Karamazov no Kyodai, W no Higeki, Hard Nut and Roosevelt Game.
Other Friday Dramas:
Shin Keiji Yoshinaga Seiichi: Detective, Investigation
Ooka Echizen Season 2: Historical
Tatakau Onna: Drama
---
Saturday Schedule: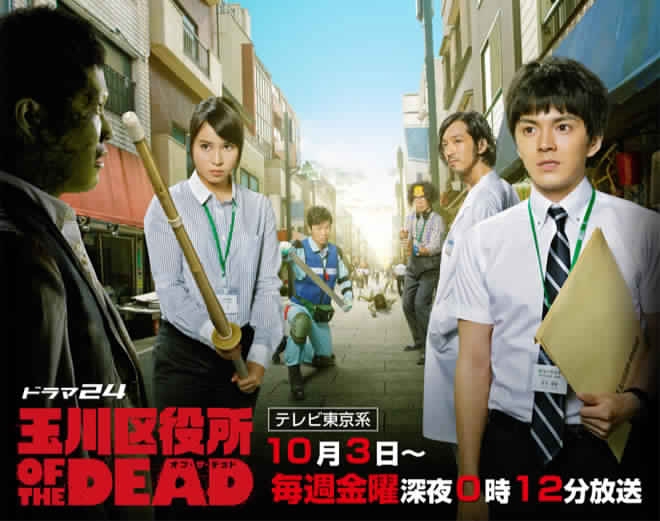 Genres: Supernatural, Zombies
Plot Summary: 16 years ago, there was an occurrence of zombies in western Mexico. They rapidly spread around the world through the transmission of a virus. The world was thrown into panic with the appearance of the first zombies, but because their movements were slow and they were also feeble, zombies were not commonly perceived to be such a threat and their existence became an everyday affair. In Tamagawa ward in Japan, there is a special welfare division where all the defective staff members from other divisions have been transferred. The primary responsibilities of this division are to manage and capture special insurance subjects (residents carrying the zombie virus or zombified residents). Akaba Shinsuke is one such staff member, but he is in no way motivated. In his 25 years, he has had no one to call girlfriend and leads an uninspiring life. However, one day, Tachibana Rin, a girl with the looks of an idol and skills of a martial artist is assigned as a rookie.
The Interesting Side:   A Zombie drama! And it's made in Japan no less. We all know that Japan usually does supernatural dramas so well. Let's not forget that Hayashi Kento is a versatile actor who's worth watching in anything. One of the scriptwriters is also the person responsible for the highly rated 2012 jdrama, Piece.
---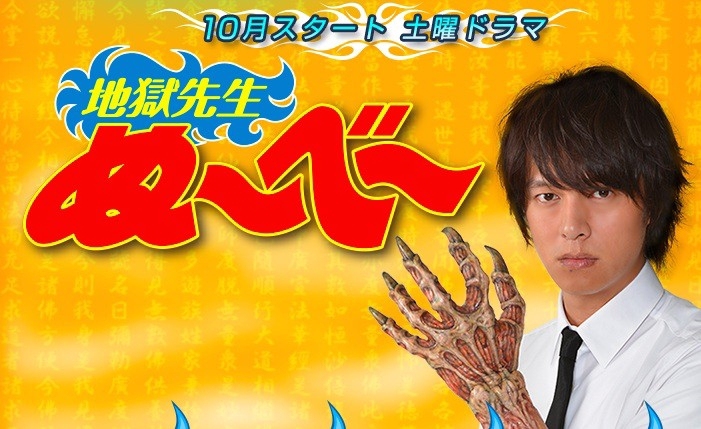 Genres: School, Supernatural
Plot Summary: Nueno Meisuke takes up a post at Domori High School. He cares very much for his students but his enthusiasm proves futile. A hopeless teacher who is clumsy, foolish and ridiculed by students. However, there is another side to him. He is the only teacher in Japan with psychic powers because of a devil dwelling in his left hand. When his students are attacked by monsters and evil spirits which take up residence in weak human hearts, he would risk his life to protect them by making use of his left hand.
The Interesting Side: A school teacher with psychic powers, isn't that captivating? I wish that one of my teachers would risk his life to protect me. So this is a very different and intriguing school drama.
---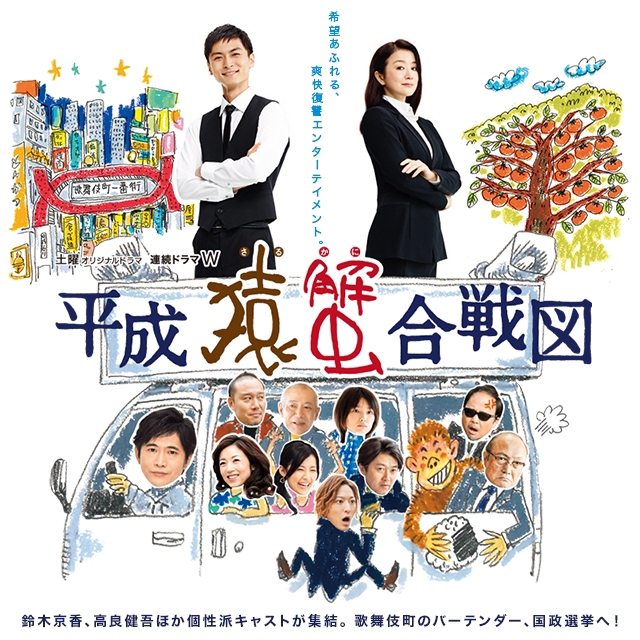 Genres: Life, Comedy
Plot Summary: A hit-and-run case occurs at Kabukicho in Tokyo. Hamamoto Junpei, a bartender who witnessed the incident, realises that the man who was arrested is a different person from the man who was at the scene. It seems that the real culprit is international cello player Minato Keiji and his older brother is taking the rap. Aiming to get rich quick, Junpei and Tomoki, the host he treats as a younger brother, decide to blackmail Minato. But Minato's manager Yuko stands in their way. Overwhelmed by her presence, Junpei readily admits defeat. On the other hand, Yuko takes interest in Junpei's character. Junpei is someone impossible to hate and loved by everyone. Soon, a huge evil which is Yuko's long time enemy shows up. Because of this unintended meeting of two people who live in different worlds, those around them get involved: Minato; Mizuki, the hostess who has come to Tokyo in pursuit of Tomoki; Miki, the proprietress of the Korean club where Junpei works; Kosaka, Miki's boyfriend and former gangster; and Tomoka, Minato's niece who is a university arts student. An uproar that will shake up Japan begins.
The Interesting Side: Although the plot description may seem a bit chaotic with all of those characters stepping in, but it seems attention-grabbing in its own way. Moreover,  Kora Kengo and Suzuki Kyoka are one of the few Japanese actors that are worth watching in anything.
---
Other Saturday Dramas:
Borderline: Action, Drama
Gugu datte Neko de Aru: Animal, Drama
---
Sunday Schedule: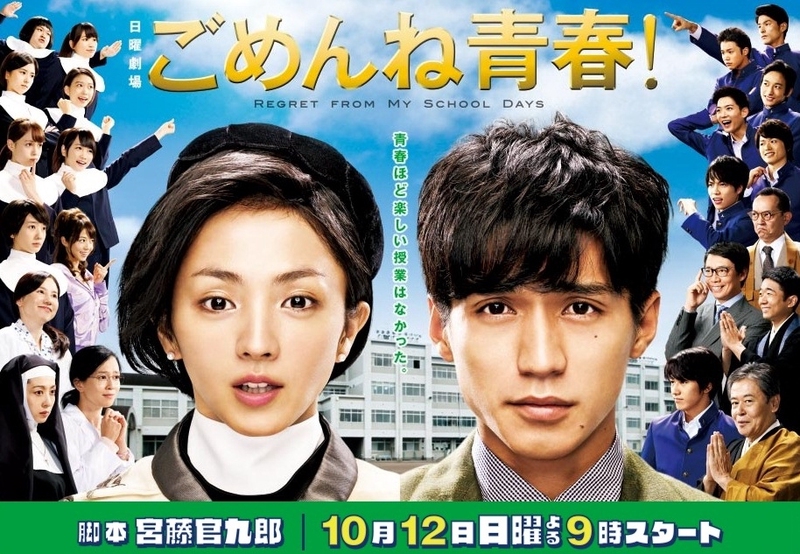 Genres: School, Youth, Comedy
Plot Summary: 31-year-old Hara Heisuke is a teacher at a high school in Shizuoka. He is like most people rather than an exceptional person. But an unfortunate accident which occurred 14 years ago ended up messing up his life. Feeling responsible, he stuck to his hometown and alma mater from then on. Meanwhile, it is decided that the boys' school where he works will be merged with a girls school in the same area because of a decline in student numbers next year. Furthermore, a joint cultural festival is to be held as a "trial event" for the merger. Heisuke dedicates himself towards the aim of making the cultural festival a success and overcomes the big fuss that occurs. His hard work finally bears fruit with the great success of the joint cultural festival.
The Interesting Side: First of all, Mitsushima Hikari is one of the most versatile remarkable young actresses in Japan today. Nishikido Ryo is another known face to many viewers. This school drama doesn't contain a unique plot, but the premise itself is definitely something to wait for.
---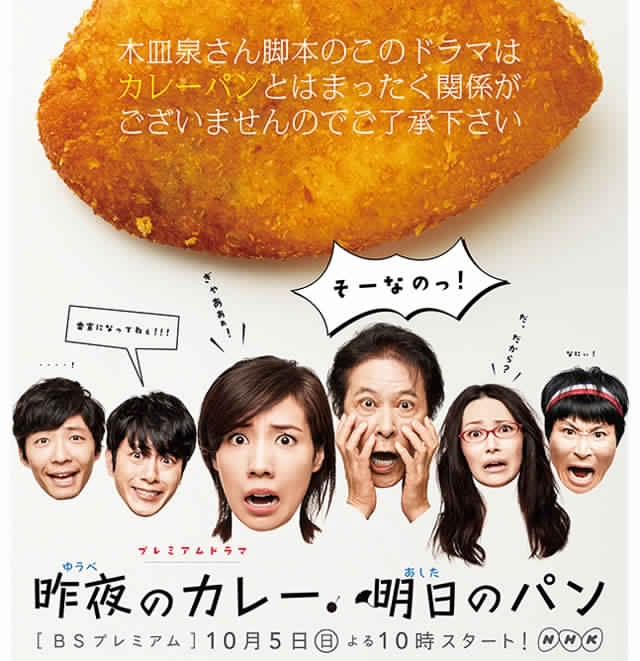 Genres: Life, Family, Drama
Plot Summary: Seven years ago, Terayama Kazuki died of cancer at the young age of 25, leaving behind his wife Tetsuko and father Rentaro. They live together and are a family, but theirs is a delicate relationship of daughter-in-law and father-in-law with no blood ties. Through the intriguing people Tetsuko comes into contact with who were linked by fate to her kindhearted husband, she is freed from the pain of the loss of a loved one and begins to start life again.
The Interesting Side: This is another heartwarming Japanese family drama. It's about a widower who's trying to find peace and release from her pain.
---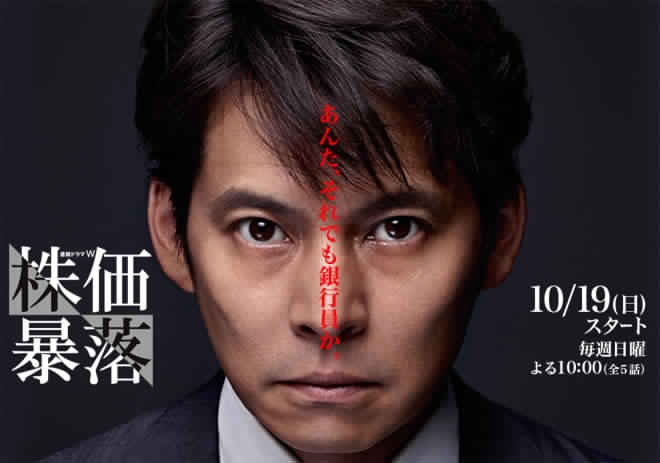 Genres: Business
Plot Summary: At the meeting room of mega bank Shiromizu Bank, there is a heated discussion regarding additional financing for Ippudo, a giant supermarket which is in the throes of corporate restructuring. Bando Hiroshi, the credit officer in charge of Ippudo, believes "the important point of a loan is collection" and raises an objection to a loan for Ippudo which has not made efforts to restructure. On the other hand, Ninohe Tetsuya, the deputy director of planning who fears the aftermath of bankruptcies will extend to the bank, advocates decisive action on loans. Ninohe finds Bando disagreeable and plots to set him up. Meanwhile, a bomb explosion occurs at an Ippudo outlet. The message claiming responsibility for the attack demands the resignation of Ippudo's autocratic chairman Kazama Kozo and the company's liquidation. Furthermore, Ippudo receives a threat promising to keep up with the bombings if it does not agree to the demands. Ippudo is apprehensive that its share price will slump and tries to conceal the message. However, Bando, who received a report, is vehemently opposed to this. He thinks that they should make this public in order to prevent the damage from spreading. At the same moment, Yaen Hiromitsu, a detective of the First Investigative Division, starts to regard a youth near the scene of the bomb explosion with suspicion.
The Interesting Side: So yes, Business dramas usually do not attract many viewers. Although, after Hanzawa Naoki took off and became one of the best dramas of 2013, WOWOW may be attempting to recreate that popularity. In addition to that, the Business/Corporate genre contains the wittiest dialogue. This will be based on a novel by the great business novelist Ikeido Jun. To top it off, it comes from WOWOW which is one of the better Japanese channels out there.
---
---
This was just a short glimpse of what's coming to Japanese Dramaland this fall season. I hope you found it helpful. Let's hope they get the proper, speedy subtitles.
Which dramas are you planning to watch?