So in this series we'll tackle the actresses over 40. Choosing actresses was a much harder task than choosing actors. I guess everyone has realized this, that's why I also included more senior actresses than I did in the actors version. I hope you enjoy it.
---
Song Yoon Ah (41)
Give this beautiful lady any role and see how she excels at it. She can be the charismatic, successful and independent young lady (Hotelier) in a love triangle (Bae Yong Jun and Kim Seung Woo fighting over her) and you'd be like: you know what, you deserve it girl. And you know how hard it is to find a female character actually deserving such gorgeous guys fighting over her.
She can perfectly be the dying woman trying to leave memories with her children and hiding her pain, making you cry every single moment (Wedding Dress, Mama) or an annoying, but adorable character getting on your nerves at one moment and making you love her to bits at another (Jail Breakers, On Air). She can magnificently play the ruthless b**** who doesn't let anyone stop her (Mr.Q) or the scarred woman seeking revenge on her loser husband and getting all lost between her love and pain (Secret).
Song Yoon Ah has had a long career and I will definitely watch all her works one day. After 6 years of drama hiatus she came back last year with a powerful performance in Mama and won the best leading actress award in Paek Sang Arts Awards for it (the photo above is from the ceremony). Now she is shooting a new political drama with the director of the great drama, Assembly.
---
Go Doo Shim (64)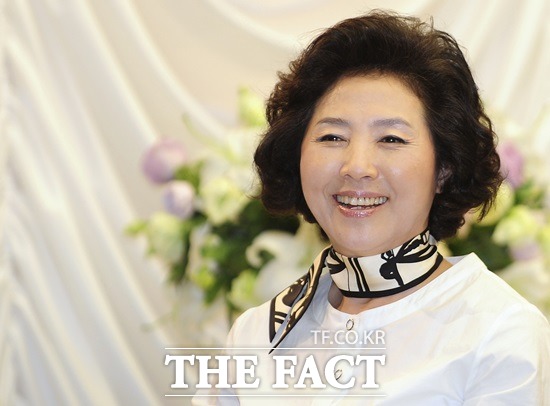 I can't claim I know this legendary actress. She's an acclaimed veteran who's been playing lead and important roles since the 80s. I have only watched 2 works of her, but they were enough to make me a fan; Grand Prix and Legendary Witch. You can tell the latter did the trick.
In Grand Prix, she played a mean mom seeking revenge against her old boyfriend (Park Geun Hyeong) and she was frighteningly good at it. Then I saw her in the BEAUTIFUL Legendary Witch and completely fell for her motherly image. She was the most beautiful mother character I've ever watched. 
---
Song Ok Sook (54)
Song Ok Sook is a familiar face we see in so many dramas which makes her roles really hard to remember, but I remember almost all of them because no matter what role she plays, she always impresses me. 
She's a perfect nagging mother, cute or mean (Bluebird House, Ugly Alert) or a loving and caring one (Punch, Fated to Love You, Rooftop Prince). She's a miserable housewife with a dream (Beethoven Virus) or a famous religious figure (Queen Seon Duk). She does the comic roles well and the sad ones. Which leads me to her two most unforgettable roles; I bet I'm not alone, Missing You and Big Man.
Missing You was despair personified. I cried my heart out each episode and was about to have a breakdown. It's one drama I adored, but never going to re-watch. And one of the main reasons was Song Ok Sook. To identify with a novel or a drama character is really dangerous, but to identify with a grieving mother is simply suicidal. She dragged me into the depth of her devastation and I felt my heart tearing to shreds along hers. It would not have been the same if it was not for her; misery would not have been the same. I feel like crying again.
In Big Man, she was my favorite character. Her support and unconditional love for a pained young man not biologically her son was so touching. I would be hanging in cheering Kim Ji Hyeok on and barely not break down when she'd appear. Her tender looks and loving strokes were just too hard to handle. She killed me. 
She'll always be one of my favorite ahjummas.
---
Lee Il Hwa (44)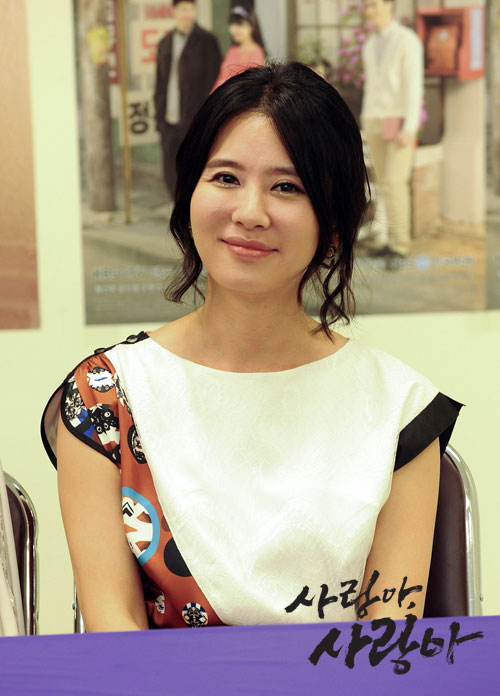 When actresses her age were acting lovely single women in their thirties falling in love and everything, Lee Il Hwa was acting the mother. She's been doing that for a long time. It suits her really well.
She's always pretty and adorable no matter what the role is. Whether it's the useless spoiled housewife (Modern Farmer, Ugly Alert) or the proud mother (You Who Came from the Stars). Whether she plays a loving and sacrificing mother figure (Queen of Ambition; she played Kwon Sang Woo's mother figure where in reality she's only 5 years older than him. See!!), the nagging but loving mom (Reply 1997) or the miserable lost one (Iljimae). Wherever she is, Lee Il Hwa makes me either laugh or cry. 
My favorite performance of her is in Ugly Alert. If you haven't already watched the drama you've got to; she's a priceless phenomenon there. 
---
Kim Hee Ae (48)
Just like Go Doo Shim, I cannot claim that I really know her. She's been in the drama industry for a long time, but I have only watched two dramas of hers. One made me look her up and one made me fall for her; Snow Flower and Secret Love Affair.
Snow Flower was a 50 episode project that was cut down to 16 because of a scandal by the main actor. Imagine the mess! The drama for me was a big letdown. But Kim Hee Ae left a deep impression as the dying mom trying to reconcile with her cocky rebellious daughter (Go Ah Ra). 
Then it was her role as Oh Hye Won in the controversial Secret Love Affair; which I lost my heart to. Nobody, absolutely nobody, but Kim Hee Ae would have played the conflicted and complicated Oh Hye Won the way she did. Her facial expressions, that pain and struggle every piece of her showed, the agony in her voice, everything she invested into her character made it real; so real that no way I could have blamed her, so real that I could have never hated her.
---
Chohwa's Special Actress:

In every part I'll mention one of my special actresses over 40; an actress that might not always amaze, but one I enjoy watching so much. We all have those actresses, don't we?!
Jo Mi Ryung (42)
From the very first time I saw her in Guardian Angel, where she stole the hearts of two men and was the funniest character in the drama, Jo Mi Ryung became one of my very special actresses. I love her voice, which many might find nerve-wrecking. Her rich gestures and her sense of humor.
In the dark but groundbreaking Ja Myung Go, she again was the fun element along with her drama husband Lee Won Jong. Her scenes in Chuno were the best thing. I really shipped her with Han Jung Soo just because of her tries. She acted a darker and more serious role in Harvest Villa as a gold digger who would kill for money. I thought serious roles snatched away her sparks, but liked her all the same. Though I have Mr. Back on-hold, I liked her scenes as the selfish and greedy sister.
---
Please mention your favorite Korean actresses over 40 because I might forget some. 
And I'm eager to know who your special actresses would be.
Tune in to part 2 ^^