The first Chinese guy I'm covering with a Stalker's Guide 

–

 And he certainly deserves it. 
So, who is this man? Who and what is he, that I became so obsessed and fell in love? Honestly, this has never happened to me before, starting to like someone and falling for them and their acting in such a short amount of time. I mean, he was pretty much a nobody until three years ago and only last year he became famous worldwide. It was with his role as Prince Jing in the masterpiece Nirvana in Fire that he started to get more recognition and became more and more popular. And naturally, when I saw him in it, his acting, his calm presence, his fantastic expressions, his ability to show all of his emotions only with his eyes, I was mesmerized and fell under his spell for a lifetime. 
Then of course I had to find out more about him, hear more, see more of him, who he is and how he came into the world of acting and Dramaland. Logically I started to search for all of his projects – which were and still are pretty hard to find. I did find some of them and watched them, but he also had minor roles in older dramas. I'll find them one day when he becomes even more famous.
Last year when I was doing my stalker's duties he wasn't actually that popular yet, neither here on MDL nor on the rest of the internet. I could barely find some of his dramas. And imagine how happy I was when he finally got all the attention that he deserved. I felt somewhat proud because I had loved him from the beginning. What a lunatic fan I was, I know. But still a genuine one. :P
An interesting fact about him is that he came to where he is now through hard work and that he always relied more on that than his talent. His hard work, persistence, courage and not giving up actually got him to where he is now. Talent is important but it only makes life easier, talent alone doesn't guarantee success, which Wang Kai totally proves and shows.
This 33 years old wonderful creature, besides his handsome features, height and infectious smile, is actually a graduate of The Central Academy of Drama – so he's not just some idol who succeeded based on his looks. And that's why I respect him even more. Also, he uses his own voice in all of his dramas, he's never been dubbed. This only makes me more excited because, seriously, Kai Kai (I adore this nickname of his, it's so cute) has the sexiest and most attractive voice I've ever heard, and listening to him feels like paradise and heaven for me.
He is so natural and funny, always smiling and making jokes, and all of his co-stars describe him as childlike, playful and full of life. And that's what we get to see through his social networks, videos, and pictures. It makes him attractive. And so, so adorable. 
Aw, how someone can be this cute, sweet and gorgeous? He makes me want to kiss him and play around at the same time.
There is one website dedicated to him, and the girls who created it are doing such a fantastic job. I find most of the information I'm looking for on there. Yesterday I saw this article and totally melted, this guy is a perfect example of both Husband and Dad Material.
The title of the article is King of Children, Wang Kai and there are so many beautiful pictures of him and various kids, the guy is damn perfect. 
Among those pictures, there are some with his nephew. He has a sister whom he is very close to, so he was ultra happy and excited when his nephew was born. Just look at these two. AW... ♥
---
Okay, I got a little too carried away and I'm not sure if anyone wants to know all of this. So let's talk about some dramas now. 
He also has a few movies but with very small roles. The only one where he's one of the main leads is A Murder Beside Yanhe River and fortunately I was able to find that one and watch it. As for the rest, I am sure he will have more main roles in the future.
---
This movie is based on a real case in which a young woman was killed and her body found beside Yanhe River one day in 1937. Throughout the investigation, clues led to the arrest of Huang Kegong played by Kai Kai, a 26 years old General. He had shot her after she had turned down his marriage proposal. And then his case was passed to the High Court. I found his performance here really strong, at moments I couldn't be sure whether he killed her or not, he was that convincing. I liked the movie and it's pacing, and the way the case was solved. There are also some other good actors in it who gave good performances. But Kai Kai was the strongest here, he realistically showed remorse, regret, and all his other emotions. 
---
And he has one upcoming movie with Chan Jackie and adorable Wang Darren:
Rail Road Tigers (2016)
So far, only the teaser has been released: 
---
As for dramas, he does have a few, enough for a Stalker's Guide, I think. So let's get started blabbing about those dramas I've seen:
---
One drama that I consider to be an absolute masterpiece and close to perfection is exactly the drama that made him famous 
–
 yes, the one called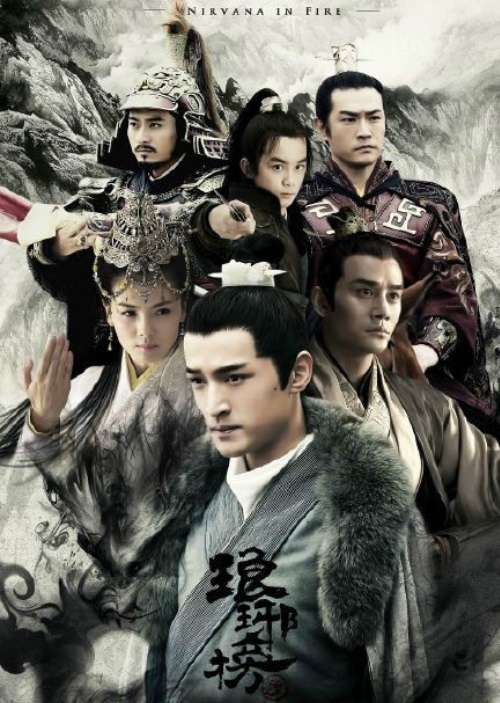 I didn't want to finish this drama. Ever. I wanted it to last forever, at least for 5 seasons like most Western shows. I even took a few days' break to drag it out so that I could remember every tiny detail. I was hooked from the very first second, I felt so full and alive after only one episode and nothing confused me, I even loved the complex start and multiple characters. It was so easy for me to understand and see everything, and I got used to the way Chinese dramas work, especially historical ones.
After each episode I took some screenshots and wrote down quotes, searched for gifs on tumblr and looked for as many pictures as I could find. At the time, it was hard to find anything and the video quality wasn't that good. I rarely, almost never, re-watch dramas – but I am certain that Nirvana in Fire I will re-watch, especially now that there are high-quality videos available. I have never encountered a drama like this in my life. I've never seen anything like it. With such a mindblowing script and deep, elaborate and detailed development for both the main and side characters, this was like a wonder and a miracle to me. I know that I'm speaking from my own perspective but Nirvana in Fire is a drama that MUST be seen by every living creature in this world. 
One thing for sure, I never expected this drama to become so popular and famous and for so many people to have heard of it. Even in Korea and Japan it became well-known. And that makes me so happy and I am so glad. Because if any drama deserves all the hype and proves it's magnificence, then it is this one.
The plot is already familiar to everyone, I guess, and I just want to praise the actors who contributed in making this adaptation come to life on screen. With so many talented actors, it was to be expected, but still...
Hu Ge as main character Mei Chang Su, or how I love to call him, Su Gege (as Fei Liu calls him in the drama) was outstanding. I would have never thought that he could portray Su Gege this brilliantly. In every episode he woke billions of emotions in me and with each of his sentences I got carried away and cried, smiled, died, laughed, felt proud and angry, brave, and full of respect and admiration. He was that fantastic. ♥
Side by side with him there was the brave, honest and righteous prince Jing played by Kai Kai. Ever since I first saw him here, I was in shock at how I had missed this guy before and wondered what he had acted in that he's so great here. He won me over for a lifetime and became my favorite character with his pure heart hungry for justice and the truth, with his love and sadness for his best friend, with his courage and impulsive nature with which he sometimes could have destroyed all of Su Gege's plans.
The two of them climbed up the highest in my heart and trust me when I say this, I've never seen any relationship like they had and that chemistry was simply too attractive, alluring and capturing. ♥♥♥
Every actor was amazing, every one of them did a great job, even the side characters were great and had their stories.  Liu Min Tao as calm and intelligent consort Jing, Wu Leo as the sweetest cutie pie who added great comedy to the show, Liu Tao as the elegant, powerful and graceful princess, Chen Long as the simple, honest and loyal General Meng, Jin Dong as the funny, smart and supporting advisor. ALL OF THEM WERE WONDERFUL. 
And the soundtrack is one of the best I've heard with many astonishing melodies.
Yes, this is my all-time Number One drama and I can guarantee it will stay that way forever. Simply because it is perfect and different from all the others I have seen. 
---
Loved it. It was entertaining, exciting and thrilling, starring the best family in Dramaland. It may not have been a masterpiece but it was well done with high production value, great settings, costumes, music and action scenes. Set during the Sino-Japanese war it tells the tale of one family, their ties, spies among them and around them, about who is a double spy and who is not, whom to believe and the question of whether you should trust your family. About the close relationship and real love between two brothers, their sister and a guy who was like a brother to them.
I enjoyed their interactions, the hilarious moments, the sad ones. I didn't shed a single tear during the whole drama but the ending destroyed me, I literally cried a bucket of tears. But it was worth it, I found the ending so poignant and meaningful. Plus, I was ultra happy and satisfied seeing the same team and folks from Nirvana in Fire, as they just have that chemistry between them and it's impossible to not think that they are a real family. Although I had special feelings and love towards Kai Kai and Hu Ge because of Nirvana in Fire, here my heart was captured by the third brother, Ming Lou played by Jin Dong. He was superb. I think the actor was born for this kind of role, cool, cold, badass and so charismatic with a deep, husky voice. I had an amazing time watching him. ;)  
But generally they were all good and this drama is suited for everyone's taste. I think it's pretty relaxing and interesting. Well, except for the ending, which was heartbreaking. 
---
 
I think this may be the only drama exclusively starring female leads that is worth watching and actually good. Five women who live on the same floor of a building get to know eachother. Five women with different personalities who, through shared experiences, get closer to eachother and experience the joy of true friendship without jealousy, evilness and hysterical fights.
I really appreciated the mature tone of this drama, the logical turns of events, and all of them being simple human beings who desire love and respect. I loved how they were all so different and yet every one of them developed understanding and admiration for the others, solving problems like normal people without annoying clichés. Despite two of them being richer than the rest, they didn't use clothes like billionaires, actually wearing their outfits multiple times. Usually characters in Korean dramas are wearing different clothes every day, even if they aren't rich at all. This has bothered me in the past, so it was refreshing to see it being done differently in this drama.
I liked the guys in this drama, too. Well, those who remained for most of the time. But mainly I liked the chemistry between the girls, it was so wonderful to watch them talk, smile, cry, fight, go to clubs, to dinner or simply just taking a walk. My favorite characters were Xiao Xiao and An Di and I adored the conversations between them. But I loved them all in the end. 
Our lovely Kai Kai was pretty cool here, but there were some scenes where he got on my nerves and I didn't like him. Still, he was so attractive and awesome and he and Xiao Xiao made me laugh countless times. They were hilarious and adorable. 
Ode to Joy is a realistic drama for girlfriends to watch together and learn to appreciate their friendship, because these days it's hard to find an honestly good female friend. I fully enjoyed it and am looking forward to the second season.
---
This was the most difficult drama I have ever watched. I laughed when I read about how people got confused while watching Nirvana in Fire, but when I started this drama, I finally understood all those folks and the meaning of the word CONFUSED. This is a political and economical drama that covers many important happenings in China during the 1940s. I don't even know much about economy and politics in my own country, was never really interested in it, and when I started this drama it was overwhelming. There were so many terms I didn't know about, and so many characters, but the main problem wasn't the number of them, it was who was supposed to be where and who worked for whom, and everybody was in some Party and the Parties were hard to keep up with. But with each episode, things got clearer and I ended up doing some research on the internet and reading about that period in China, so then it became a lot easier to follow. 
Like Nirvana in Fire and The Disguiser, this drama also comes from same production team and I could easily see that. These dramas all have amazing scripts, no dubbing and great, realistic cinematography. The only thing that bothered me about this drama is that I couldn't get emotionally involved with many of the characters. I felt with only a few of them, somehow their emotions weren't that noticeable, they were rather business-like people who participated in political and spy games and didn't have the time to get emotional. At least that's how I felt. They did have complexity, all the characters were well-written, very deep and with fantastic script but something was missing. Despite that I loved the drama. The cast was superb and delivered amazing performances. Liu Ye, Ni Da Hong, Zu Feng and of course Kai Kai, all of them were really good and immersed in their roles. Liu Ye left the biggest impression on me, he was so good in this role, so cold and cool with a cigarette in his mouth as if he didn't care about anything. But he did care. A lot. I liked his interactions with his little brother played by Wang Kai and throughout the entire drama, it slowly became obvious how much they actually meant to each other.
We need more dramas like this. Dramas that don't sugarcoat things, where not every character is perfect but filled with faults and selfishness, where you get to see unexpected heartbreaking moments, where you get to know and learn so much about Chinese history and where the script is just marvelous. 
"History is written by people but many people can't be written into History."
---
I was so excited when I heard about this drama and it's cast. I loved the actors and the plot seemed cool and intense. It even started out good and bloody, but then slowly it ran off track. The cases got more and more boring, the main girl became so plain, stupid and ordinary, the main plot and culprit in the end failed to deliver the madness they were supposed to. The only good things were  Huo Wallace's character, and detective Li Xun Ran played by Kai Kai, who was interesting the whole time, wanting to catch the bad guy and the only one who was actually doing something logical in this drama. I was utterly disappointed and left feeling of nothing in the end.
Despite that, I liked the scenes where Wallace was alone with his mind and thinking about and imagining all the murders and the killer, or when they were driving in the car that spoke. I also liked Wallace's friend a lot and I liked all the scenes with Kai Kai, especially near the end. 
Not a drama that must be seen but it's not a total waste of time if you do decide to watch it.
---
A fantasy drama with multiple stories, romance being the main focus of them all. I liked the idea of a whole drama with foxes in every part, and the fantasy element was well done, one of the better xianxia dramas with good effects and wonderful costumes. Not all stories were equally interesting, actually I found only two worth watching at all, but overall it was an easy watch and relaxing with lots of beautiful people, breathtaking sceneries, wonderful nature, good chemistry, and I loved Kai Kai's story. Not solely because of him, it was just generally sweet and interesting.
The actors did a decent job and although the script wasn't outstanding, I still had a nice time watching. You could skip parts and stories if you wanted to, but watched it in order. It wasn't that hard. Like in most of these kind of dramas, the center of everything were the characters and their interactions. But don't expect to find deep conflicts and character development, since most of it is based on the love stories between the leads and their fights with their inner selves, other evil creatures and their will to remain together.
Action, romance, decent acting, nice cinematography, good chemistry and lovely characters made this drama good enough for me to watch.
And I do like Kai Kai with long hair, he looked so good. :P
---
I like how he always has this wonderful chemistry with his male co-stars and how after the filming ends, he usually becomes friends with them in real life. Out of all his buddies, somehow I enjoyed this bromance the most. Maybe because it wasn't sad and painful like in Nirvana in Fire or The Disguiser. There were more comedic and relaxed scenes.
Can't get enough of these two, what a wonderful chemistry and friendship. I really want to hang out with them, they look like they are awesome people in real life. ♥
---
So basically these are all of his dramas that I was able to find and watch. He does have some earlier projects, but so far there is no trace of them online. Hopefully they will appear somewhere soon.
He also has upcoming dramas and I am so excited for both of them:
The plot seems like a typical romcom but I am curious to see him in a role like that, being all cute, sweet and the lead guy in a romance drama for once.
Isn't he just the most adorable? ;) 
I love the cast of this drama, all three leads are so talented and cute. I'm really looking forward to watching this, despite not being into romcoms that much. But it looks funny and interesting.
And for this one we will have to wait quite some time. But time passes by really quickly, so it's going to be 2017 soon. ;)
Again he starrs with his love interest from Ode to Joy, the actress who played Xiao Xiao, Wang Olivia. And I'm already liking it. I think the two of them have great chemistry and I like them as a couple, even more in this drama because here will be more thrilling happenings, murders, crimes. A real detective drama. I only hope it'll be better than Love Me If You Dare. 
The trailer looks great so far. But I won't have big expectations so I don't get disappointed in the end.
---
Wang Kai is a man who is made to be in front of the camera. He looks so natural and wonderful in every one of his photo shootings, no matter what he wears or does. He is always great. And that's because he never gave up on his dreams and was confident despite all the harsh experiences he had to go through.
Never before have I been in the position to like another actor this much after such a short amount of time and it's my first time writing about a Chinese actor, one who isn't even my favorite. There are many other actors I respect and love more, but somehow this guy captured me with his mannerisms, his kind nature, his wonderful smile, deep and alluring voice, long beautiful hands, with his positive attitude towards life and his natural, real and praiseworthy acting. 
Wang Kai certainly is one of the most popular Chinese actors at the moment, everybody wants him, either for photo sessions, videos, movies, singing in various shows, dramas or interviews. Simply put, the guy is pure gold. I am glad that I got a chance to get to know him through my small screen where his drama became my all-time favourite, where he really won me over with his character and his acting, where I actually didn't have a choice, it was inevitable to fall for him.
Here's one video where he says the words I would die to hear him whispering into my ear with that voice of his. If you didn't like him or didn't know who he is, after this video I guarantee you definitely will. ;) ♥
I also love when he sings and while listening to him, I travel to a far away land full of imagination and wonders. My favourite song would be the one from Nirvana in Fire because it's full of emotions, despair, grief, love, bravery and honesty. It makes me cry every time. And the lyrics are perhaps the most powerful I've heard.
I guess this article is full of fangirling, but his dramas are serious, with high quality and great script and storylines.
Happy watching, enjoy this gorgeous creature who is such a refreshing and great thing to have appeared in this world full of idols and youngsters who don't know how to act and all look the same. :)

---
If there is an actor or an actress that is worthy of a Stalker's Guide in your opinion, and you
have watched enough dramas of his/hers to prove it, please contact Aya97 about it.
---