Hello everyone! I am here again to introduce you to one of the hottest korean dramas of 2016: W - Two Worlds.

What would you do if you were dragged into your favorite drama/manga?

First things first, in order to fully enjoy W - Two World, we need to clear our minds of what we think and know about K-dramas. Everything in W is unexpected. The basic story is that there are two worlds: normal Korea, and the Korea of fiction, inside a comic book (or manhwa), named "W".
Oh Yeon Joo (Han Hyo Joo) is a doctor who lives in the real world. She is the daughter of the famous cartoonist and creator of the manhwa,"W", Oh Sung Moo (Kim Eui Seong). 
The main character in "W" is Kang Cheol (Lee Jong Suk), a former, olympic athlete whose family was murdered. He was the main suspect of the crime but since the police couldn't prove his guilt, he was released. Afterwards, he created the "W" company in order to find the real murderer.
Oh Yeon Joo and Kang Cheol

One day, Oh Yeon Joo is dragged into the world of "W", where she saves Kang Cheol. He becomes curious about the mysterious woman, and they slowly start to care for each other. This Kdrama will make you question what is real and what is fake in every possible way. Is there a happy ending for them?
Reasons to watch this:  
It is Original!
I have watched many Asian Dramas and I've never seen a story like this. We are all used to witnessing bad mothers, chaebol families, poor girls, sick people, past issues... but NEVER this kind of trouble! I think the closest we have to this is the time-travel stuff. But it's defefinitely not everyday where you find a drama about manhwa characters becoming real. This really got me. I won't give you guys too much spoilers, but as the story goes on, you can see that it is very different from what you are used too.
So, this is my first time watching a drama with two worlds in it. Everyone has a crush on the main, manhwa male lead. (Who wouldn't?)
The Cast
Let's start with Lee Jong Suk, who is playing the main character, Kang Cheol. It is impossible not to fall in love with him. I first watched him in my first Kdrama, Pinocchio.
He is a very good actor who's emotional expressions are on-point. Not to mention that he is funny, cute, serious, dramatic, romantic... Everything fits him!
Lee Jong Suk as Kang Cheol
The female lead, Oh Yeon Joo, played by Han Hyo Joo is another gem. I didn't know about her before this. Afterwards, I researched her and found out that this was her first drama after 6 years. So if you are like me, who only watches the newest Korean Dramas, she may be a new face to you. Personally, I thought she was great. Her expressions always made me laugh so much, which made the drama even more fun.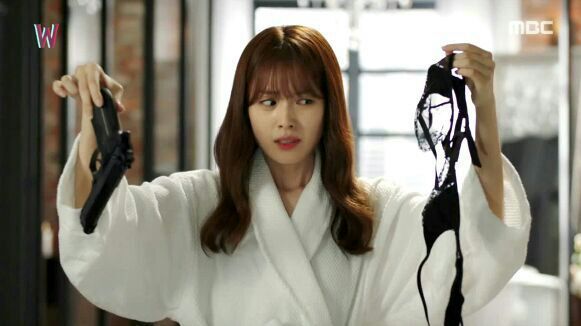 Han Hyo Joo as Oh Yeon Joo
Another very important role is Yeon Joo's father, so i'd suggest paying attention to him. In the beginning, he may seem just a normal father, but keep your eyes open...
The cartoonist, Oh Sang Moo

Overwall, the cast is pretty good. The supporting roles of Seon Do Yoon (Lee Tae Hwan), Yoon Soo Hee (Jung Eugene), Park Soo Bong (Lee Shi Eon) and Han Chul Ho (Park Won Sang) also deserve praise for their notable acting.
The Effects and the OST
I have to add this here because I felt that the Special Effects, as well as the the way it was filmed, was absolutely flawless.  The "transitions"from real,to 'drawing' was really awesome!! 
As I end this article, I will leave you guys with my favorite OST from this drama. It has a lot of great songs, but this is the one that I personally enjoyed the most.
---
I hope that after reading this you'll be interested in checking out W - Two Worlds. You really won't regret it as it's a great drama, even if at times the story seems a little crazy. But hey, sometimes we need to escape from reality for a while! For those of you who have seen it, what did you think about it? 
See you next time! Bye~