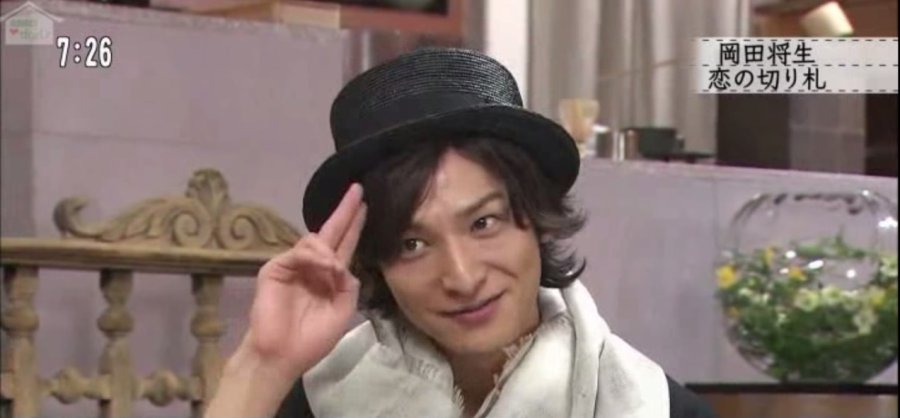 I can't believe it took me so long to get to Ikuta Toma's Stalker's Guide. I am writing this in the middle of watching enough dramas/movies to do Yamada Ryosuke's Stalker's Guide. 
Let's visit his MDL Page and see what I have watched:
---
Movies
The Fallen Angel or Ningen Shikkaku as it is known in Japan - this was definitely an art project, I could barely follow the plot and really tried to like the characters, but in the end, it just left me feeling like 'WTH did I just watch?!'
The Tale of Genji - A historical piece with supernatural elements... Genji kinda gets what he deserves, but I still loved watching Toma in the historical wardrobe.
We Were There: Part 1 and We Were There: Part 2 - Based on a manga I did not read, while I love a romance that the couple has to work for, this was a bit much and the payoff was rushed. Not bad but not a top 10 romance.
Brain Man - If you like Psychological Thrillers, this is a must see and one of Toma's best performances out of what I have seen.
Miracle: Devil Claus' Love and Magic - Erm, can I say anything positive about this? Casting awesome, script... not so much.  
Prophecy - This is a decent crime/mystery movie.
Grasshopper - It's like you're watching an action manga come to life and was the first time I saw Yamada Ryosuke act. While Toma's performance was exactly what I was expecting, Yamada's character made me take notice of the actor.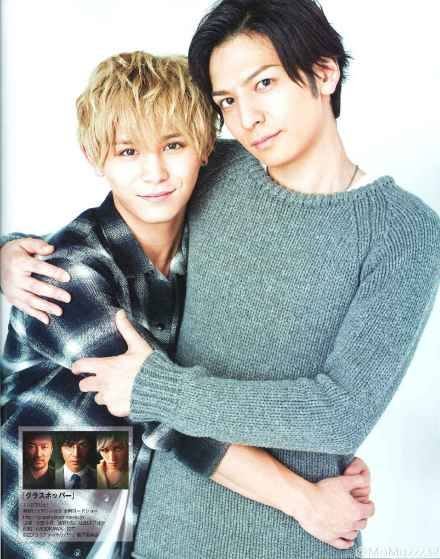 Dramas
Hana Yori Dango 2 (Episode 1) - I didn't even know Toma was in this, but I love Hanadan so I'll look for him next time I rewatch.
Hanazakari no Kimitachi e (and special) - Ahh, Hana Kimi... could anyone make you laugh so hard at his own plight? I loved him in this.
Hachimitsu to Clover - Having seen both versions (Sakurai Sho played the same character in an earlier movie), I have to say I like the drama version better. I recommend this friendship drama.
Maou - Toma is up against Ohno Satashi's character in this remake of the Korean drama "Lucifer". They both did excellent in this drama.
Majo Saiban - This made you "Think Twice" -heh- and then rethink again. There are few surprises but it was still a fun mystery series.
Ouroboros - I highly recommend this drama if you like mystery/revenge genres. Starring Toma paired with Oguri Shun, the bromance chemistry is off the charts. 
---
Now on to the man himself: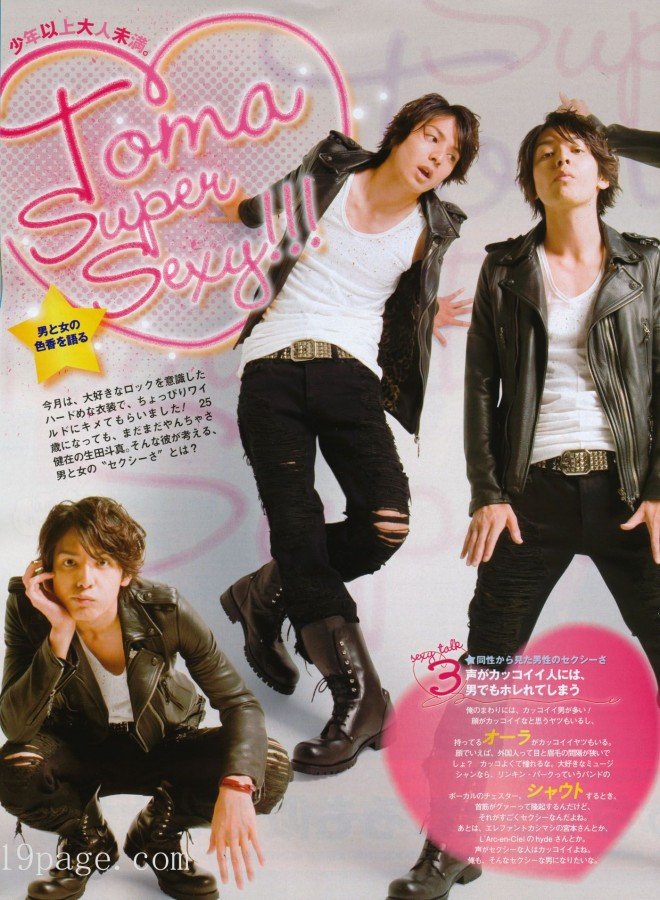 Basics
Name: Ikuta Toma (生田斗真/いくた とうま)
Nicknames: Tomasu, Toma-chan, Touma, Thomas
Profession: Actor and singer
Birthdate: 1984-Oct-07
Birthplace: Noboribetsu, Hokkaido, Japan
Height: 173cm
Weight: 58kg
Star sign: Libra
Blood type: A
Talent agency: Johnny's Entertainment
Groups: Strawberry Parfait, MAIN, Best Beat Boys, Bad Image Generation, Junichi & JJr, Four Tops, NO BORDER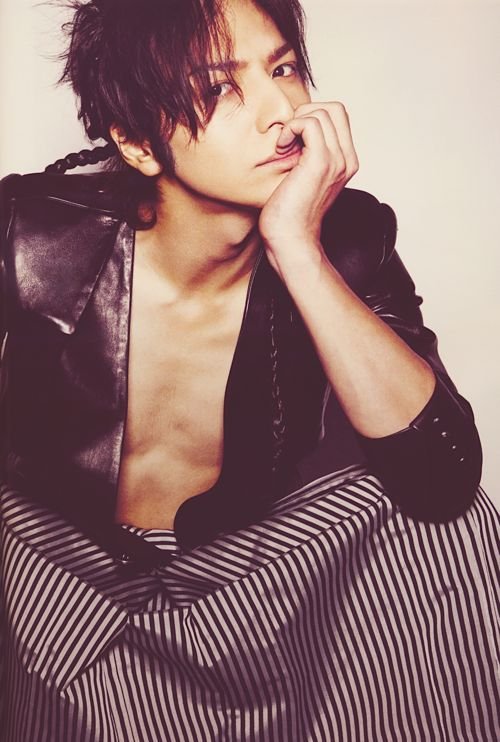 Early Life/Trivia
His family consists of his father Hideki (who wanted to name Toma Tamegorou at first), a mother named Hiromi (who changed the name to Toma because it was easier to pronounce), a younger brother named Ryuusei (who is an announcer), and a dog named JAM. Toma used to be called Toma, Touma, or Toma-chan by his family and friends. Younger juniors in the agency called him Toma-san and that morphed to Tomasu. This name was his "trademark" while he hosted a segment named Meitantei Tomasu in the Shounen Club program.
Once, he begged Japanese Music Station's staff to let him into the studio and watch Backstreet Boys doing a rehearsal.
He likes to wear jeans a lot. He feels that jeans are a sporting fashion. He wears jeans when the weather is hot and even when it is winter. That is why he is asked "Aren't you cold?" many times.
His ideal dream date is to drive at night to a hilltop with his girlfriend and watch the city view from there. He did that once with Yamashita Tomohisa when they were rejected, but it felt awkward because all of the people who were there were couples, so they pointed an infrared laser pointer to some couples and disturbed their dates. Toma apologized for this in a show later on.
Toma is also a fan of X JAPAN, especially popular guitarist hide (Hideto Matsumoto). He once talked for an hour on the phone with Shibutani Subaru (Kanjani8) just discussing X Japan. He and his younger brother Ryuusei are also fans of GLAY and always went to their concerts during their spare time.
He sometimes spends his time with his 'Senpais', especially Sato Atsuhiro, former Hikari Genji, who he calls "Atsu-ani" (which means older brother Atsu).
He looks up to Miyake Ken of V6. He was also the Senpai he had a first encounter with when Ken was blocking the gym's door. Yokoyama Yu and Murakami Shingo even told Toma to imitate him when he was guessing Recommens.
He and Oguri Shun had to kiss twelve times for the drama Hanazakari no Kimitachi e. Oguri Shun said that Toma's lips were very soft and it was actually the first time he encountered such lips.
Toma and Oguri Shun were the ones who created the nickname Horikitty for Horikita Maki.
He LOVES  (make sure to say this with the correct stretched out inflection) curry but he doesn't cook.
Attended Meiji University.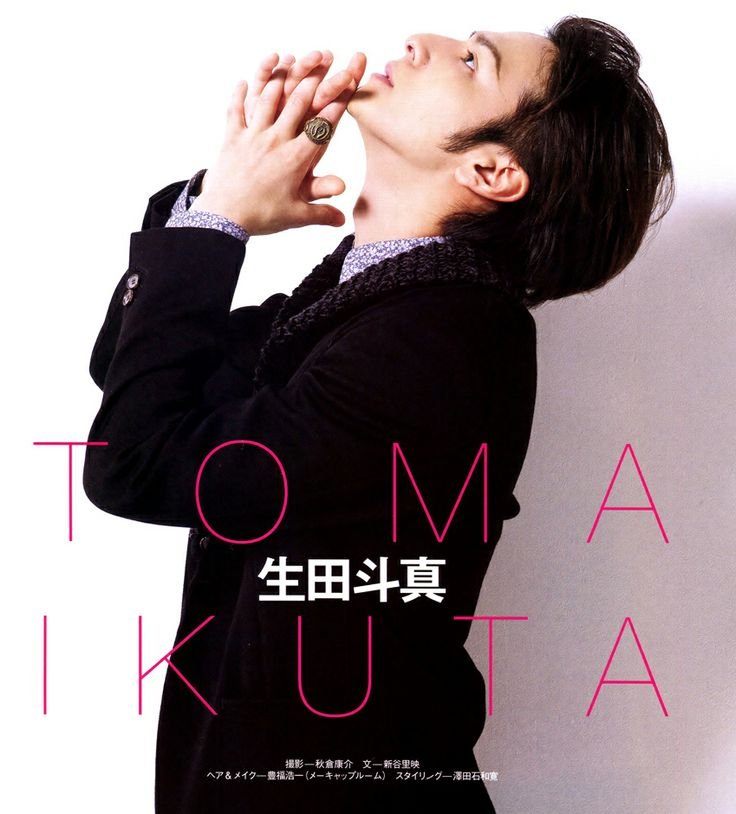 ---
Career
Music
Toma's mother was a fan of S.M.A.P and in 1996 an application was sent into Johnny's Entertainment. Toma was already in a band called "Strawberry Parfait" with Wentz Eiji and together they were on a show called Tensai Terebi-kun. Johnny's Entertainment accepted both of them but only Toma accepted the deal and joined in February of 1996.
After joining, he was immediately placed in a band called M.A.I.N consisting of Matsumoto Jun, Aiba Masaki, Ikuta Toma, and Ninomiya Kazunari. He was also in Best Beat Boys with Ninomiya Kazunari, and in Junichi & JJr with Ohno Satoshi before 1999.
When Arashi debuted in 1999, Ikuta was placed in the band B.I.G. (Bad Image Generation) with popular juniors at the time including Tanaka Koki, who later be a part of KAT-TUN, and Yamashita Tomohisa (NEWS, then solo). Next, in 2002, he was in 4tops, the leading group of the juniors after Tackey & Tsubasa was formed. This band included Ikuta Toma, Yamashita Tomohisa, Hasegawa Jun, and Kazama Shunsuke.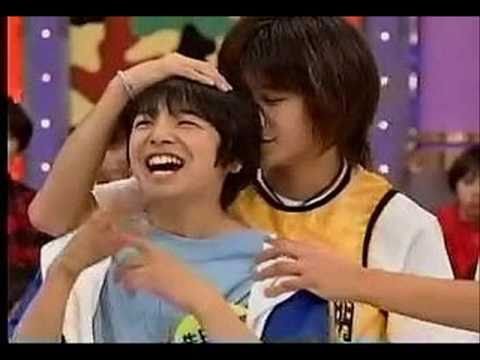 To quote my Matsumoto Jun Stalker's Guide (because I am lazy and don't want to retype it again):
Toma was a part of an unofficial group named "No Border" in 2006 with Matsumoto Jun (who was then in Arashi), Yamashita Tomohisa (who was then in NEWS), Shingo Murakami of Kanjani8, Satou Atsuhiro of Hiraku GENJI, Ikuta Toma, Domoto Koichi of Kinki Kids, Yamaguchi Tatsuya of TOKIO, and Takizawa Hideaki of Tackey & Tsubasa. Each member was assigned a specific colour: white, black, red, pink, purple, gold, blue, and grey.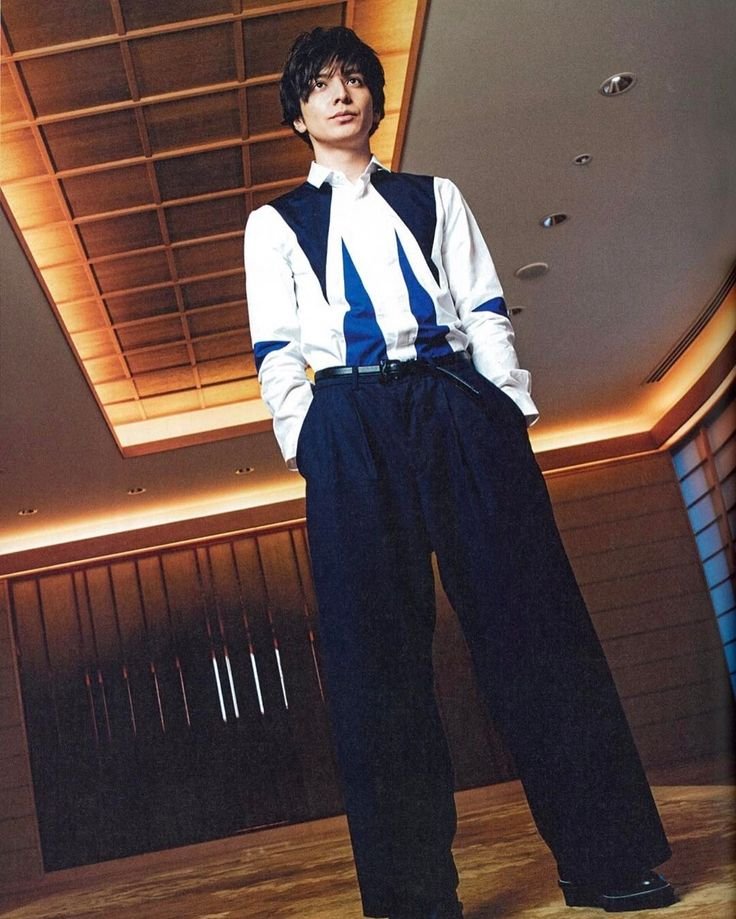 ---
Acting
Toma's first role for television was in Agri (あぐり) and his character didn't even have a name. His breakthrough role was Nakatsu Shuichi in  Hanazakari no Kimitachi e  (sometimes known as Ikumen Paradise or HanaKimi), who was attracted to a girl posing as a boy to be close to the one she fell in love with. It was very controversial at the time due to its genderbending story arc. Toma has since brought enough critical acclaim to Johnny's Entertainment that he is the ONLY Johnny's that is not in a band and has his own page. He wants to focus on acting for the time being.  
He got his first chance on the big screen with the movie Ningen Shikaku in 2010, which won him "Best New Actor" and "Rookie of the Year". Karera ga honki de amutokiwa or Close Knit was released in 2017 and is getting a lot of attention. Here is an article in the Japan Times, and another review here. Toma is an actor that is not afraid to take on roles that challenge social norms.
He was also in two music videos: TOKIO - NaNaNa I do not need the so-called sun and Arashi - FUKKATSU LOVE.
Stage
Musicals:

Stand By Me
Kyo-To-Kyo
Shock is Millennium Shock
Susanoh
Another (Kansai Jr., 2002 version)
Shock is Real Shock
Vacation (Shonentai Playzone, 2003)
Edogah-san Yukuefumei
Mama Loves Mambo III
West Side Story, 2004 (Shonentai version)
West Side Story, 2005 (Arashi version)
Azumi on Stage (2005)
Azumi Returns (Azumi 2) (2006)
Cat in the Red Boots (Shinkansen Nexus Volume 2) (2006)
Shock – Endless Shock, 2007
The Two Gentlemen of Verona, October 2007
Grease, 2008
My Friend Hitler and Madame de Sade (Mishima Double), February 2011
Kamome (The Seagull), September 2013
Vamp Bamboo Burn, 2016
Rosencrantz & Guildenstern Are Dead (2017, Setagaya Public Theater ) - Rosenkrantz Officer




Toma (in green) in West Side Story: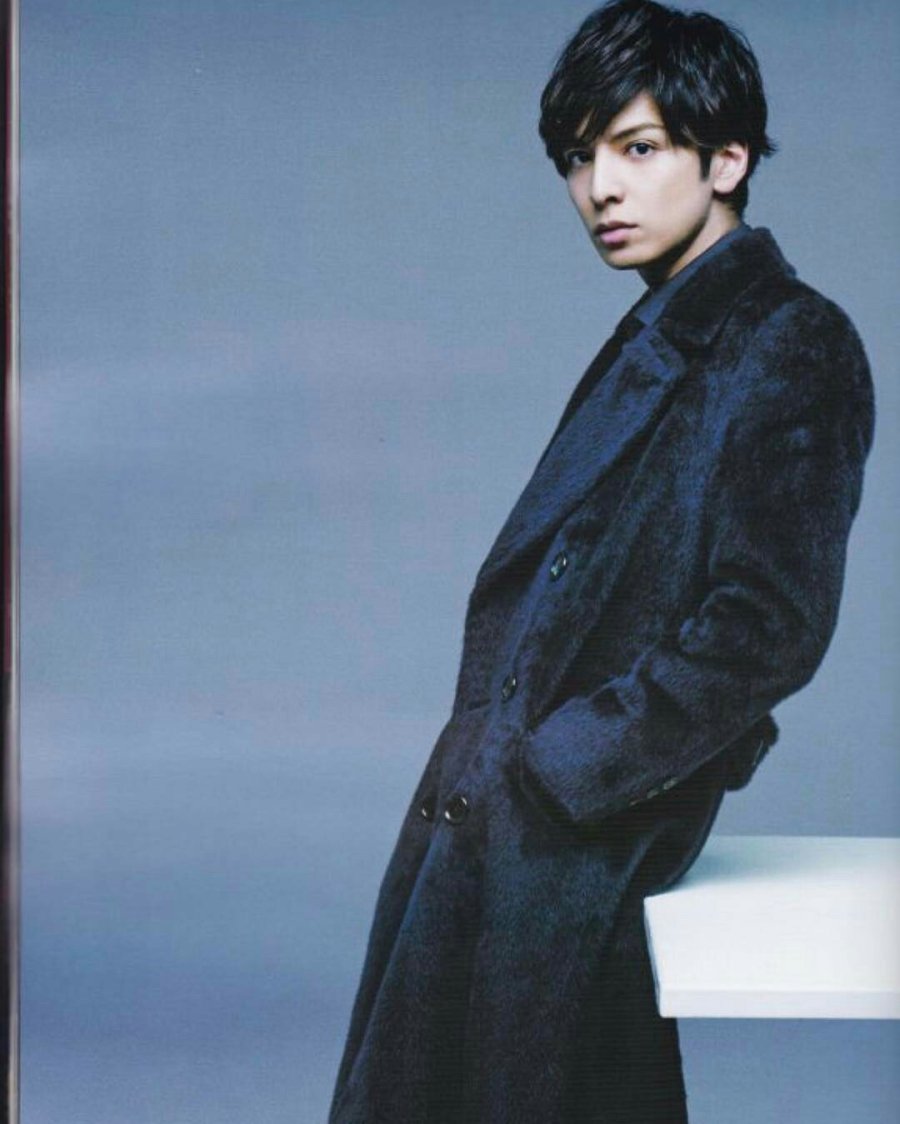 ---
Awards
---
I know I am always in for an experience when I watch Toma's works, and for good or for bad, I will not forget what I watched. Watching him recently on the Show "Another Sky", awed on stage, in front of an empty theatre, I could feel how much he loves the craft. He was comfortable in front of the cameras, but nervous when five chefs watched him eat the curry they made. I am excited to see which future roles are in store for him.
Opinions and corrections welcome.
---