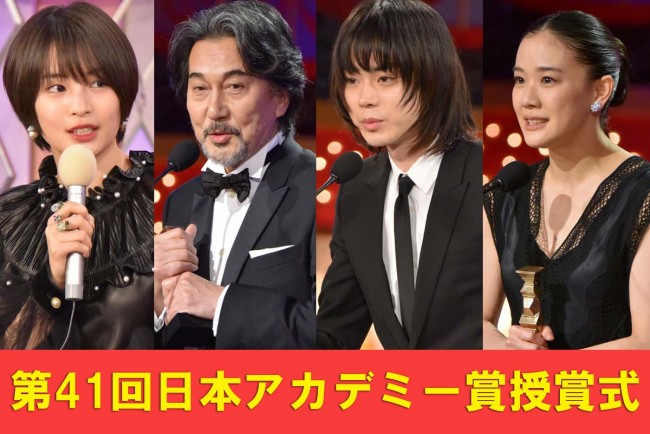 The Japan Academy Prize, also known as the Japan Academy Awards, is the equivalent of the more widely known Oscars in the US. It's been held annually ever since 1978. 
The winners of the 41st Japan Academy Prize were announced on March 2, 2018. Let's check out them out! Also, take a look at the 40th Japan Academy Awards in case you missed it! 
---
Picture of the Year
The Third Murder is the film that definitely hit it big and took home 7 awards, including Best Picture, Best Director, Best Screenplay, Best Film Editing, Best  Supporting Actor and Best Supporting Actress. The film is a crime drama about a lawyer who starts having doubts about his defendant's guilt. It also premiered at the 74th Venice Film Festival.
Other nominees:
---
Director of the Year, Screenplay of the Year,
& Outstanding Achievement in Film Editing
Hirokazu Horeda is famous for winning quite a few awards internationally, most notably at the Venice Film Festival and Cannes. This year he received critical acclaim for the movie that he personally directed, edited and wrote a screenplay for. Congratulations, totally deserved!
---
Best Actor in a Leading Role

Suda Masaki won the award for the Outstanding Performance by an Actor in a Leading Role for his portrayal of Shinji, a young boxer. Before he gave his acceptance speech, there was an 8-second silence. He was a bit shook.
---
Best Actress in a Leading Role
This is Aoi's first award for the Leading Role but she has already won 3 Supporting Role awards and one award for the Best Newcomer last year. She tearfully accepted her award. Her acting of Towako Kitahara, a woman of questionable morals, was very praised.
---
Best Actor in a Supporting Role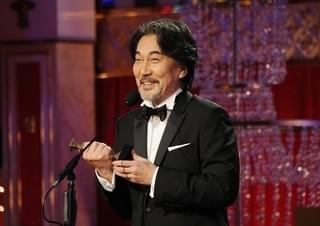 Koji Yakusho won the best actor in a supporting role award for his performance as Mikuma, a man who faces a death sentence for committing a murder. 
---
Best Actress in a Supporting Role

Suzu Hirose won the best actress in a supporting role award for her performance as Yamanaka Sakie in the same film.
---
Newcomers of the Year
Ayami Nakajo  – Let's Go, Jets!
Minami Hamabe – Let Me Eat Your Pancreas
Takumi Kitamura  – Let Me Eat Your Pancreas
Ryoma Takeuchi – Teiichi: Battle of Supreme High
---
OTHER AWARDS:


Best Music: Keiichi Suzuki – Outrage Coda
Cinematography: Takahide Shibanushi – Sekigahara
Lighting Direction: Takaaki Miyanishi – Sekigahara
Art Direction: Tomoko Kurata – Flower and Sword
Sound Recording: Masato Yano – Sekigahara
Outstanding Foreign Language Film: La La Land
Animation of the Year - The Night Is Short, Walk on Girl
You can check out the highlights of the event below and each winner accepting their awards respectively.
---
Are you satisfied with the winners?