Name: Lee Jung Hyun
Native name: 이정현
Also Known as: Ava, Hyony
Nationality: South Korean
Gender: Female
Born: February 7, 1980
Age: 39
Lee Jung Hyun is a Korean pop singer and actress. She is widely known as "The Techno Warrior" or "The Techno Queen", but due to other singers singing Techno, she changed her title to "The Queen of Transformation". Her English name is Ava and her Japanese name is Hyony.
She made her movie debut at the age of 16 in A Petal, which won domestic and foreign film awards.
Before releasing her first solo music she featured as a guest vocalist on the Jo PD single "Fever", also appearing in the music video. She also appeared in the music video for Goofy's "The Rule of the Game".[3]
Lee assumes a unique persona for each album, such as a mermaid, Barbie doll, tribal queen, soldier, Korean folk dancer, belly dancer, or princess of the sea. She has garnered many nicknames over the years, including Techno Queen of Korea, Ms. Charisma, Little Giant, and Queen of Change.
Her early work is techno-style dance music. Her first single, Wa (와, "Come") topped the Korean charts for three weeks, while her second, Bakkwo (바꿔, "Change") won awards for Best Song and Most Broadcast Song. These two songs in particular were covered by artists throughout Asia and Europe. Many of her earlier songs are sung in an angry mood, from the perspective of a rejected lover.
Lee Jung Hyun released Japanese versions of her early hits Wa and Heaven in December 2004. The single ranked #26 on Oricon chart in Week 3 of January 2005. Heaven was a theme song for the Korean drama Beautiful Days. The drama became widely popular in Japan. On December 31, 2004, Lee was invited to perform Heaven and Wa-come on- and participate at the 55th edition of Kōhaku Uta Gassen, an annual New Year's Eve live music show. In 2006, she released her first Japanese album, This is Hyony. The Japanese version of "Wa" hit #1 on Oricon chart in January 2005. Her Japanese fanclub was called Honey Hyony. In 2008, she released her first Mandarin album with title single "Love Me."
With her fifth album, Passion, she switched to a Latin-influenced sound, complete with Spanish Guitar and flamenco-style tap dance.
In August 2007, Lee was named a UNESCO Goodwill Ambassador.[4][5]
In May 2009, she released her first Korean mini album, featuring the title song "Crazy." The music video was choreographed by Brian Friedman.[6] In September 2009, she was invited to open at Lady Gaga's concert in Seoul, Korea. She prepared an over-20-minutes-long special performance of her hits 'Michyeo', 'Ban', 'Ari Ari' 'Wa' etc., and including 'Vogue It Girl', and 'Crazy', with the companion of 20 back up dancers. Because Lee was personally invited as the guest opening performance, she has not only prepared her own stage, the two sang a duet together for the performance.
In December 2009, Lee Jung Hyun sung her first ballad for the soundtrack of the Korean TV drama "Iris." The song, "How Can I Hold Back Tears," takes her to the ballad genre for the first time in her 10-year singing career.
Lee fainted in April 2010 while filming a music video for her upcoming album, and was hospitalized with pneumonia-like symptoms. She lost consciousness while filming a scene in which she was doused by a sprinkler truck.[7] Her seventh album was released on May 11, 2010.
Lee started working as an actress. In 2012, she was casted into "Juvenile Offender" as a mother's role.
[edit]
Drama
Title
Rating
The Family is Coming

Korean Drama,

2015

, 20 eps

6.8

The Great King, Sejong

Korean Drama,

2008

, 86 eps

Lady Sinbi

(Support Role)

8.2

Rondo

Japanese Drama,

2006

, 11 eps

Choi Yoon Hee

(Support Role)

7.5

Beautiful Days

Korean Drama,

2001

, 24 eps

7.6

Legend of Ambition

Korean Drama,

1998

, 60 eps

Lee Jung Hee

(Support Role)

4.5
Movie
Title
Rating
Train to Busan 2: Peninsula

0.0

The Night of the Undead

0.0

Love, Again

6.4

The Battleship Island

8.4

Split

8.4

Alice In Earnestland

7.0

The Admiral: Roaring Currents

Im Joon-Young's wife

(Support Role)

8.5

Juvenile Offender

7.0

Night Fishing

7.0

Harpy

2.0

Scent of Love

0.0

Maria and the Inn

0.0

A Petal

7.3
TV Show
Articles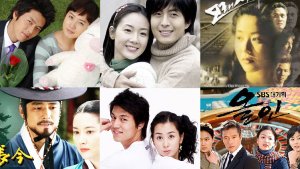 Editorials

- Apr 21, 2018
A blast from the past! Read as this MDL'er rediscovers the best Kdramas from the 2000s!