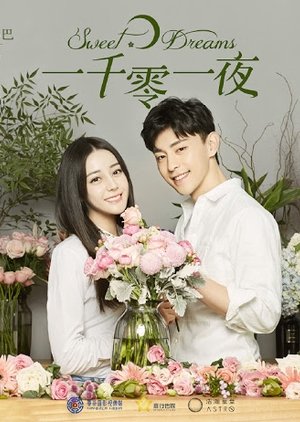 I don't know how to start this review. I originally started this drama way back in January, on the first night I officially moved into my cousin and I's first apartment in Newark. Technically, she had officially moved in, and I was camping out in her room until the next day when my bed was supposed to come. Earlier that day, we had dinner at BJ's where we were talking about the dramas that we were currently watching - I was probably behind on watching My Mr. Mermaid (which she had recommended to be previously, and I have still yet to finish) and she started telling me about this show called Sweet Dreams that was way different than any drama she had watched before.

Sweets Dreams follows a young girl, a recent college graduate who studied veterinary science, named Ling Lingqi (QiQi). After having one of the most happiest days of her life where she thought she knew what love was, her boyfriend dropped her off and told her that he was in love with someone else and took off. Qi Qi was crushed until a mysterious man gave her a bouquet of flowers with an encouraging note from a place called FlowerPlus. After this incident, she found out that Bo Hai, the CEO of FlowerPlus was the mysterious man on the street that day and decided that she was going to become a florist and make him fall in love with her. But year after year she gets rejected from the florist internship program at FlowerPlus. It isn't until one day when they post a position for a sales associate at one of their flower shops that Qi Qi finally has a chance to get her foot in the door, even a little one, to prove that she is a great florist. During this time, Qi Qi is trying to make extra money and decides to test this new Sweet Dreams bracelet which is supposed to help her sleep, but what she doesn't know is that her bracelet is faulty and actually connects her with someone else wearing the bracelet and they are put into a dream together. At first, when she meets Bo Hai in her dream, she thinks that it is a sign that she will do great things at the company, but when she starts to dream about him over and over again, she realizes that there is more going on. In fact, she finds out that Bo Hai also is testing the Sweet Dreams bracelet, but unlike her, he remembers the dreams, but doesn't remember her face. We also find out that Bo Hai was given the bracelet from one of his friends because he has issues sleeping and thinks that this bracelet will help him as well as reduce anxiety. But Bo Hai is a complex character. After a traumatic childhood which left him an orphan, whenever Bo Hai gets extremely stressed, he becomes colorblind for a random amount of time. It could last a few minutes to a few weeks at a time. We also learn that whenever Bo Hai stresses about something, it reflects in his dreams. After a few dreams, Qi Qi realizes that this dragon that keeps trying to hurt Prince Bo Hai (the first series of dreams is fairy-tail themed) must symbolize something and she decides to to step in and be Bo Hai's knight in shining amour, and soon realizes, when the "monster" is defeated in his dreams, so does the "monster" in his real life. This continues on until the moment Qi Qi finally meets Bo Hai in person and realizes that he isn't the sweet and charming prince from their dreams, a cold boss who only seems to have a healthy relationship with his work.
The series continues with Qi Qi and Bo Hai getting to know one another and honestly just taking on the world together. It is a rocky start to say the least and it doesn't get better for a while and Bo Hai did test my nerves A LOT, but honestly they are the definition was fated love.

I was going back and forth between giving this series a 4 and a 5. I watched this show religiously back in January when I first started it that night. I would come back from work and just plop down at the dinner table and just watch as much as I could. I think I made it to episode...35 until I stopped watching because of two reasons. 1) I didn't want this show to end. It was so unique than any other Chinese drama I have ever watched before. Honestly, usually Chinese dramas have a lightness to them. Even when something crazy is happening, it isn't too crazy. You actually see crazier plots in Korean dramas and I think Sweet Dreams was a nice median of the two cultures. Which feeds into the second reason. 2) My roommate had binge watched the hell out of this drama. She was obsessed. Which meant that she needed to talk to someone about it...which meant I got spoilers. I knew that around the time that the two mains finally got together, they would soon break up because of this CRAZY insane plot point which reminded me of something crazy I would see in a Korean drama. And after this crazy plot point, something inside Bo Hai just broke and he was never the same after. I was scared by this. I had finally watched 35 episodes of this drama and finally the two mains got together and after 2 or 3 eps, it would just end. I couldn't deal. So I stopped watching for about 2 months and watched a bunch of other dramas. I always had Sweet Dreams in the back of my mind because Qi Qi and Bo Hai went through so much and I wanted to see how everything ended; how they would somehow find each other again and defeat the monster of the world together. So I started watching it again and after...a few episodes, my roommate decided to tell me that there was this WILD ending and knowing myself...I needed to know what happened and she wasn't telling me anything. Which is at that moment that I got into my head and thought...someone must have died at the end. There is no way that anything else could be as wild as that, and when she didn't respond to me...I just knew. Not saying that this did or did not happen, but the ending reminded me of Love @ Seventeen. That's all I'm saying.

Honestly, this drama really messed me up. I even lost sleep over it which wild and the moment you know that you are way too deep. After thinking about it, there has only been one other drama that I was completely messed up after...and it was Boys Over Flowers (the Korean adaptation of Meteor Garden.) Even thought I gave that show a 4/5, I was completely invested that I watched all 40-50 something episodes over the course of a week...and that is literally all I did. That show messed me up that I needed to watch more and more and once it was done....I didn't know what to do with my life. That series was wild and emotional af. Much like that show, the characters played a huge part in it being emotional. I am not going to lie, there was a love hate relationship between me and the two mains. In the beginning, Qi Qi was this annoying lovesick girl who was honestly wilding out over this guy that she made up in her head. She had her moments when she found out that Bo Hai was a jerk and she decided to show him that she was a smart and passionate person and was actually a boss at her job. When FlowerPlus was in trouble when their rose shipments were lesser quality, and people were trying to sue the company, Qi Qi came out of it all and told everyone that she would personally make everyone's valentines day bouquets without the roses, but be just as romantic. She basically saved his ass and all while she only trying to prove to herself that she was passionate about her job and not because she wanted to prove to him and she was good enough. I think I liked how Qi Qi matured over the course of this series. I love when Qi Qi is romantic, but I also love when she is a boss ass bitch and saving Bo Hai's booty. Bo Hai on the other hand...oh man...he tested me. Don't get me wrong, I understand why Bo Hai is the way he is. He had a really tragic backstory and an enemy from his past that would not give up trying to bring him and his company down. That was literally what this show about about besides the romance. It was about this villain who would just not leave Bo Hai alone and honestly did some CRAZY stuff to try and ruin him. Bo Hai, instead of trying to open himself up to love or any form of relationship with anyone, he was incredibly rude to everyone. Once he meets Qi Qi, he starts to open up little by little and then close up completely again, and then little by little. I understand his fears, and towards the end, Bo Hai realizes that these things make him weak, but the thing I didn't like about Bo Hai is that even though he knew he was being weak and he hated himself for being weak, he did nothing about it. He would rather run away and hate himself for being weak, than try to find the courage to at least try to solve the issue at hand. I mean, he comes around eventually, but it takes him a WHILE. At some point, I just really wanted them to be together because I don't think there would be anyone else in their world that would be able to put up with either one of them.

After finishing off this series, I would say that this is definitely one of my favorites. This drama makes you feel every kind of emotion possible and it kept me on the edge of my seat the whole time. Especially the last episode with that WILD ending. I hated it, but I also thought it was perfect.
Was this review helpful to you?