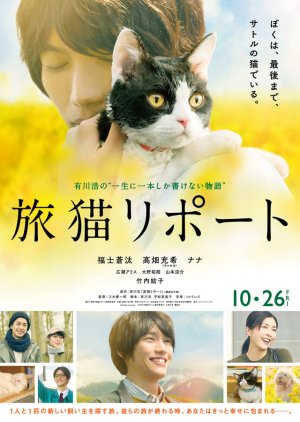 Honestly the story is gorgeous. It's true that we are remembered by the people we meet and the things we have done in the past rather than who we think we are, and we get to know Satoru through stories during his visits with his friends - who he was, and who he is. I really adored how much love he had for his cat though in the beginning you're questioning why he is trying to palm his cat off when really - well you'll find out. It's a highly nuanced storyline - and based on a book which I will proceed to devour - that touched my heart. Perhaps because I have a cat that has supported me emotionally as much as Nana supported Satoru, I was able to understand a lot of his reactions and feelings.

The cast was pretty simple. They played their characters very true to honest human life. Though I have only really seen two other roles that Sota Fukushi has played so at present for myself, this one is the most touching. Nana the cat was super cute. Lastly, Noriko, played by Takeuchi Yuko, was believable and well played.

Regrettably while the music fit the film well and enhanced the emotions/scenes and was nice to listen to, it was forgettable.

Overall, I can see myself watching this movie again. Mainly because the story really touched my heart. My cat changed my life, he is a great comfort and joy to me and to see that similar relationship translated so beautifully through film really tugged my heartstrings. I loved the scenery as well, the use of flowers and the sun was nice and the traveling scenes portrayed the journey that Satoru and Nana have both been on and what they have yet to go on. These moments are transferable/relatable to absolutely anyone who is living.

Traveling Cat Chronicles is definitely worth a watch.
Was this review helpful to you?