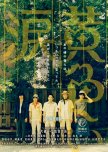 A great story in which you get closer to each character has the movie goes by with each of the artists hardships. The acting is good, even more when it comes to the relations between the characters. I especially love the light-old-jazzy music which perfectly fits with the movie's moods. If you are a fan of Arashi, you are bound to like this movie. If you are not a fan but you love historical mixed with slice of life and light humored movies, this one is for you !
~~nagareboshi nagarete kimi no namida wo nugutte onegai~~
~~tada koko de odayaka ni hohoendeite hoshii~~
Was this review helpful to you?