If you're still experiencing technical difficulties, please report it
here
.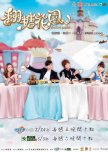 Before the actual rewiew you need to know that this is my first rewiew ever. Just keep that in mind when you read this. Also I watched the first 4 episodes and then kept a long pause before continuing the series. I started to watch again because of all the Park Jung Min feels that appeared to me again. Anyways if I had known how good the series actually was I would've continued earlier. I don't know why the rating is so low for these awesome series.
This drama is really unique compared to usual all tears dramas. Often romcoms can be very sad as well and it seems it's hard to find really lighthearted and happy dramas. Well Fondant Garden is actually one of those dramas. The setting on this drama is sweet and light hearted.
The story is just so good. For the first four episodes I thought well Fondant Garden is ok nothing special. Then watching more episodes I found myself watching and watching another episode. The story kept me captivated after the first four episodes for the whole time. Somehow they tell the story so well even though the episodes doesn't end at cliffhangers. There were some cliché parts and over sweet moments but they didn't bother me that much. And I just love the character development in this drama. What is really unusual is that the ending wasn't actually bad in my opinion.
One of the down side is that the acting is not top rated I have to admit. Even though I love Jung Min, I admit that he isn't a good actor at the beginning but he get's better as the series goes on. Others did well in my opinion. I first didn't like Mi En's character but I become to love her as the series continued. One of the gretest thing is that I didn't hate any character. Usually there is always the evil one which really is annoiying to be honest but every single character in Fondant Garden was not irritating.
I enjoyed the soundtrack this drama has. It fits well with the atmosphere and of course I especially liked the track Park Jung Min sings.
Overall I would recommend this drama to those who search lighthearted and happy drama. After the first episodes you may ask yourself is this worth continuing. I suggest to watch few more episodes and see if it gets interesting. For Jung Min and SS501 fans Fondant Garden may be very enjoyable. I plan to rewatch these series at some point. One of my favourites!
Was this review helpful to you?