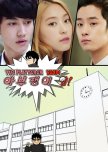 Naive, funny and lighthearted.
But only at the first glance. This web drama is about serious problem Korea (and believe me, other countries too) are facing - bullying. And if that problem is put in web drama, that means there's gonna be a lot of violence and other things that are not allowed to be shown on a TV. It's based on a web comic, so it's not for everyone, but I think JDrama and manga-based story lovers gonna like this one.
Story feels like it's been told from first person, the one experiencing bullying. Surviving high-school life full of violence, in search for your place in a society - you are ether part of a group or a loner. If you expect romance or bromance (and there is material for it), there is none. Humor is more Japanese-like, so it might not appeal to everyone. What I really liked is quotes before every episode. And this story definitely needs a sequel cos it's unfinished.
Kwak Dong Yeon is slowly becoming the King of web/mini drama specials (reason I started this drama). In my humble opinion he is one of the best young Korean actors. But I think all the actors did a good job here.
I can't say I'm impressed with music. :/
I rarely rewatch dramas, but this one is short, so if in the future there is a squeal, I'll watch it again.
Don't expect much from this drama, especially if you are not a fan of Japanese-like humor.
Was this review helpful to you?