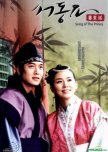 This drama has left a big impact on me.
The storyline was well written and beautifuly interpreted. As it is based on an old Korean folk story, it started to interest me even more, beacause those kind of stories I love the most.
Actors were amazing; every one of them so alive in their roles. The three main actors did especially good job, because you could just immerse yourself in their acting, and enjoy the whole time.
Music was beautiful, and appropriate for the plot. I immediately downloaded the OST and am stuck with it, repeating it over and over again.
The funny thing is, when you watch a lot of historical dramas, you can hear that there are some melodies that repeat but are changed a bit, so you can reminiscence on other dramas too.
All in all, I give the Ballad of Seo Dong/Seo Dong Yo, a pure 10/10, because I will definitely watch it again some day, and enjoy in it like I am watching it for the first time.
Was this review helpful to you?