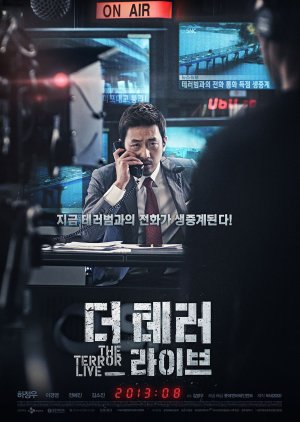 This review may contain spoilers
If I have to describe the Terror Live in one sentence I would say: One room, an anchor, a terrorist, a live broadcast and lots of thrills. I have been waiting for this ever since it first came out and I can say that I am quite satisfied. The story of this film is located in one room, the radio station, this may seem so little for a thriller to happen but I take that as a positive point because the non-diversity of locations forced the focus on the plot and dialogues instead which is a great thing. The Terror Live builds a great tension and thrilling moments that it may even feel suffocating in a good way. The film starts out very fast without the meaningless time-filler introductions; it was engaging ever since the first minutes and it kept drawing the attention until the very end. This film doesn't contain any dull moment and you can never think that it became boring because the order of displaying events was quite well-done in a way that will make you anxious about what will happen next. Also, the messages delivered in this film concerning the government, mass media and terrorists as well as the questions it asks about their involvement are well-crafted. And no, this is nothing like any terror anything you've seen before since it doesn't follow a stereotypical pattern at all. The acting was marvelous. Ha Jung Woo proves, once again, what great of an actor he is. I always praise him in my reviews not because I am biased with him as a fan girl (although I do find him quite charming) but it's due to his absorbing acting skills that keep getting better and better after each film he makes. And man does thriller roles suit him so well! I am complimenting the acting because if some pretty face idol who doesn't know how to act did this type of role then everything would have went downhill that's why choosing great actors is one the most important elements of making a successful film. The characters were intriguing and very well-done as a whole. There's no hero in this film because our male lead is almost an anti-hero instead of the opposite side. The anchor had the greatest character developments ever where he started as a sloppy carefree radio host then he became a serious anchor and at the end…Well, it's a spoiler. The cinematography is catching and pretty similar to recent Korean thrillers visuals with only little CGI used in the process. And I don't think a second rewatch of a tight suspense film is a good idea. Watch if: -You're in the mood for a great suspense thriller. -You like the Korean way of making thrillers. -You like Ha Jung Woo or want to discover him. Do not watch if: -You dislike thrillers and suspenseful stories. The Terror Live is one of the better Korean thrillers made in recent years, if you want to watch this film then make sure to prepare yourself for an astounding ride.
Was this review helpful to you?