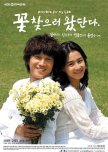 When you see a review rated above 8 in story,acting/cast,rewatch and overall aspects, you just hope that the person writing the review isn't emotionally attached because then there is a possibility that the review would be written in a sentimental state. Well, I have certainly moved on and its been a month since I have finished "Flowers for my Life". I even have started other great dramas like Japanese 'Mother' and Korean "Nine times travel".
Flowers centers around the business of our girl's (Kang Hye Jung - Oldboy, Love Phobia, Welcome to Dongmakgol) parents which is nothing but setting up funerals for the deceased. Well, what do you think? Depressing, Sad, Sappy? If you think that way, then I'll try to make you think other way.
Flowers is not a melodrama. It doesn't put the characters of the story in extreme difficult situations so as to appeal to the emotions. It isn't a family drama, it may not even feel like a drama ! It will be hard to believe that its a show which deals with death and is actually hilarious and funny without being jokey and gag based. It touches you emotionally without making you sappy. You will feel the characters in your heart and yet you wont cry. It will provide you lots of hilarious and humorous moments. You won't feel dull at any point in the series.
The cast is good with our leads fully absorbing into their roles. You will probably remember Cha Tae Hyun (My Sassy Girl). He is the main character in this story and I think he was perfectly cast for this role. His exaggerated facial expressions are always funny but you won't find them ridiculous here. They will rather feel as honest feelings. The lead actress Kang Hye Jung is very natural in her acting. She just steps up her acting skills in each episode. You will feel like living in the drama. The second leads are OK. The parents are awesome. There are 2 more elders who would sometimes feel annoying but their screen time is small.
Doesn't your all time favorite drama has the most beautiful music? Remember 'Coffee Prince' and 'Shut Up: Flower Boy Band' ! Well, Flowers doesn't reach to that level but there are just enough scenes where the background music matches perfectly with what is going on in the screen. In fact, it is the OST that keeps your tears away. Its the exact opposite of OST of '1 Litre of Tears' where you cry because your heart, Aya and the background music all resonate to the frequency of 'tears'. In Flowers, it resonates to happiness and smiles. To your surprise, you will come across a 90's english song.
I have never rewatched any drama till now. Not even my top favorite one. But I feel like I can always return to watching this show as this is JUST NOT sad, even when talking about death. All other good shows leave me in a state of helplessness when I finish them and I don't know what to do ending up in an existential crisis for few days. But Flowers left me satisfied and happy in the end.
Overall, I will give this one a '9'. I would have given this a 10 if not just for that 1 single episode where I think it paced up a little giving away its charm a bit. But the show made up for it in the last 5 episodes.
Additional thoughts - There are few episodes which tell a smaller story and work well in moving the characters in that small story as well as the larger story of the series in itself. You can compare it with the episodes of 'Reply 1997'. Now wasn't that amazing !
And if you see this show, then do watch out for the flowers (I mean literally; there will be just a single scene for 2-3 seconds where a character is shown with some type of flower).
This show is indeed well executed. I just didn't wanted it to be so underrated.
Thank you for your patience.
Was this review helpful to you?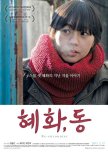 This review may contain spoilers
"Bad things happen, but you can still live" - Joe Lamb, a schoolkid telling an alien how to move on in life; in the hollywood movie 'Super 8'.
Well, 'Re-encounter' takes a step further and asks our lead actress to choose between moving on ahead in life to a better future or to mere exist in the world giving up on dreams and hopes. For her, its easier to just exist and you will understand her choice once you see her story in the early parts of the film. Or you can just read the plot on MDL. It's on you ! But I'll try to convince you to watch this beautiful film without giving any major spoilers.
The film doesn't open with her back story, the viewer gradually finds out soon after first few scenes. The back story is that she was totally abandoned when she was pregnant at 18 and also lost her child on birth. It was like the world closed down on her and there is no one accepting her. So how does one reply back? You would try to live on but it would be damn difficult. This film doesn't show you how our lead went through that phase. It shows you how she deals with the situation she confronts when her past comes back (re-encounter).
Any dog lovers around here? You all will love her. She currently works as a vet's assistant and in her free time goes around and rescues abandoned dogs. Her present life aptly describes how the society is divided. An abandoned woman rescuing abandoned dogs !
The story starts when she is 23 years old and has quietly settled down and her ex-boyfriend comes to visit her with a heart dropping fact. Yeah, FACT.
It's upon her to choose now whether to move on from her own comfort(negative) zone or to just destroy her ex's chance of redemption. Life has given her a chance to abandon him ! How does one respond? If you were in her shoes will you do a tit for tat? The film goes on till the very last scene where her choice is finally revealed. And that is one very good aspect where the writer-director has won my praise. Her action is aptly justified not only in the beginning but in the end as well. The viewer can never really understand what is going on in her mind. The director gives tiny little clues to us so that we could get into her mind and exactly know her state of play.
The plot is an intelligent, well written and displayed with realism. You won't feel as if anyone is acting. You will be in their world. There are fairly countable dialogues. The film is slow paced but it requires to be slow. It is the one of the best indie-films yet so far in my view.
As you watch, you will notice a that the performance given by the two leads only excavates the realism of the narrative. You will be able to understand the loss and pain suffered by each of them which ironically, both of them initially aren't aware of the depths of scars faced by themselves.
The film is a combination of human drama and 'tense' suspense which will make you follow the story until the climax reveals the meaning of how to live even when bad things keep on happening. The film shows metaphorically as to how to treat other's mistake.
If you like this movie, please message me. I guess that then you too will have liked the very last scene.
P.S - This is definitely not a 6-7 rating film. More people need to vote !
Was this review helpful to you?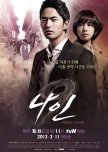 This review may contain spoilers
*MAJOR SPOILER * *MAJOR SPOILER * *MAJOR SPOILER *
*MAJOR SPOILER * *MAJOR SPOILER * *MAJOR SPOILER *
*MAJOR SPOILER * *MAJOR SPOILER * *MAJOR SPOILER *
*MAJOR SPOILER * *MAJOR SPOILER * *MAJOR SPOILER *
*MAJOR SPOILER * *MAJOR SPOILER * *MAJOR SPOILER *
*MAJOR SPOILER * *MAJOR SPOILER * *MAJOR SPOILER *
*MAJOR SPOILER * *MAJOR SPOILER * *MAJOR SPOILER *
NINE : Nine Times Time Travel - ENDING EXPLAINED
I just had to write about the ending of this drama. There could be so many possible situations which can happen after the end scene.
According to me, it happens like the following.
I'll explain through the eyes of 1992 park sun woo. Whenever I mention sun woo, it's the sun woo from 1992. The present 2013 sun woo has died back in 1993.
It's Dec 2012. Our 1992 sun woo has grown up. In the last episode, he learns that his future sun woo had already died back in 1993 during time traveling. This knowledge cracks him up a bit and now he is worried that he might die because there is no future sun woo after April 2013. He believes that he is making the right choice every time in his life (because future sun woo had told him in his last message that he will always make right decisions) so he follows his instincts and travels to Nepal to find some answers and also because he knows his brother Jung woo is there. This is where the drama finishes before that one final scene of Himalayas. So excluding the final Himalayas scene of the series for now, this is what happened after sun woo traveled to Nepal. The first scene of the series becomes relevant. It's shown that jung woo dies while climbing the mountain as a shadow of a man gets over his face. I think that shadow was of park sun woo. He has traveled to Nepal and because he knows his brother is there he tries to know his whereabouts. He succeeds in finding him but Jung woo dies seconds before he reaches him.
Now he finds the incense stick in his brothers hand. He notes the time and place his brother has died. He saves this single stick for exactly 20 years. Now we see the last scene of the drama. In Dec 2032, sun woo travels back 20 years using that single stick to Dec 2012 and saves his brother from dying on the mountain. He looks 20 years older than the original sun woo(2013) as we see the beard and mustache. And he says "it's nice to see you brother, it's been a very long time".
So, do you think the same way ?
I also have a theory as to why he gets stuck in the past after the usage of last incense stick. If anyone of you want to discuss about that, you are welcome to message me anytime :)
Was this review helpful to you?