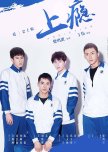 The acting in this web series was great even though some of them were beginning actors. I loved all the couplings (or more like coupling, even though it was clear who the others were) because the chemistry between them was great!
The music was fabulous as well; especially their singing. The main two have such nice and lovely voices!
I don't personally like how a lot of things were cut from the drama and things got confusing here and there; especially when an episode ended in one place and the next one started in a different place and I'm sitting here watching it like, "What?!?! How did that even happened?? Or how did that even worked?" (I understand that some scenes were deliberately cut due to China's sensory issue, but at least make the continuity understandable.)
Overall, the web series is great and lovely even with a mere 15 episodes that were 20-25 minutes long each. I definitely recommend watching this web series because once you do, you will want more of the characters, lol. I will definitely re-watch this web series when I have nothing else to watch!
(I will be waiting for season 2!)
Was this review helpful to you?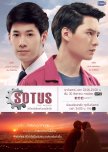 I've known about Sotus the Seris being in production from well over a year ago. Even before Make It Right the Series came out. It's just that I lost hope/interest (if that's the right words) in it because it was taking so long for the series to come out, but when it eventually did I put it on hold for the first 3 months of it's airing because I was too into other dramas to watch Sotus. When I finally got around to watching Sotus; I was not the least bit disappointed.
The series is great with a really well written story be Bittersweet with it's "typical" kind of plot line, but interesting setups. What makes the series stand out is that the two actors portraying Kongpope and Arthit are really immerse into their roles that it makes the acting seem natural and flowing. If you were to compare with Lovesick and MIR (although I don't like to compare them), the acting seems more natural, but maybe that's because of the age difference between the leads of Sotus to the leads of Lovesick and MIR.
For being relatively new actors, Krist and Singto were very talented and as I stated above; acted very natural. All the other actors were great too.
I didn't really get pulled in by any of the music in the series, but overall the selection of songs in the series were not bad. They just didn't appeal that great to me.
There were some awkward scenes where things just "stood still" for a minute or 2 and you didn't really know what was happening, but other than that the series was great!
Definitely a must watch/re-watch! And I hope for a season 2 like the rest of the Sotus fans!
Was this review helpful to you?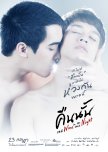 The movie was really weird, but is worth watching. I didn't enjoy the movie that much, but it's not quite bad and the acting is pretty great actually.
I did not expect Fluke Pongsatorn to act the way he did in the movie because of the shyness and innocence he exerted in My Bromance. My Bromance really painted the mental image of an innocent Pongsatorn and that was what I imagined his attitude to be the whole time watching this movie, but sadly it wasn't.
Overall, I don't find myself watching this movie again. It had some sad parts, but for 5 minutes of the whole movie. In comparison to My Bromance; I rather re-watch My Bromance over Red Wine in the Dark Knight.
Was this review helpful to you?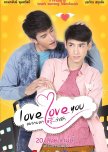 After almost a two year wait, I can honestly say I am satisfied with the results of this movie. Although I was initially sad with the lead change, Gun is a great actor as proven in his other projects. During parts of the movie, I kind of wanted Gump to be with the "secondary" guy, but it was obvious it wasn't going to happen.
What I liked about this sequel is that story was set in stone once you figure out the plot line. You kind of know what to expect, but at the same time there are a few things that surprises you.
I felt like I heard one song throughout the whole movie, but it might've been me not paying attention. The one song I did hear was great and fit the mood of the scenes nicely.
Would I re-watch this film? Most likely because I re-watched the first one about 3 times, and it was one of my first Thai films I watched. Re-watching won't happen anytime soon for me though.
I highly recommend watching this film because it's as great as the first one!
Was this review helpful to you?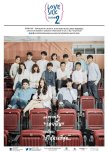 The drama in a hand was very great!! I'm still in disbelief that it was over by the time I finished watching the final episode; I still wanted more, but sadly it was the last episode. I wanted a cast talk at the end of this season like how at the end of season 1 the cast talked about their experiences with the drama and their character and such. (I can always hope for a Season 3, but who knows if there will be one.......only hope T___T).
The actors and actresses were great for their age, but at times I felt that they tried a little too hard to express a certain emotion. For example, when someone was crying I felt that they tried a little too hard to draw tears out, but I mean it's cry acting and no one said that was easy, so I give them props though.
The music was fabulous! (Especially Captain's version of Kor Rong; his voice killed me and the emotions he put forth into singing that song) I had to pause some episodes every so often because I had to go and search for the songs and download them. Nat Tol's Unconditional Love (BUFF4's cover version) and the Theme Song - Shake were also very good and I had to go download them as well! The whole cast basically have angelic voices; something about Thai singing just draws me in just like K-Pop.
I love Phun/Noh all the way, but I felt that they were a little dramatic like they were their own "girls" and that they displayed more "girl" like emotions than the actual girls themselves. Still love them *Hearts*. My favorite couple is probably Ohm/Mick!! I just wish their story was extended upon on because of how adorable it was. A lot of the side couples' story line had so much potential, but I guess the author/director wanted to focus on the main's, so I understand why the sides didn't have much screentime; especially Pop/Pang. I also liked Per/Win's coupling too. I thought Mark/Win's coupling was adorable too, especially during one scene near the end.
What I learned from watching this drama according to the guys and girls:
What I learned about the guys:
They are a bunch of emotional wrecks!!!! Like seriously, they didn't even need the girls in the drama because they were more emotional and dramatic than the girls!!!!! In real life you don't find much guys like that, but I do like how they each displayed their characters.
What I learned about the girls:
They're obnoxious and annoying and are pretty much attention seekers. I really pitied Jeed throughout the series. I despised Grace from Ep. 1 of Season 1 and despised her to the very end. And I knew Aim wasn't going to be the goody two-shoe she was displayed to be at the very beginning of the series.
I would definitely re-watch!!!!!! Maybe not now, but a few months down the road or next year as I usually re-watch dramas 1 or 2 years later. Honestly this is one of(if not) the best Thai school dramas I've seen and watched.
I really want a Season 3...........................................
Was this review helpful to you?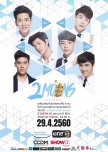 The story was well written with maybe some unusual parts (nothing I can specifically mention at the moment). It was nice with a touch of realism, but also fictional elements because in reality, the probability of witnessing a cast of school guys all leaning towards the same gender is unlikely. But what can I say, it's based off the novel. Besides the cast is good looking. Godt, Bas, Copter, Kimmon, and among others are visually attractive so it's probably one of the reasons why I watched this series.
The music was exceptional. The usage of songs from former series gave me a nostalgic feel which I loved and enjoyed. Also, Bas (Wayo) has a nice singing voice (I believe that's his voice in the series).
The story just gave me butterflies whenever the two main couple were together (Still waiting for Forth and Beam to get together; I'm guessing that'll happen next season). Kimmon (Ming) is great at acting despite being featured as a main in two series so far (Lovesick was more or less an appearance).
Overall, I think the cast did great for those who were new and old. I'll admit that there were awkward staring/silence (the usual case in most BL series) scenes here and there; I still thoroughly enjoyed the series.
Waiting for the next season.
Was this review helpful to you?