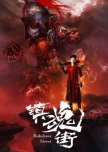 I Kinda Felt Like I Was In Circles with this Drama
I Did Like The Cast & The Music & The StoryLine
None Of That Really Bothered Me
It Was The Pace Of The Show Somethings Just Felt At Times For Me
Kinda Scattered  
I Did Like How That Guy That Could Turn Into Ghost Mode
EveryTime The Girl Was Revealing & He Had A Nosebleed
But Yeah I Did Kinda like it
It Was't Like Most Drama's Where Your
frustrated annoyed with the drama as soon as you'r done with it
it's more like ehh
it would have been more great with some romance .
but its great to watch if you are in a slump and don't wanna jump in a
Drama That Makes You Hate The Way You Feel
And You Just Feel You Need A   Ehh Ohh Well
Lets Get Rid Of Wanting To Hunt Down The Writers To
The Last Drama .so this drama does't really effect you'r emotions
only lack  of romance like it's not there at all.but oh well
ok hoped it helped.
Was this review helpful to you?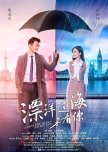 I liked the story line but i mostly stay to watch a drama even if its to long which i
felt this one kinda was .  i din't like the charters death i am not going to say which
charter died cause i don't wanna spoil it But I Admit I did Cry .
i liked the three pair of couples
The main couple was cute and sweet and total loyalty
and it must be fate cause dang they went through so much
i did like the drama but at times it was slow and towards
The End It felt Rushed I Would've Not Added the death If I Was The
one who Wrote It.I Would Have had The Charter To Be Pilled In The Climate
but not dead i would've had him to rush and try to rescue her and while she is there rescue
comes and while she arrives at the hospital it appears that she won't make it so they call her sister
while she's also in the hospital cause of what she did.
She Rushes of the news of Her sister the have a heart to heart blah blah blah the
Hole in the family is fix she Fine with them being a couple .she will put her sister first
and she will try to find her own partner cause she's glad how much she need's
her sister and realized before she really did die.
but No that did Not happen at all ...
i like how GuTang Guo Guo [Ming's sister] & Su Chang [Mang's brother]
Ended up together i really really enjoyed them together at first i kinda hated her but i grew to like her and i liked
how the treated each other once they were together even before that it was really great to see how there love grew to
kinda into a crush in his part to her realizing her feelings for him.and there many and sweet moments .i wished there was more tho
i liked the brother and sister moments as well i really liked how they cared for one another but again i wished for more
less drama and pointless over and over again storyline moments .and more sweet romantic moments ,Bromance  ,and moments that we want
i liked both of the brotherly and sister moments  between  the two pair of brother and sister .
but there was somethings that i felt like where a waist of film .
but i'll just re-write so in my head .
ok thats it
Was this review helpful to you?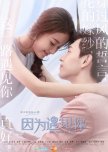 I did like this Drama and i Did like the Story Line
But You Know how Sometimes They Drag On & On The Storyline
And Its Just Plain Boring You Are just Now Try To finish The Drama
I loved how they added  The baby Turning Into her Daughter
I loved How In The end everyone Got what They Deserved 
BUT TO BE HONEST I KINDA ONLY WATCH CAUSE THE MAIN COUPLE.
WHO SAW THEM IN  FIFTEEN YEARS TO WAIT FOR
MIGRATORY BIRDS .
BUT  EVEN THO THAT WAS MY REASON AT FIRST TO WATCH> I REALLY
DID ENJOY IT BUT
WARNING: YOU NEED PATIENCE TO EVEN SEE MORE MOMENTS BETWEEN  THE COUPLE
BUT  THE DRAMA DID GIVE YOU A LITTLE BIT OF ALMOST EVERYTHING 
NORMALLY I WOULD WATCH SOMETHING THIS LONG AND STILL CONTINUE TO WATCH IT
SO THAT HAS TO COUNT FOR SOMETHING >
ANY WAY I HOPE MY REVIEW  HELPED :)
Was this review helpful to you?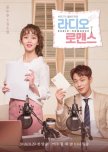 IF YOUR LOOKING FOR A LIGHT DRAMA TO WATCH THIS ONE IS IT!
ITS A GOOD DRAMA IF YOUR STILL FRUSTRATED OR ANNOYED >>
IT WAS A GOOD DRAMA TO WATCH BUT I DONT THINK ITS THE BEST .BUT LIKE I SAID IT WAS LIGHT KINDA DRAMA .IT WASN'T
OVER DRAMATIC OR ANYTHING LIKE THAT . BUT I MOSTLY WATCH FOR MAIN COUPLE THEY HAD GREAT MOMENTS AND WAS REALLY TAKEN
BACK OF HOW GREAT THEY DELIVERED THE KISS SCENES ESPECIALLY WHEN THE HAVE AN AGE GAP .THOUGHT IT WAS GOING TO BE AWKWARD .LIKE OTHER DRAMA KISS SCENES BUT NO SHE PULLED IT OFF.
PROS:
~the visuals
~Great chemistry
~cute jealous moments
~they knew how to comfort one another
~loyal couple
~first loves (kinda you'll get it if you watch it)
~Kim so-Hyun Acting
~ touching moments
~no main villain
CONS:
~maybe the not so love triangle was kinda pointless
~slow at time
~it din't really get you into it
~some things where kinda pointless a waist of film for maybe better ideas
BUT THEY ARE NOT REALLY THINGS THAT I REALLY REALLY HATED .SO THE LAST THING I"LL SAY IS JUST WATCH MAYBE YOU'LL LIKE IT
OR HATE IT BUT AT LEAST CHECK IT OUT BEFORE YOU DECIDE . PS : THERE IS A LOT OF MOMENTS FOR MAIN LEADS IN DRAMA <3
Was this review helpful to you?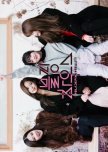 waiting for their 12 ep
but its not really a show but i rated them a ten anyways .
because i'm a blink i love getting more content on them
my review is not long enough so i'm gonna ramble .
but it was nice to see the girls
i saw the clip of ep 12 and i saw lisa's work out dang lisa
i cant do that .
i wonder if they will make it longer ep
or another season
it will be amazing if they did but then again yg but
one can only hope
anyways this is good for blinks if they want to see more of the girls
Was this review helpful to you?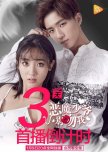 I LIKED BUT THE FIRST TWO EPS ARE KINDA WEIRD AT FIRST SO YOU COULD JUST SKIP BUT I DO ADVISE YOU
TO AT LEAST SEE IF YOU WOULD LIKE THIS DRAMA !
I DO LIKE HOW THEY ARE ENTANGLED WITH EACH OTHER I DO
LIKE THERE JEALOUSY TOWARDS EACH OTHER
THE MOMENTS ARE SWEET AND  PURE AND HONEST
AND I ALSO LOVE THAT SHE IS
ALMOST GOOD AT EVERYTHING AT TIMES SHES SWEET
SWEET BUT SHES ALSO STRONG AND I LIKE SHES
PRETTY MUCH LIKED BY ALMOST EVERYONE
I LIKE HOW SHE HAS PEOPLE THAT LIKE HER AND HOW SHES GOOD AT STUDYING NOT JUST STREET SMART
I LIKED HOW THE MAN GIRL AND THE MAN MALE
CARED FOR EACH OTHER
I LIKED HOW EVEN THO THE GIRL WAS SIMILAR TO HIS FIRST LOVE
LIKE EVERYONE MENTIONED THROUGH OUT THE SHOW AT
SOME POINT  AT THE END HE PICKED HER OVER HIS FIRST LOVE
I ALSO LIKED HOW EVEN PEOPLE IN THE FAMILY WHERE ROOTING FOR THERE RELATIONSHIP
UNLIKE OTHER DRAMAS ( EVIL GRANDMOTHERS AND MOMS
JEALOUS SIBLINGS  , BROTHER OR BEST FRIEND TRYING TO HAVE HER FIRST EVEN VISE VERSA
SOMEONE EVIL TRYING TO HIDE A SECRET OR JUST AFTER THEIR MONEY
DONT FORGET GREEDY FATHERS AND DONT FORGET THE MOST EVIL ONES THAT PLAY WITH YOUR EMOTIONS
LIKE THEY ARE  NOTHING
THE ONES WHO WROTE THEM THE WRITERS >>>
Was this review helpful to you?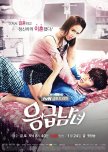 AT FIRST I WATCH ONLY FOR RUNNING MAN  SONG JI HYO
WHO DOES'T ADORE HER
BUT YES THE STORY LINE WAS KINDA CLICHE
BUT I STILL LIKED IT THEN MOST DRAMAS WITH SUPPER ANNOYING
AND LONG FAMILY PROBLEMS  
THEY WHERE MOMMENT THAT I DID HATE BUT I DID LIKE HOW
CHOI JIN HYUK  DIN'T
LIKE HER WITH ANYONE ELES BUT HIM
I LIKED HOW  THE FOUND  EACH OTHER
WHEN THEY WHERE EVENTUALLY READY AND MORE
MATURE .
ITS KINDA CLICHE BUT MOST DRAMAS ARE THESE DAYS
Was this review helpful to you?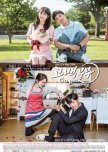 This review may contain spoilers
(WARNING : KINDA SPOILERS   )
I KNOW SHE WAS MARRIED TO HIM AND EVEN HAD A BABY WITH HER HUSBAND AND EVERYTHING
BUT I STILL WANTED HER WITH THE SECOND LEAD > I HEARD THAT SHE DID  END UP WITH THE SECOND MALE LEAD IN THE
WEBTOON .BUT I DID ENJOY IT
I LOVED HOW EVEN  THO THEY  DINT WANT TO BE  TOGETHER  WHILE THEY WHERE
MARRIED . IT WAS'T FOR THE REASON THAT THEY DIN'T LOVED EACH OTHER IT WAS BECAUSE THERE
WHERE TO MANY MISUNDERSTANDINGS BUT JUST LIKE EVERY MARRIED COUPLE
THERE ARE YOUR OTHER HALF SO YOU KINDA HAVE TO TRUST AND RESPECT AND CARE AND BASICALLY  BE
WHAT EVER ELES YOUR PARTNER NEEDS .
BUT I DID LIKE HOW  THERE LOVE BLOSSOMED AGAIN
AND WHATS THE PERFECT WAY TO DO THAT WITH A LITTLE OF JEALOUSY
FROM BOTH SIDES I LIKED HOW OTHER PEOPLE LIKED THEM AND AT TIMES THEY DID AS WELL.
IT WAS LIKE NO MATTER WHAT .THEY WILL ALWAYS GO IN CIRCLES AND
EVENTUALLY END UP  BACK TOGETHER .
AND I ALSO LIKE HOW THEY HINTED THAT WITH THE NEAR THE ENDING WHEN THEY ARE  LOOKING FOR THE RINGS AND IT KINDA SHOWS THEM THERE FLASH BACK (OR) OTHER LIFE KINDA .
Was this review helpful to you?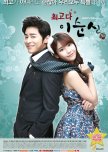 IM GONNA WRITE REVIEW IN CAP WORDS OK OKAY
REASONS TO WATCH :
*IU
*ROMANTIC MOMENTS
*THE MALE LEAD FALLS FOR THE GIRL FIRST
*CUTE  MOMENTS
*I WAS PLEASED WITH THE ENDING
*IT KEEPS YOU HOOKED FOR A WHILE
* ITS GOOD IF YOU CANT FIND ANY THING TO WATCH
OR IF YOUR IN A FUNK WITH DRAMAS
* A FEW JEALOUS MOMENTS
*THERE IS SOME MOMENTS THAT YOU ALSO GET INTO SOME MOMENTS
* I THINK THE ACTING IS  GOOD ITS BETTER THAN MOST
* I LIKE WHEN THE MALE LEAD LIKES THE GIRL THE MOST AND FIRST AND PROTECTIVE
* IU CHARTER WAS KINDA WEAK BUT I WOULDT SAY A DUMB FEAMALE LEAD PEOPLE JUST KINDA USED HER KINDNESS
AS WEAKNESS IN AWAY 
REASONS WHY NOT TO WATCH:
*MAYBE TO MUCH CRYING
*MAYBE TO MUCH FAMILY ISSUES ITS LIKE ONE AFTER ANOTHER
*THE LITTLE GIRL ANNOYED ME AT TIMES
*IU's REAL MOM AT TIMES ANNOYED ME TO
* I HATED WHEN THEY DINT SEE IU POINT OF VIEW
* NOT ENOUGH LOVE MOMENTS
*AT TIMES SLOW PACE
* YOU DONT CARE FOR ALL THE CHARTERS
Was this review helpful to you?