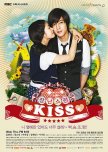 READ THIS IF YOU WANT A UNIQUE PERSPECTIVE OF THIS DRAMA
I hope some take a moment to read this. I am not the best writer. I haven't wrote a lot of reviews yet, but this one forced my hand. I hope it isn't a waste of your time. Also, I hope you give my perspective some consideration. This is a gem.
I have thought many times how I should start this review. However, I do not think I will be emphatic enough of how this Kdrama affected me no matter how much I try.
Oh well here we go...
Playful Kiss was pure, heartfelt joy for me. I am likely going to come at this in a somewhat unique angle. I have to immediately share that I have read much of the hate or criticisms of this drama...mostly about Oh Ha Ni's 'pathetic' puppy dog love and her incessant pursuit of Baek Seung Jo. Which I will deal with later...but a HUGE 'PFFT' – whatever. I see how it made her look dependent, stalker, etc. They even took exception with the mother encouraging this. It makes me wonder what they were watching, but I have my opinion and as I said, I will cover that later. I DO NOT really want to make this negative. This drama is purely about the positive.
A short preamble of sorts. I am relatively new to Kdrama's. I have around 20 under my belt as of writing this review. I think I have a fairly well rounded resume, you can peruse my list if you like, but I have never watched one like 'Playful Kiss'...apparently. Why 'apparently'? It left many of the sinister tropes behind. The overbearing parent, the evil in-law, the person at school or work or wherever that serves as the antagonist. The heal. The 'hated' one or several in some dramas. This was completely devoid of that!!!!!!! It blew me away. It was pure love, warmth, and heart. I do not believe I have watched ANYTHING like this in my life! I am American and our purity on TV left decades ago. The closest we get is shlock filled, syrupy, inane dramas on like ABC Family that are as deep as a puddle and as interesting as insurance forms. This drama had spunk and had loads of REAL laughs. Yes, mostly at the expense of Oh Ha Ni, but in the sweetest way imaginable.
I wrote in the forum part for this drama about how it completely compared to 'Bridget Jone's Diary'. I said, how 'Bridget Jone's Diary' would be an adult, 'R' rated version, while this would be the high school, family equivalent. Both had a hapless, hopeless romantic lead protagonist that went to great lengths and often made fools of themselves over a man. 'Bridget Jone's Diary' was a critical darling and 'Playful Kiss' has a descent rating on mydramalist, but way too many high brow people looking down their noses at Oh Ha Ni because she was too vulnerable and too often let a man define her...yada, yada, yada! First question I have, um, Bong Joon Gu was EVERY bit as clingy to Oh Ha Ni. He even continued after she was married. He told her that if Seung Jo is now her house, he would be her 'insurance'. Yes, the writers or director brought in Chris to turn Joon Gu's head at the end, but he was still clinging to Ha Ni. No one mentions him as exhibiting the same behavior. It was her character only. That to me is sexist. Once again you bring undue attention to the female doing something when a male was largely guilty of the same thing. She was every bit his 'knight in shining armour' and Joon Gu said so much! Ha Ni went through growth over the arch of the series just as Bridget did. She at the end was confident that Seung Jo was every bit taken with her as she was of him. She had matured and was working hard.
I have a theory as to why there are so many pointing out Ha Ni's supposed 'pathetic-ness'. At least from an American perspective, and likely a European perspective, is cynicism. We have gotten so 'empowered' that any show of selling oneself out for another is a show of weakness. I think a lot more relationships and marriages would go a lot further if BOTH individuals were to give up themselves completely for the other. It isn't PC, especially for a woman, to want to give themselves totally to the other. It's often worded 50/50. That's a hedge. Someone may cry semantics, but each giving 100% of themselves for the other is the way to be. I think that was reached in the end albeit Seung Jo was much more reserved in exhibiting his devotion, but he did. I do wish they had him coming to her defense more and stronger, but alas, they didn't. The beginning was about her devotion and lampooned it as such. It was admitted many times to being one sided, but her perseverance paid off. I just think that too many judged her unfairly. She did nothing sordid. She didn't do anything deserving reproach, she was just wide-eyed and too full of heart.
I am not sure I articulated my point well enough the above point, but I will move on.
Some complained and some LOVED Kim Hyun Joong. I am betting some of the devotees to Hyun Joong are nearly as starry eyed as Ha Ni because he is handsome. However, he seems to be a one note actor at the moment. I have only seen him in 'Boys Over Flowers' and this. I don't hate him. What the director wants from him, he has down to a science. Hyun Joong's performance was nearly an extension of Yoon Ji Hoo. However, for me, he was not what drove this movie, nor was he what touched my heart so much by this drama. He was merely a pawn. He was Ha Ni's carrot and that is about it. I will say this because of the way he plays his part through out, when his tone does change it hits you! The viewer feels it because most of the series he acts arrogant and is brooding all the time so when he does lower his guard and shows his love for Ha Ni the viewer always feels it. However, once again, the series acknowledges that!! He does. His friends do. His MOTHER does always. Even his little worshiping brother does near the end! They all acknowledge that he has personality issues. So to point it out seems rather silly BECAUSE EVERYONE knows it! LOL! It was his known flaw that would expose other flaws in his seemingly perfect demeanor. Ha Ni wears her flaws on her sleeve. They are there for everyone to see...and every one freely talks about them too.
Here's my heart felt feeling in the end, this drama was nothing but love. It permeated the entire series. It's warmth never wavered. I would love to live in a cocoon such as Ha Ni's. In spite her flaws, she brought warmth to everyone she touched and everyone surrounding her brought the love to her too. Her friends, her father, Seung Jo's parents, Joon Gu, her senior homeroom teacher, even Yoon Ha Rae was won over!! Jung So Min was radiant! She played this part as well as you could hope. The way she stumbled. The way she bit her lip. The way she shrunk when she knew she screwed up. I get teary eyed just thinking how special she was in this role...and the hate for her character -UGH! I DO NOT get it. She was a bit naïve sure, but she was so pure in every action how could you not cheer for her. When Seung Jo's mother, Geum Hee, came to her defense and pointed out the heart she brought to their lives it was awe inspiring.
I would love to flesh out more about each of these examples in her friends, Seung Jo's family, etc, but I will only touch on them a little. It was ALL of them that lead to my captivation with this series. I could only imagine having friends such as Ha Ni's and that includes Joon Gu. Her father was so gentle and worked so hard and gave his all for his daughter. However, for me the ones that filled my heart most was Seung Jo's parents. Yes, at first the mother, Geum Hee, seemed off. She seemed to have a screw loose and was weird, but that, at least for me, faded quickly. Her character was explained deeper. She became second only Ha Ni as my most beloved, but that only seems right since they were meant to be VERY similar, if not mirrors of one another. Their out pouring of support and uncompromising support for Ha Ni and her dad was profound. It brought buckets of tears from me.
Speaking of tears, I sobbed so many times during this series. From tears of joy, to tears of sharing their heartache, but it was always a pure heartache never a malicious heartache. The type that just comes with life. People come and go. We say good bye, and if you have a heart, most good byes are misty eyed. I tell my boys the most painful things in life are good byes.
So to maybe conclude, the cynicism this series has garnered from some is truly baffling. It's charming from start to finish. Having a happy ending with everyone finding love is unrealistic. People are right, life is mired in pain, suffering, hatred, bigotry, gossiping, backstabbing, greed, and so many other morose happenings. And thank God above this series doesn't have them. This is bliss start to finish, with just the mild bumps along the way. I'll tell you what, there are plenty of dramas that explore those ugly parts of life. Once in a while, isn't it nice to experience a story where people are good and helpful to each other. Doesn't that sound glorious? We live atrocity, why then would we want to ONLY champion that and watch series about that? Why wouldn't we want to escape for a while in a gentle, sweet world that largely doesn't exist in the real world, but wouldn't it be nice if it did? I'm 44. I had a marriage of 22 years end with lies, a wife committing adultery, a broken family through divorce etc. I'm tired of all that. It was a breath of fresh air to live in this drama for a little while. I ordered it on DVD and bought the soundtrack. Now I will not just seek out dramas like this. I will still watch and love the dramas with all the usually Kdrama tropes and expect story devices, but when life has me shaking my head, I will lose myself in this series for a moment and realize how people should treat each other.
Was this review helpful to you?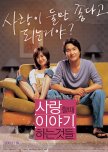 Solace
4 people found this review helpful
I am not familiar enough with Korean movies to know if this is more the normal for their cinema or not, but certainly here in America this would be an Arthouse film. It is stark, quiet, and poignant.
This movie is not out to take you on an adventure or thrill you. It is not an overwrought romance. It is paradoxically simple in portraying day to day life and yet profoundly deep because of how it allows you in the life of the lead protagonists. This type movie is more like someone steps in to someone's life, pushes record for a while, then clicks stop and the movie is over.
Yet in this nearly two hours we see the gritty, grizzled details of two people and their real world problems. We see a love started and how life's problems can simply get in the way of letting that love turn into the fairy tale so many movies and dramas portray.
If more real and less contrived storytelling is your thing and you want to visit an experience more akin to your own normal complicated life, this story is definitely for you.
Was this review helpful to you?
I am still somewhat a neophyte to KDramas, but I have learned a lot about their expected structure and tropes. I have seen at least 3 different titles for this series. This site calls it 'My Love Eun Dong', Wikipedia calls it 'Beloved Eun Dong' and Netflix calls it 'This is my Love' for everyone's information.
This was a sorrowful, melancholy affair throughout. No real harsh moments, just some very hurtful and shameful moments, however, it never made me so uncomfortable I wanted to get through a portion. For me, Kim Sa Rang stole the show. She is obviously one of the most beautiful people ever born. Miss Korea 2000 and played maybe parts that accentuated her gorgeousness, but here she was completely wholesome and demure. Her sweetness and gentleness and calm with her big, beautiful, expressive eyes were just awe striking. There was a point when you felt she was doing something wrong or perhaps not going about things correctly, but as the story unfolded she was completely in the right at every step.
Adults mess everything up in life...children don't have the ulterior or misguided motives so it was frustrating and yet understandable that the outcome protected the child in the end.
A highly recommended melodrama, so far for me second only to 'Angel Eyes'. This story is more even keel and smooth, however, it never evoked the powerful emotions in me that 'Angel Eyes' did, in spite many parallels.
Was this review helpful to you?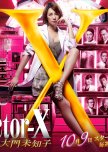 It is my complete intention to keep this succinct. As of this writing there were only 3 other reviews and the one that discussed in length about why season three was the best I agree with - I agreed with all of them since they all were positive. Tendo was great and the addition of the nurses, particularly the head nurse were wonderful. However, I don't know that season 3 was GREATLY better than seasons 1&2...except what made me decide to write this quick little review.
The show does get a bit repetitive in its stories and how each episode unfolds, yet remarkably it's still highly enjoyable regardless. You come to love Daimon Michiko and Akira-San and the rest of each seasons cast so much no matter how predictable certain aspects are - it stays enjoyable. I think it was relatively even keel from the start of Season 1 to episode 10 of season 3, but what caused me to bump my 'number rating' from season 1&2 was one reason. Season 3's finale. It was simply great. In everyway things for once felt 'on the line' even if you knew things would work out. The drama and emotions from every preceding episode seemed to culminate with season 3's final episode. I don't know about anyone else, but I certainly felt it. It was really a great finale. It marked the show with a hiatus too, but fortunately a season 4 is on the way!
Doctor X never fails;)
Was this review helpful to you?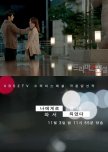 I'm in the minority here. I really liked it. Keep in mind it's telling a story in only 1 hr 14 mins. I found it a melancholy story of 2 people with financial woes that were keeping their lives from being what they wanted their life to be...who can't relate to that.
I mention the length because everything has to happen somewhat quickly, but I think Ha Jin and Kang Seok's relationship came together comfortably and believable. However, after a certain revelation things turn ugly. It was poignant and sadly disappointing when Ha Jin rejects Kang Seok. It breaks your heart that she seems to be completely heartless and materialistic no matter what the justification. Then when Kang Seok nearly follows suit in wishing his own sick mother would either get well or die so he can get on with his life really shocks you...but...if we are to be honest with ourselves we likely have been nearly as selfish at some point.
However, in the end both come to their senses, unfortunately for Ha Jin it's too late. Yet, Kang Seok's kindness will forever be Ha Jin'S as he will forever watch over her from a far. A bittersweet end.
As of October 5, 2016 it's on YouTube
https://youtu.be/0NaA_Afyodc
Was this review helpful to you?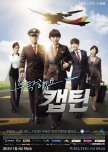 I liked it overall. Ku Hye Sun I adored in 'Boys Over Flowers' and even more so in 'Angel Eyes'. Here, however, it was hard to accept her as a pilot and her 'romance' with Captain never 'took off' for me. I don't think the writers made a case for her and Captain. It should have ended with Manager and Captain together and her with Flight Controller Dong Soo!!! Period.
My favorite part was the Second president finding his way. His daughter had to too, but she went so askew it was insufferable. The first President had such a beautiful heart, it was perplexing him letting the next guy be President, but alas, it ended well. That was by far the most satisfying story arc. Also Flight Controller Dong Soo was wonder and Manager Ji Won was the epitome of class. Stoic through it all. She was amazing, only for a moment did her heart get the best of her;)
Still, I enjoyed it. It's ultimately a series about how holding onto hate will only ruin yourself in the end.
Was this review helpful to you?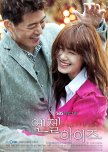 I will attempt to keep this short. I am fairly new to the Korean Drama Scene, but I am hooked! My entry was happenstance. I came upon 'Boys Over Flowers' on Netflix and was completely pulled in. I fell in love with JanDi and then of course Ku (Koo...Goo - I have seen it written all three ways) Hye-Sun. That subsequently lead me to 'Angel Eyes' also on Netflix. I loved JanDi. I loved her heart, determination, and initial innocence. I was so enthralled, I couldn't imagine it being topped. Then when I discovered how HUGE 'Boys Over Flowers' was I figured I loved it for a reason...then I saw 'Angel Eyes'. I have NEVER in all my life bawled as much and as hard as I did through the whole series. It was breathtaking and beautiful.
Now, I gave it 10's straight through. I even ordered it on DVD straight from Korea. I found on eBay a replication of the necklace Dong Joo gave So Wan. However, IF I had two possible criticisms it would be these. One, there was basically two storylines running in parrallel. On one side you had Dong Joo and So Wan. Their meeting, falling in love, time apart reuniting etc. That provided ALL the emotion. The tears. Jung Hwa will capture your heart and everytime she is reflected upon you will bawl if you have a heart. Then the parrallel story, the unfortunate revelations that tie it together tha maybe are necessary more than I realize, but it became a slight nuisance because, for me, I wanted to stay in the enchanted love and world of Jung Hwa, Dong Joo, So Wan, Hye-Joo (Ellie) and Seungri (Teddy). The pure. But perhaps, we need the ugly to appreciate the love. The second would be when So Wan lost her vision again. It may be a necessary KDrama trope, but it was insufferable. Finally she was called out by, Enjelaizeu, the person she stayed with, but still UGH!
I want to conclude with my education to Korean Drama's and their expected tropes. Things like love triangles, time apart for the main couple, amnesia, higher class versus lower class and things like that. Yes, 'Angel Eyes' has pretty much all of them, but that's OK. I apparently am into the extreme melodrama. I have since watched 'Secret Garden, 'Take Care of Us, Captian (Ku Hye-Sun), 'Blood' (Ku Hye-Sun), and a few others that I haven't finished. The only other one to approach where 'Angel Eyes' took me is the last full series I watched, 'Beloved Eun-Dong' (though Netflix calls it 'This is my Love'. That one parrallel 'Angel Eyes' in so many ways, but it did not sub plant 'Angel Eyes' as my most cherished.
If you find a powerful cry cathartic, you have a soft heart and don't mind at all if a story is purposely jerking your tears...this one is for you! I have been trying SOOOOO hard to get anyone to watch it that I know and only one has done so sadly. It only garnered about a 10% viewership in Korea - in contrast 'Boys Over Flowers' and 'Secret Garden' were just above 40%. Still, this swept me away and evoked feelings I didn't know I could ever feel.
Was this review helpful to you?