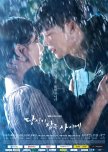 This review may contain spoilers
After reading reviews and comments on this drama, I have arrived at this conclusion: While You Were Sleeping is that popular drama you either hate or love. It all depends on your preference and/or drama watching experience. Examples of dramas like that are Goblin, Descendants of the Sun, and Scarlet Heart: Goryeo. I am the kind of person that dislikes most of these for several reasons.
One word I would use to describe this drama: average. This drama is really no different from every other drama. It really let me down and failed to live up to expectations (for me).
Note: When I am referring to an 'episode', I am talking about a 30 minute episode :)
Story: 5/10
The show starts off with a huge bang. Just in the first four episodes, a ton of stuff was going on and I was not sure what to think because my brain was very confused. It was cleared up in the next few episodes, and I genuinely enjoyed the beginning. But after that point, things got repetitive. From episode 9-24, the show was basically a repeating itself over and over. I could easily predict what was going to happen, and the supposed "cliffhangers" were terribly predictable. Even the last cliffhanger in the finale did not get my attention since I knew that everything was going to be the same. But the show does conclude really well. The last few episodes were the most exciting and I really liked how this drama ended. But... that's kind of late, don't ya think?
Acting/Cast: 8/10
I do have to say, Suzy's acting seemed to have improved. She played Hong Joo pretty well, but I didn't like this character at all because she was one-dimensional and had zero development. Lee Jong Suk, playing Prosecutor Jung Jae Chan is same as always (he always chooses the same types of roles, which leads me to believe that he can't act and is only popular because of his looks… please don't fight me on that xD). Also lately I noticed (after listening to his OSTs for this drama which are mehh imo) that Lee Jong Suk speaks with the most boring voice ever. This also leads me to believe that he only has one tone of voice: a flat, monotonous voice. But Jung Hae In's character, Han Woo Tak, completely stole the show for me. He had a way more more interesting character than the other two leads combined, and he was one of the reasons I stuck through to the end of this drama.
Characters: 5/10
There was barely any character development in Hong Joo or Jae Chan. But I did really enjoy the side characters and their storylines way more than the two main characters.
Music: 10/10
I can probably say this without getting attacked: WYWS is the drama with the best OST of 2017. A few were mehh but the majority of them were beautiful.  I like "It's You" by Henry soooo much. I may be biased since I love Henry and English OSTs…
Enjoyment level: 6/10
I did like the beginning, but it got boring in the middle. WYWS only got better in the last four episodes in my opinion (but that is too late to save). There was true suspense; suspense that kept me on the edge of my seat in the last episodes. I thought that I would not be surprised by the ending one week before the finale, but I did end up getting surprised xD. I think that WYWS ended really strongly, which is pretty hard to do since all the viewers want to be satisfied. I also really loved the comedy in this drama. Some parts had me rofl xD
Rewatch value: 1/10
This drama was average and boring most of the time so I will never touch it ever again.
If you are looking for a good law drama, go check out Witch's Court. Witch's Court is literally the polar opposite of While You Were Sleeping (can't explain or I will be giving out spoilers xD) and is a lot better in every aspect.
Was this review helpful to you?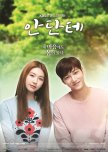 Andante
8 people found this review helpful
I am not writing this review as a crazy fangirling EXO-L, and that has not affected my opinion of this drama at all.
Story: 5/10
Andante's story was soooo boring for me. I do have to admit that it was really realistic, but it had snail speed from beginning to end so I could never sense in which direction it was headed until the last fourth of the drama. But what should I expect? The synopsis is basically: "Getting through unfamiliar experiences, he [the MC] realizes the meaning of life and love." This synopsis accurately sums up the entire storyline of Andante, and literally screams boring boring boring. However, Andante's strong points come from its characters, their development, and their chemistry.
Acting/Cast: 9/10
I consider Andante's entire line of leads to be rookie actors, and they did a pretty good job overall, in my opinion.
Let's start with our leading man, Kai. I didn't head into this drama with big expectations for him. He is, after all, an idol-actor, and this just his second project (after Choco Bank). While acting in Andante, Kai became humble Jongin, so if you are here for dorky Jongin, you will not be disappointed:) But since the focus is not always on Kai's character, you might find yourself staying for other things. Kai, as the naughty yet kind-hearted teenager named Shi Kyung, did an okay job. His acting was a bit shallow, and he did an okay job of portraying deeper emotions. However, Kai did seem super relaxed in his role and didn't look as stiff as a piece of cardboard the whole time. Nothing bothered me about his acting and it didn't affect my enjoyment of the drama, but he didn't leave a lasting impression on me either.
Lee Ye Hyun, one of the female leads, is a rookie actor. This is fact, but I could not believe it. Ye Hyun made her character, the rebel Lee Shi Young, come alive. She could convey the emotions really well and make her character carry so much depth. Sometimes Shi Young felt like a supporting character, but at other times, I felt as if she was the main character of this drama because of the way her character stood out (it seems that every time I scroll past the cast section on this drama, Shi Young's character would get moved up a slot haha). You might think that the way her character acts is annoying, but I feel like that makes her really realistic and relatable. I would definitely watch any future projects that she is in!
Kim Jin Kyung, the other female lead, also did pretty well for her first project, but her acting was not as memorable to me.
Characters: 9/10
This drama carries the power of making the viewer love all the characters introduced to the story. Why? Because it delves into the stories of every single character (yes, even the supporting ones), which shows the me their point of view while leaving little space for plot holes and unexplained story threads. Some time was spent on every character so that they got development, but the show doesn't deviate from the main storyline of the MCs. All the characters were really realistic, well-written, and nicely developed.
Music: 6/10
Andante's OST was okay. It did add a lot to the mood of the drama, but none of them were really memorable for me.
Enjoyment Level: 7/10
From episode 1 to episode 5, nothing really happened and I was about to drop this drama. But after I got past that point, the characters started developing and I enjoyed and appreciated this drama a lot more. The plot did bring down my enjoyment level by a lot since it was really slow the whole way through, and the only thing that convinced me to stay was the characters. Also, the comedy was pretty good. There was just the right amount of comedy, which helped balance out the sadder parts of this drama.
Rewatch value: 2/10
I wouldn't really want to watch Andante again because how boring its story is, but I might come back to it one day to fall in love with all the characters again.
Conclusion: Great characters, slow plot, but not a must watch.
There were some small things that I didn't like about this drama, but there were also other things that left a lasting impression on me. If you dig great characters, you should consider checking this out! Just get past the 5th episode and you will find yourself loving every character that you see in this drama. But if you can't deal with a plot moving at 0.0001 miles per hour no matter how lovable the characters are, then it might be best for you to skip on this one:)
Was this review helpful to you?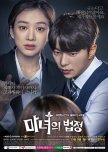 What a unique law drama! That's kind of a hard thing to say, since 2017 had an overdose of law...Witch's Court was such a roller coaster ride for me. It made me cry, laugh, and feel furious at the world. This kind of drama is pretty rare, as it is super close to reality.
Story: 7/10
If only, if only… The storyline of Witch's Court is the only thing preventing me from giving this drama anything higher than an 8. In the beginning (first four episodes), the plot was perfect, and I was hanging onto my seat waiting each week for the next episodes. Unfortunately, the story switched gears to a discovering-the-truth-about-mom storyline and everything just got stuck there for around 6 episodes. Because of this, Witch's Court became one of those makjang dramas about families and birth secrets that are like 50 episodes long… yuck. But in the last four episodes, the plot was super fast paced, and I went into the hanging-onto-my-chair mode again.
Acting/Cast: 10/10
I simply love Jung Ryeo Won, the female lead of this drama. From her smug smiles to those hair tosses, she played Ma Yi Deum, the main character, perfectly. Jung Ryeo Won's crying and her way of expressing Ma Yi Deum's emotions were also great. I cried along with her when she thought of her mom and felt her victory when winning the court cases.
Yoon Hyun Min, playing Yeo Jin Wook, did an excellent job as well acting as the softhearted prosecutor-partner of Ma Yi Deum.
Jun Kwang Ryul, playing the villain Jo Gap Soo, was amazing as well. His acting made me really hate the character, but also showed the villain having a bit of remorse at some times, making Gap Soo seem 10x more realistic.
Characters: 10/10
My favorite thing from this drama? The characters. Dedicating this entire paragraph to the female lead, I will be telling you why Ma Yi Deum (played by Jung Ryeo Won) is my favorite female lead of all time. Prosecutor Ma is not the usual female lead in a rom com. The one word I would use to describe her is imperfect. She might seem super crafty, but don't hate her for what she does, since that's probably what any of us would do in her situation. Her imperfections make her an extremely realistic character and set apart from all other female leads. She is also extremely intelligent and most likely to outsmart her opponents every time. There are a few times, however, when she loses her cool by letting her emotions get the better of herself. But this only shows that Ma does not act like the perfect female lead of every other drama, making me love this character even more. Jung Ryeo Won, the actress for Ma Yi Deum, simply cannot be replaced. I will never forget this character.
Though Yeo Jin Wook didn't have much development, he did play an important role in this story. I actually felt as if this character was more of a supporting role... Also the romance was a bit choppy and was not developing throughout the drama. They had great romance and chemistry in the beginning, then it disappeared in the middle, and returned at the very end. They need a second season for the romance!!!
Music: 9/10
The OST not only suits this drama perfectly (sometimes I can predict when a certain song will start playing ;P), but it also brings the feeling and emotions to me when I am listening to the song.
Enjoyment level: 7/10
This drama really makes me uncomfortable because it shines light on the darkest corners of reality. But when Ma Yi Deum serves justice, there is just this incredible feeling of satisfaction that comes over me. Another moment when I felt huge satisfaction was when she went at Cho Gap Soo with the mop xD. Also the comedy of this drama is great! They even made a few serious parts funny (in a good way) and that lightened the overall feel of this drama.
Rewatch value: 6/10
Since the plot got a bit slow in the middle, I would probably not want to watch this show again. But I might want to rewatch it in an year or so.
~Conclusion~
This show breaks the rules of dramaland. Dramas are usually super unrealistic and have a load of cliches, but Witch's Court breaks those kdrama norms by reminding us of reality. Yes, this show has made me extremely upset by presenting all the darkness of the world, but that just raises awareness and shows us that these things are real issues.
Recommendations: I would compare this drama to Save Me. While they are completely different plotwise, the meaning and message of the dramas have similarities. However, I would have to disclose the disclaimer that if you could not deal with the dark side of Witch's Court, don't watch Save Me. Save Me is extremely dark, and seems even darker than Witch's Court since it has no comedy or romance.
Was this review helpful to you?