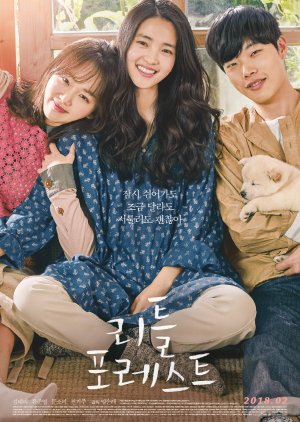 Caution: grab something to eat while watching this movie because you'll be mesmerized by the food shots.

As a lot of people named it - refreshing, lively is what this movie is. Not only is it aesthetically pleasing with the eye-catching cinematography, but the story itself is very calming and warming. It's simple yet nostalgic. For me, it's probably because I'm also from a small town and I'm moving to a huge city very soon. This movie made me fall in love with the message it sent out - you always come back and feel your absolute best in your childhood home. The cooking scenes were shot with such art, I really want to start making homemade food now! The main character was quite relatable and she reminded me of someone I know personally. The lead female is somehow inspiring, to be honest. I fell in love with the simplicity of her character. The supporting cast was lovely too. They added the right amount of spice to this movie. However, I wanted something more intense to happen between all of the characters. On the other hand, I think that the directors wanted to focus on completely different things rather than a cheesy romance or failing to maintain relationships. That's what makes this movie unique - it puts off all of the stereotypes that you'd except from a Korean movie. To add to this film, the soundtrack was ordinary but very fitting and calming - definitely a nice touch!

A great movie to enjoy before bed, seriously. It captured the modern countryside life realistically and left me nostalgic and my head full of memories about my hometown. It's a "feel good" movie, so go and watch it! But make sure to grab a snack because you'll get very hungry!
Was this review helpful to you?