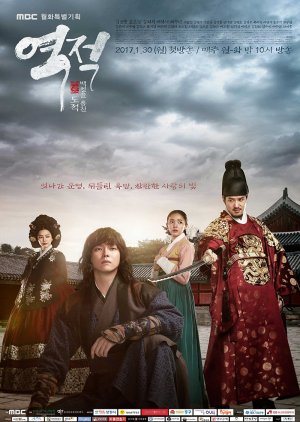 It's not blood that tells you who your family is. Family is the people who will fight alongside you, care for you even more so than for themselves and will put everything at stake for you. That is what this heart wrenching, sometimes tragic, beautiful drama teaches us. It's a  satisfying watch that shows you what loyalty truly is. The story is deeply moving and will affect you in more ways than you thought possible.
It begins while Hong Gil Dong is a child, and moves along through the trials he faces throughout both his childhood and his adult life. The writers really know how to inflict an emotional response on their audience whether it be standing up and cheering for the good guys or ugly sobbing into a blanket. This drama is strongly written, with many impactful and symbolic scenes. It is story of the revolt against the rich that makes you pour (no pun intended) your heart and soul into rooting for Hong Gil Dong and his group of rebels. The bond between the rebels is thicker than even blood, and their loyalty towards one another is without a doubt one of the most intensely heartwarming things I've seen. It begins with backstory that may seem very slow, but if you stick with it, it will make the story that much more powerful later on. That said, I've taken half a point off (9.5/10) because a handful of episodes do have a slower pace, but it definitely did not drag or become uninteresting.
The acting in this drama was phenomenal. This drama made me believe, and I think that's the most crucial part of it. The casting was absolutely perfect. The child actors looked very much like their adult counterparts and had acting abilities that were well beyond their age. Kim Sang Joong gave such a raw performance as Ah Mo Gae and perfectly captured the essence of his character. I had watched Yoon Gyun Sang in multiple other roles, but this role is where he truly shines. I believed in his motives, his emotions, and as another reviewer mentioned, the fact that he is Ah Mo Gae's son. I would also like to mention Kim Ji Suk who did wonderfully as the tyrannical king and brought a lot more substance to this role than any of his previous works. The music in this drama is very special to me.
The OSTs are not the typical kdrama OST, rather the songs sound very traditional. They add so much emotion to the scenes, and truly captured the spirit of the rebels. The romance, I will talk about as a separate topic. It starts off slow, and the chemistry between them is minimal, but as it progresses it will hit you like an arrow (a reference). It is so intense and pure and overflowing in believability. Not going to lie, their romance has made me shed tears. It is definitely a drama to rewatch and will remain as one of the most memorable ones. This has been a powerful and emotional journey that will stay with me for a long time. I think it's very underrated, and if you're wondering whether to watch this, I wholeheartedly recommend that you do!
Was this review helpful to you?