If you're still experiencing technical difficulties, please report it
here
.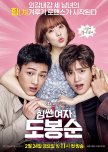 Had a great starting but was disappointed towards the end.
Lets talk about the positive points of the story first:
Starting was really good. It was comical, absurd, funny and interesting. The theme itself is interesting and the character of Bong Soon was well thought. I can see her character development throughout the drama and it kept me going. The ending was wholesomely satisfying with conclusion for each character. It's generally a light-hearted drama with exaggerated comedy. There are many fluttering moments for the two leads that you'll enjoy as much as I do.
Next, the negative points:
I felt that the drama wasted so much time on other unnecessary details/segments like the gangster and high school students part (especially the monk). I understand that the writer may want to lighten up the mood, with drama going on for other characters, but then its really excessive. They could have put the time into creating more detailed and intense climax. Every time the leads come across the kidnapper, the details become so slipshod that I cannot ignore the loopholes.
Other story that could have been more detailed: Hee Ji's presence, Bong Soon's parents' cold war
Like many others, I really love BongBong (Boyoung) and MinMin (Hyungsik) so much. To be honest, the romance and chemistry between them is the major point that kept me going after episode 11. Gookdu (Jisoo) is kind of being wasted in this drama, he is just there as a catalyst for the leads to fall in love, I wasn't able to see Jisoo's potential as an actor (hope he will get a better character next time). Casts did generally OK and suitable to their roles. Characters that shone in the drama are BongBong, MinMin and Oh Dol Pyung and the respective actors did well!
The OST Superpower Girl is super super suitable for the drama, fun and positive, really suitable for whenever Bong Soon is displaying her strength. Songs are apt to the situations in the drama but there aren't any outstanding OSTs (only Superpower Girl).
I have enjoyed it in general, did not regret watching it despite some major disappointments. And that game Super Bong Sunnie looks really fun.....
Was this review helpful to you?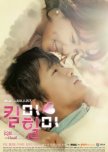 One of the best romance/suspense drama that I have ever seen. I have never had the concept of what a good drama should be but this drama really set the standards for me.
Amazing story.
1.) The main highlight of this show is definitely the different split personalities. I was pretty hesitant about the male lead (Jisung.. I am so sorry about not knowing him before the drama) having 7 split personalities but the story definitely lead well to the backstory of the 7 personalities. I am also impressed by how the writer/s included character development and growth for the personalities making the story interesting and not stagnant.
2.) Romance is beautiful. I really want to talk more about the romance but I think it is impossible to do that without spilling any beans. This is the first drama that made me had second male lead syndrome for two of the characters (I am trying my best) and bromance is simply so natural.
3.) Suspense is the one that kept me going real hard. So many WOW factors in this drama. You will be sooooooo surprised at many point in time and will really expect more and more from the drama.
4.) I will not consider this drama as a medical drama though. I am no medical-expert but I can see that this drama does not really touch on the medical side. If you are going for medical/psychological, this won't be the one (watch It's Okay It's Love instead).
5.) This drama has one of the best ending, really. A nice closure and no possibility for season 2 (which I kind of appreciate as there are many season 2s becoming really forced) I must give credits to the writer/s for the wonderful story. JJANG!
Next the acting...
Jisung handled the split personalities soooo good. He deserves the Daesung (Grand Prize) so so so so so much. There are many controversies about Hwang Jung Eum's acting (female lead) but I really don't find any problem with her acting. She may be exaggerating at times but I believe it is for the comedy effect and also she did displayed impressive emotional acting in the drama. All the casting is done really well and I have enjoyed the acting of all major/minor characters. ANOTHER JJANG!
Auditory Hallucination really gives me the suspense vibe for Kill Me Heal Me. You can feel the painful love with lots of secrets and suspense, with a hope for life and happiness. I totally don't understand the lyrics of the song but I feel it anyway. Its like a flashlight speed recap of the drama every time you listen to the song. There are other OSTs but unfortunately, is not as impactful as Auditory Hallucination.
All in all, go watch it! Because this is the drama that taught me what is a good drama in romance-comedy and suspense aspect (and I never thought that this two genre can go so well together). Heart wrenching back stories, beautiful yet painful romance, funny bromance/split personalities moments, heart warming family love, great acting and impactful music. All in one.
Was this review helpful to you?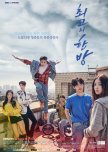 This drama is DDABONG! I was so excited to know that Yoon Si Yoon was gonna work with Cha Tae Hyun and Yoo PD (previous 2D1N PD) because it's a reunion:) I'm a 2D1N big fan, watching them in variety shows and drama is a huge difference. Ok that's not the main point, so here it goes...
Firstly, the story is really a very interesting one, involves time travelling but also mysteries about the past as well as dreams, friendship and romance. This interesting plot line captured me a lot throughout and I was so so so curious about what's going on. Many wild guesses and imaginative moments. Also FUNNY! Maybe because Im used to 2D1N kind of humour so this drama is really a crazily hilarious one for me.. So if you're a fan of the variety (Season 3), go for it!
And here comes the negative points of the drama. I see many comments about how this drama deviated away from the direction that they wished it went (story focus deviated) which I agree but it wasn't too bad cause my ship sailed for me. The only disturbing point for me is the ending. It was happy and ok but wasn't quite satisfying. Just left me still puzzled.
Next, the acting was superb. I wont deny that I'm a fan of YSY but that is because his acting is really good (and underrated). His portrayal of the drama is amazing especially since his real personality is totally opposite of his character in the drama. And CTH, KMJ, LSY and all the actors/actresses are equally amazing. I mean it. (Im just mentioning YSY in detail cause Im a fan haha) Im just taking out 0.5 marks out cause I think I may have missed out any awkward acting.
Lastly, Beautiful Beautiful is such an addictive song. I think PUNCH deserves to be called an OST queen... Not to diss Glabingo (the duet singer with PUNCH), but PUNCH should just sing with the EXO members to create more OST and drama hits. BUT THEN Beautiful Beautiful is still a perfect masterpiece:) More notable OSTs form the drama include Dream (rapped by KMJ), the songs by KyuHyun and Yoon Mirae (go Google).
It was a really an enjoyable drama, gave me reasons to stay at home on weekends. Cried at some points and laughed throughout. I think at some points it gave us a lot of deep reflections. It was a drama worthwhile of my time. I will give it a rewatch when I miss MR DDABONG because he is such a precious character. Let me end off by going off topic (like how I started), I hope Yoon Si Yoon can live more freely like how his character is in the drama, and lastly, I wish all actors/actresses/crews good luck in creating their Best Hits in life. You too!
Was this review helpful to you?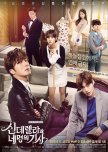 Quite disappointed. I was quite excited about this drama for its star studded cast and romance general plot (which is my favorite...).
Storyline is sooooo predictable. I mean, in general, story for these kind of Cinderella plot is actually kind of predictable, but this story is wayyyy beyond that (except for the last part maybe). Of course there are fluttering moments and some parts that I enjoyed it but there are really a lot of parts where logic doesn't fall in place. From the weird love rectangle (not sure if it ever existed) to the Sky House, its just not understandable for me.
Cast. Well. Naeun (Hye Ji in the drama) gotta work harder. I am not saying that the other actors/actresses are great or bad, just that Naeun lacks a bit. From jealousy to annoyed, I really don't think she portrayed the emotions well.
Jessi's voice is amazing. Loved the track by her and other OSTs are easily forgettable...
Watch it for for for.. I don't know, maybe if you like any of the actors/actresses.
Was this review helpful to you?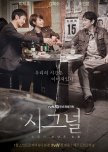 Signal
1 people found this review helpful
First and foremost, I must say that I am a romance drama fan so I was quite hesitated to watch this drama. And also I didn't know any of the casts to prompt me to watch it. I didn't quite remember why I watched this drama seriously..... But I never regret it:)
For the story...
1.) Amazing story line that hooks me up every episode. I literally lost sleep over this drama cause I was so so so curious about the story and those cliffhangers definitely left me crazy. The idea of the time-mismatching walkie-talkie is really interesting and is well used in this drama, although I hoped for a more detailed backstory of the walkie talkie to make it more completed.
2.) I also had some moments where I lost the story and couldn't follow the logic, then I rewind back so that I can get back on track. It happens for me so often but kinda feel that my IQ is increased after the drama hahaha...
3.) The ending was left half-open but definitely did not leave us hanging (maybe a teeny weeny bit). Probably for a sequel which I think is highly possible due to the nature of this drama. A pre-sequel is also possible to talk about the detailed backstory of characters as well as the walkie-talkie. Looking forward to it:)
For the cast/acting...
Casts is so goooood. Like I said earlier, I didn't know any of them when I started watching it but they totally impressed me so much. Totally. I was also very impressed by the acting of the minor characters and the sub story leads.
For the music...
I don't know the title to the opening track but it's really suitable for the drama, feels like the characters are walking back in time. Generally enjoyed the music as it was able to build up the intense at every climax.
Definitely a re-watchable drama or SEASON 2 pls. Binge watch it or lose your sleep haha..
Was this review helpful to you?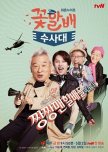 Pleasantly surprising as I watched this for Heechul but stayed for the grandpas instead.
Story was so so, interesting plot line but quite stupid at some time. Love line quite lacking, no chemistry for the triangle love line. No substance built for the romance to happen. Preferred the sub stories (crime cases) than the main story. But then, the ending is surprisingly to my liking.
The grandpas did well acting as flower boys, exaggerated to be funny and this depends on what kind of humor you prefer (I enjoyed it). Heechul's and Lee Cho Hee's (female lead) acting is lacking as compared to the three grandpas but still acceptable. Cannot expect too much from the other minor
characters/ sub-story leads.
Can binge watch it (since it is short compared to other dramas) during free time. Light and fun drama.
Was this review helpful to you?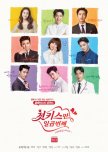 We all know this is just a CF for us to swoon over the oppas.
But gotta say that the OSTs/music is very nice and addictive:)
Watch it for some eye-licious time.
Was this review helpful to you?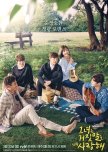 As much as I want to love this drama, it was a little disappointing for me. My expectations of the drama was set too high (hearing Joy actually auditioned for this role) and sadly, this drama didn't quite fulfill my expectations. But then it was an enjoyable drama, not the worst:)
Firstly, the story is soooo unrealistic. I haven't watch the Japanese version (movie etc) of it so I am not quite sure how they portrayed it; the fall in love at first sight is just so unbelievable (and awkward). Actually, there are a lot of unbelievable parts (the entertainment industry, the bitch classmate etc). I do understand that dramas normally have a lot of loopholes in general and we will be scolding the characters/writers while we watch it. But then in this case its really too fake....
Next, the cast is good looking and eye catching.By looking at the posters, they seems to suit their roles individually. And again, the problems comes in when they act. There is already problems with their story and hence it will be difficult for the actors to save the day. Joy acts really good in her singing and happy, cheerful scenes. But then her troubled and sad times make me feel sooo awkward. (I really do love Joy) And for other actors and actresses, there are fairly good for this drama:)
Music is the saving point for me. Joy's singing is gold! And Yuna (in the drama) sings very well too. Like wise Crude Play also have some great songs (I like Peterpan) And so they deserve a high mark on this:)
All in all, I expect something better from HyunWoo and Joy. Hyun Woo deserves better storylines/characters for him display his acting. Btw, he seems a bit childish looking/feeling here, he was so hot in Moorim School (that blonde hair) haha. I hope Joy can get another great drama and impress us sometime.
Was this review helpful to you?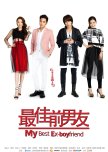 I really wanted to give up cause it was so long (42 episodes is long for me). But the story of the drama is really interesting and kept me going. I personally do not think it is draggy because I feel that every situation contribute to the relationship of the leads. It was a great drama with actual character development throughout the story. You can totally hate one character at the start and then fall in love with him/her at the end.
Leads really act well!!! All four of them. They have the chemistry and I need to give extra credit to the actress of Cheng Xiang Nan ??? for her brilliant acting as the inferior jealous lady.
We cannot deny how JJ Lin music is so addicting. I literally just sings it every time his songs comes out, especially when something good happens in the drama and I will be sooooooo happy.
Rewatch value is low cause it's too long and to be honest, nothing to rewatch.
This is really a great drama to watch for a modern mature love story. A story about dreams and love. Not suitable for those who are searching for a fluttering moment though.
Was this review helpful to you?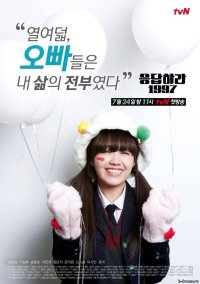 I was surprised that I enjoyed this drama.
Although this is the genre of drama that I liked (Romance, School,Youth), I wasn't expecting a lot due to the cultural/age differences I had with regards to the drama setting. I was born in 1997 and obviously, is not from Korea. Surprisingly, I realized that our time of youth goes beyond age, time and place. The story grew on me, reminding me to cherish my youth and I can totally imagine when I am 30+ and I look back upon these days.. So much feels.
This drama had a bit of sitcom with different funny situations happening in each episode and when it concludes, you learn something. It's a story about youth and romance (not the cheesy type) of course as well as kinship. But then I expected more character development as the setting of the drama passes from teen to adulthood, especially for the two leads. Jumping too much between the time frames also makes it a bit messy for me.
I need to mention this. When Shi Won says that living in Busan makes it difficult to follow her HOT, I totally shouted at her: WHAT ABOUT THE INTERNATIONAL FANS?!
Chemistry is there, right on point. Seo In Guk and Eun Ji really did well in this drama, their emotions from friends to couple is displayed well. I personally am not impressed Eun Jiwon's acting, not bad but lack of emotions at some time especially since his co-star (Shin So Yool) did very well. And then I want to say that... Shi Won's parents have THE BEST CHEMISTRY EVER. Anyway I think the couple appeared in all Reply series right. Point proven.
Music, well, is from 90s, I enjoyed it as well. Loved the duet between Eun Ji and Seo In Guk. Credits to the lamb/sheep sound that appeared every time there's an awkward moment for the characters (making it more like a sitcom).
Go back in time with Reply 1997. I can totally understand why this had high ratings (although I am not sure about how realistic the setting of the drama is)..
Was this review helpful to you?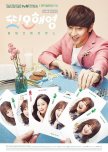 One of the best romance drama ever!
Definitely one of the best unique romance plot that I have came across.
1.) Unique characters. Instead of the story, I am more drawn towards the characters and personalities created by the writers. From uncommon jobs like sound directors to straightforward and sassy personalities, sparks really do fly between these characters.
2.) I need to talk about the character of normal Oh Hae Young. I find her so relatable (especially her voice-overs). People find her irritating but at the same time cannot help but sympathize her for the comparisons that she suffer. She is confident yet feel inferior when she is with the gold OHY.
3.) Gotta address the biggest illogical part of the story, which is the revenge part. Although the revenge on ex-girlfriend seems to be weird, I gotten over it really quickly as the main point of meeting another Oh Hae Young is more attention grabbing. Especially such a weird/special Oh Hae Young.
4.) The strange part of the story will be the psychic visions (no spoilers right, I am trying my best). Seemingly unnecessary, yet very important. There will be a lot of question marks and guessing throughout the drama, maybe even after it end. Then just let your (or netizens') creativity take over:)
I am really a super super big fan of Seo Hyun Jin right now!!! Totally captivated by her and Eric's chemistry. Not gonna talk about all the steamy kiss scenes that I have really enjoyed. You will definitely be laughing like crazy especially at the second couple, their chemistry is also no joke. So much fun and surprises.
Music is nice too. The OST "What is Love" is really addictive and sweet. Meanwhile I want to give credits to the unique cinematography, making it look a bit like a movie. Although sometimes I do find it irritating, I enjoyed it for most of the time especially during emotional scenes, it makes me immerse into the feeling/atmosphere.
Definitely a rewatch:) My favorite romance drama. Teaches me a lot about love, to be brave and to cherish what we have. And don't jump into conclusionssssss. GO WATCH IT RIGHT NOW!
Was this review helpful to you?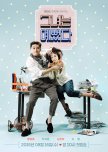 I didn't finish this drama and it's a pity. I am a fan of the Orion-Origin chemistry (the leads) in Kill Me Heal Me and was expecting a lot from this drama.
Starting story is interesting and there is so much potential for the drama. However, the drama becomes really draggy at the middle/back portion and the only interesting thing left is the secret identities (no spoiler). I do appreciate the character developments but they somehow become stagnant and unimportant (again) at the back of the drama. Anyway, I was utterly disappointed by the leads and how the romance turned out to be that I just cannot continue.
The chemistry is great and all good between the actors/actresses. I especially loved how the (rare) womance is displayed by the actresses. and honorable mention to Siwon for his great acting:)
All in all, quite disappointed. Nonetheless, I still enjoyed the front part of the drama. Will continue to finish the drama when I have the time or urge to do it..
Was this review helpful to you?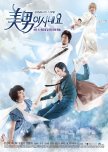 One of the few starters kdrama I watched. At that point in time I thought it was a really good drama since I was young, but then as experience of kdramas grow, I gain to learn what is a good drama. Definitely is one of the classic gender blenders (along with Coffee Prince, Hana Kimi) and will recommend those who are starting out with kdramas.
The plot line of it is interesting but story fails to really intrigue people. Many minor story loopholes and illogical moments (can be ignored easily). Definitely did enjoyed it when I was 13/14 (I'm 20 now). The story flows well and can be easily understood.
Acting was awkward, or maybe its just how the characters should be.
I will recommend this drama as starters, because this is really a classic piece of drama with many typical story in one: gender blender, mean male lead with innocent female lead, gentle and all-good second male lead, mean female second lead, cohabitation, birth mysteries...
Was this review helpful to you?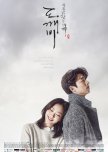 Goblin
0 people found this review helpful
Interesting drama about the folklore of Dokkaebi. I had my reservations, ironically because this is a hit. I didn't enjoy hits like DOTS so I was quite skeptical about this drama too. Watched it anyway and enjoyed it thoroughly:)
Firstly, all the logic fell into place nicely and the flow of the drama is great, so I can follow and immerse into the story quite well. (except for that part of Sunny's restaurant business..) Secondly, the characters are planned out nicely and uniquely interesting. Lastly, the bromance, womance, romance and kinship is displayed appropriately. I am glad that there are relationships other than romance, making the story much for believable. I enjoyed the story maybe except that the drama did a lot of recaps so I have to fast forward every time there is one.
I didn't quite believe that there will be chemistry between the two leads, but they really impressed me!!! Sunny and Grim Reaper also displayed their subtle chemistry that I liked a lot. I was totally taken in by Grim Reaper!!! All other characters really performed well and deserves a 10/10 (INCLUDING THOSE NOT-SO-CAMEO CAMEOS)
All the OSTs was great, just that the (airy) track by Soyou wasn't quite enjoyable for me. Like you are trying to immerse in the emotions then the breathy sounds come in (maybe its just me)
All in all, just watch it!!!
Was this review helpful to you?