The first five minutes will get you hooked if you're anything like me; the mystery and suspense is palpable even from the word go. I'm not sure about the characters yet, but I love the atmosphere (am I the only one that feels a sense of oncoming tragedy *already?*) and solid story foundation this first episode sets. A promising start; if it can keep this up, Cruel City should be great.
Was this review helpful to you?
Just completed this episode and, despite this not being my usual genre, all I can say is "wow." What an incredibly stylish drama! The cinematography is top-notch and I'm already convinced I want the OST; the only word that comes to mind when considering the two elements is "elegant." There was a bit of violence in this episode, but that's to be expected.
George Hu and Annie Chen have huge chemistry as promised! Their characters suit each other right off the bat. I have to say that George is particularly lovable and there were three scenes where he actually made my heart throb.
Totally sticking around for the next episode. I'm just worried if it stays this good I'll go crazy waiting week to week. (And how about that insert song? It's gorgeous!)
Was this review helpful to you?
This is one of the best series openers I've seen for a romance in a long time. It was heartwarming and hilarious by turns; I definitely laughed a lot. You can tell there's a lot of potential despite a trickle of predictability. The time went by so fast.
Lee Jae Yoon's character is becoming more intriguing, which is good considering how captivating Doctor's Son has been in comparison.
There's a bit of ab action (Jung Kyung Ho) in this episode, as well as a quick, cute, almost rom-com moment that's actually jarring in context. I found myself smiling until the drama pulled me back with a vengeance into the gritty action.
Generally, the violence and blood seem to be increasing episode to episode. I feel like that's to be expected for the future as well. But the censored knives are sort of distracting....
Was this review helpful to you?
The scene flow and the pacing is still whip quick, but the episode ended on a note that is making the wait for the next abysmal.
Was this review helpful to you?
If by some chance you needed a final push for Cruel City to hook you, this episode will do the trick. Peppered with surprises throughout, including a major tragedy and a completely unexpected reveal about the mysterious Doctor's Son, I guarantee number four will floor you. The true female lead is being pushed to the front now and so is the actual conflict. On more superficial notes, the music remains perfect and unheard tracks were rolled out for dramatic scenes. Another Jung Kyung Ho alert: this time we get laughing, smiling, and tears, all of which are effective since they've been so reserved until now.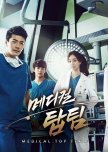 While the introductory plot line offers nothing unique to the medical field, it holds interest with gusto. Also populated by capable actors (with Kwon Sang Woo playing his Tae Shin with natural, vibrant affability), Top Medical Team has a lot of potential. Watch out for this one; the hour flew by so quickly it was shocking.
Was this review helpful to you?
Excellent pacing and crisp, colorful cinematography are highlights of this pilot episode. Scenery (indoors and out) appears unbelievably deep and rich. The camera angles are wide and show wonderful detail; this is a surprisingly beautiful drama. Surgical scenes are bloody, as expected, but seem carefully done and well-shot.
This show has broken the halfway point and has retained exceptional quality. I don't know where we're headed, but it's the good kind of uncertainty this kind of program should afford. Though I'm still a bit worried about some aspects
(how the romance fits in, what Shi Hyun will do with the enemies and friends he must arrest, where they're going with Hyung Min, etc.), I'm still confident the show will work it out beautifully. Unsurprisingly, it was another great episode.
Was this review helpful to you?
It appears that the revelations about Safari were true...to an extent. He's what Shi Hyun could have become and what Soo Min could still--a failed undercover. This adds an interesting dynamic to a character that was fully deplorable...though there was something bittersweet about his past with our hero. I'm not 100% sold that it was a necessary twist or that it was even fully cooked within bounds of the story...but I'll take it, for the lovely performance it allowed Jung Kyung Ho. His reaction to the reveal is Grade A acting and it's amazing to finally see the bare human beneath the undercover veneer.
On the other hand, we're slowly being introduced to the possibility that maybe our gangster Soo and undercover Soo Min will be problems in future episodes. Soo has his own agenda despite the (real!) friendship he and Shi Hyun share. And Soo Min... will she continue helping the police or do a full switch after what happened this time around? Waiting for Monday for the answers will be hard.
(How cute was Shi Hyun during the noodle scene though?)
Was this review helpful to you?
Wouldn't you know it? This is another great episode. A shocking event happens in the first few minutes that ends the stand-off we were left with on Monday. After this point, the viewer is pleasantly surprised with Ji Hyeong Min coming into his own as a character. He's believably resourceful and determined, even crusading on despite disgrace and injury. It's just great how he's smart enough to shake off short term misdirection that would have other characters scratching their heads for episodes. And his less-than legal actions are being noticed! All that's wrong is his timing.
I'd like to see more of how they get Nam Gyu Ri's character ready to become an undercover. She's a tough kid already, but will she really be ready within an episode or two? It's hard to believe Shi Hyun only took training in the same way, with the way he fights and behaves...especially in this episode, since he was just "wow" as usual.
Was this review helpful to you?
The first quarter of the episode feels a little slow for the first time, but is soon back up to standard. We finally get the back story we need on Doctor's Son and begin to see the connections between him, Safari, and the happenings on the police force. Everything snaps is snapping into place neatly. It's also a lot of fun to see more of Soo, though he's apparently an actual serious criminal.
This time around, Shi Hyun's feelings are clearly beginning to compromise his position. Any warm feelings he has for Hyun Soo and Jin Wook are obstacles toward his true goal, but he still tries to keep both safe even as they try to tear each other apart. We're beginning to see more of the human hidden under the cool cover of Doctor's Son. Unfortunately the more human Shi Hyun acts, the more mistakes he makes...possibly including his hopeless choice at the end of this episode.
Also watch out for the pretty new vocal insert, an intensely desperate knife fight, continued bromance, and an ending that'll make you scream. The preview will cue the viewer in that a certain event was somehow avoided...but offers no hint of how. Next week then!
Was this review helpful to you?
A much better episode than the last. Tuesday's installment is exciting and emotional, proving once again Cruel City can easily engage the viewer.
Otherwise, the action scenes are tight as always. I find it interesting that each character has their own flavor of movement. You won't find any homogeneous choreography here. There was also a shocking revelation for Soo Min and Hyun Soo really needs to stop giving me a heart attack per episode. Somebody put that boy in a protective bubble for the rest of the series, okay?
Was this review helpful to you?
I've started feeling affectionate toward Hyung Min lately; his scenes with Doctor's Son in this episode have solidified those feelings. One of the screen caps here showcases a particular moment between the two I positively loved. Both of them are after the right thing...and crazy smart too.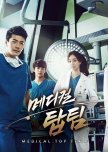 It was enjoyable to see more of Han Seung Jae and his motivations. He has more opposition than he knows, and his desire to see Top Team succeed is more complicated than we know. The budding tension with Tae Shin will certainly be interesting, though I still hope they'll respect one another.
Top Team is almost fully assembled, though the final seat is still in question. This aspect, along with the cliffhanger surgery, leaves a lot of room for interest. If they can just find a better balance between talking and operating, we're looking at a solid drama.
Was this review helpful to you?
Perhaps for-profit hospitals are a rising social issue in South Korea? This marks the second time I've seen it used as a plot point this year, though Medical Top Team handles the subject much more capably.
As a side note, I'm willing to bet that "Doctor" will be a fan-favorite among viewers should the drama continue its wonderful momentum. The second episode is on the same level as the first, which is a great sign.
Was this review helpful to you?
The atmosphere is solidified in this episode as it begins to delve into the characters and their various allegiances. As far as the development went in the first episode, we were given the minimum in order to heighten curiosity in suspense. This drama is even more exciting because it seems the writers are going for gray characters; these characters have a mature nuance which I hope lasts. For those seeking the action aspect only, don't worry. There's an amazing road stunt in this episode for you. For the blood-shy, well... later on, be ready to cover your eyes.
The compositions by Yugo Kanno are to die for already, by the way. I haven't yet been able to stop listening to the theme music.
Was this review helpful to you?
An excellent first episode, with good balance between historic action and the origin of Kuroda Kanbei. They've set him up nicely as an inquisitive youth, whose quick mind will only sharpen in coming years. We also have a possible childhood love interest, a storied family to grow up in, and a unique grandfather whose influence likely played a huge part in our hero's development. I also enjoyed the peek at Eguchi Yosuke's Oda Nobunaga; his scenes were few, but even not looking at the cast list, you knew who you were looking at. He just bursts with the boisterous charisma one expects.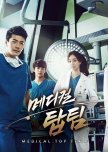 I rather enjoyed the expansion of characters and their dynamics with others. Both Sung Ryeo Won and Joo Ji Hoon caught up to the initial blow-away likability of Kwon Sang Woo, as their characters have displayed sparks of mystery about them.
Otherwise, take note of the delicious soundtrack, with its unique instrumental pieces and colorful vocals. The trend of bright shades used in clothing and scenery continues as well, leading to a unique feel.
Was this review helpful to you?
Detailed surgeries meet effective hospital politics. Occasionally you see dramas where aspects works better than the other, but both elements are exemplary in Medical Top Team.
Otherwise, it's nice to see the leads being friends before jumping right into a relationship. There's a sweetness about their interactions that's very genuine. The extended cast at the radio station had some touching sequences with Xiao Shu this time around as well; they're turning out to be somewhat likable, though still one dimensional. At least the story is starting to develop beyond that point, but it's slow and I'm not sure if it'll pick up much based on the preview for next week....
Was this review helpful to you?
Another pleasant episode, though slightly marred by an extended montage of the leads having flashbacks about each other. It seems a little too early for that, considering there are only three episodes worth of material to draw from, and it lasted too long and came to very little.