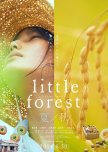 Beautiful film to watch in a lazy Sunday Morning or a Saturday afternoon. Makes me want to escape the big city and live in a rural area in peace, alone.
If you enjoy watching light dramas with simple narrative,
If you love (preparing) and eating food,
If you like Ai Hashimoto,
If you are interested with rural Japan or agriculture in general,
this film is for you.
I love this film. It has calming effect on me. Beautiful is not enough to describe its cinematography. The film allowed us to observe, from afar and up close, the lives of Komori - rice paddies, little insects, trees, fruits, etc.The unexpected use of electronic music on the background is effective. And, I love the soft voice of Hashimoto narrating throughout the film.
You won't regret watching it. Maybe you will end up wanting more.
Was this review helpful to you?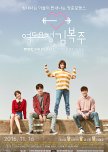 I don't have much expectations for this drama. At first, I just wanted to watch this mainly because of Lee Sung Kyung and Nam Joo Hyuk, whom I adored after watching Cheese in the Trap and Scarlet Heart Ryeo. I'm interested on how their pairing will work, and how will Sung Kyung carry the role of a weightlifter.
Well, everything worked just fine.
Story: It is a lighthearted drama about love, friendship, youth and a little bit of sports set in a university. I love that the female lead is not your usual damsel in distress character. She's strong, positive, funny, and stands for herself and her loved ones. I also love the friendship between her and her two best friends. The side romances and family stories added a little spice and sweetness to the drama. And of course, the leads' romance is our #relationshipgoals.
There are some dull moment yes, but it's so little you end up not noticing them.
Acting/Cast: This is my second favorite performance of Nam Joo Hyuk (next to his role as Baek Ah in Scarlet Heart Ryeo), who played as a free spirited swimmer Joon Jun Hyung. He is perfect for the part. Damn, where can we find this kind of man in real life? Tell me. Meanwhile, while I commend Lee Sung Kyung for giving most effort to play the role of a weightlifter, she seems to be lacking on "being" the weightlifter. But her awkward facial gestures and walk kind of grew on me.
I'm actually excited for Sun-Ok and Tae-Kwon's romance. But this has only got 16 episodes. (Poor Nan-Hee ???)
Overall:
I recommend it to those people who wanted a break from stressful melodramas or historical dramas. Also, for those people who are fans of youthful dramas.
Was this review helpful to you?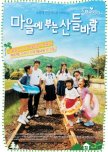 A slice of life, coming-of-age film directed by Nobuhiro Yamashita (Linda Linda Linda), about a love story set in rural Japan. Hiromi (Masaki Okada) transfers from Tokyo to a small school in a rural village with only six kids enrolled. There he meets gentle Soyo (Kaho). Despite their differences, the two eventually develop affection for each other.
Since it is a slice of life set in rural Japan, expect a slow paced story, which captures the rhythm of a rural community. It is enjoyable to watch the relationship among the characters, especially that of Soyo and the youngest girl in their school.
Acting: Great performance from newcomers Kaho and Masaki Okada. Kaho especially did well in portraying a teen girl struggling to face her newfound feelings for a new acquaintance.
Music: Ending song performed by Quruli is the best!
Watch it when you're in the mood for lighthearted, tender, slow paced, coming-of-age romantic drama. I really recommend you watch it. It's a joy in the heart.
Was this review helpful to you?