The website is currently undergoing maintenance. Sorry for the inconvenience.
Anyong!
I'm Alex, 31 years old from Israel. I'm relatively new to the kdrama world but I'm completely obsessed! :)
I'm not a casual watcher, more like an intense-can't-stop-and-go-to-bed-dreaming-about-current-drama watcher. I'm also a compulsive rewatcher. Since I was a little girl I always rewatched gazilion times every movie or show I loved and it's no different with kdramas. I have seen each drama on my "got utterly obsessed" list bellow A LOT of times :)
I'm currently watching only Korean dramas not because I have anything against any nation but because I love languages and I catch them pretty well. I feel like I could learn a bit of Korean from dramas and watching other new languages will get in the way.
I think I'm discovering I love more melodramatic and angsty genres than light comedies but I'm still looking into this as all my first dramas were rom-coms.
I'd like my drama to have:
1) Tight writing. By that I mean events which make sense and relate to one another as oppose to random stuff occurring on screen :)
2) Believable characters - more than good acting, I need the writing of the characters to be consistent. When I can imagine them in real life and miss them after the drama is over.
3) Mature story - its not a must but I like dramas targeted more to adult audience than a young one.
4) Strong romance. I'm not into action and others right now. Give me the lovey dovey!! :)
5) Satisfying ending which for me is where we get to see the main leads actually being a couple for at least a little bit after all the trouble. I feel tremendous heartbreak when after all the tension and teasers they just stare at each other and... the end!
6) Focus on the main leads - it's rare for me to be interested in the side stories of dramas like second leads or parents.. Especially when they change throughout the drama which just makes it feel like a filler to me.
7) Cliches- Maybe because I've seen a small number of dramas so far I'm not sick of the cliche stories yet, I actually love them and am not necessarily looking for "original" or "not typical" drama. :)
What really annoys me in dramas? (Except the obvious like bad writing, bad acting..)
1) Cartoonish comedy - I appreciate a good comedy but I really don't like the uber-childish drama genre which I'm not even sure how to describe yet. It's when the characters are over the top with their reactions, even cartoonish and the conversations are very simple and the story is too innocent. Those are dramas that intentionally don't take themselves seriously, I get that this is a style and a type of humor and I understand how other might like it but not me. Here's my listof such dramas.
2) Accidental ANYTHING - Accidental kisses (especially), falling into each other arms and stuff like that, coincidences and misunderstandings (hate them), accidentally being in the same place at the same time although it's like 14363967364 miles away from where they usually are, by chance hearing just a piece of a conversation that gives the wrong impression, against all odds missing THIS particular phone call although they get all the others well enough.. You get my point.
3) Awkward physical contact - I'm not looking for hardcore physical scenes but just a natural behavior: when you like someone you want to touch, kiss, hug them. I don't get why in so many dramas there is ZERO physical contact, I just can't buy it.
4) Lack of communication - as in misunderstandings, saying what they don't mean, not calling each other when it's convenient for the writer and obvious they should, the wrong person talks first saying all the wrong things and the other one leaving without saying the right ones... 
5) Unclimatic climaxes - when you wait the half of the drama for the big event to happen and expect it to happen with a BOOM and then it just... happens. Almost without noticing and no drama.
5) Unfinished important scenes - Most of all - romantic scenes cut in the middle. WHAT happened then?! When the couple finally gets together but we don't see what they're doing. Important conversations leaving us guessing.... Stuff like that.
6) To be continued.. :)
Cliches and plot devices:  (Under Construction)
Love: Jealousy. Forbidden love. Noona romance. Flashbacks. Man looking for the woman who disappeared or is hiding (only time jump I accept easily). Meeting in secret. Arranged marriage. Revenge. One of the leads in another relationship. Dramatic U-turns (works on me every time!).
Hate: Elevator tricks. Most time jumps. Accidental kisses. Amnesia. Noble idiocity. Airport Scenes. Swords/guns/martial arts fights.
CURRENT OBSESSION CORNER
W
PICTURE OF THE WEEK(S)
Ugly Alert!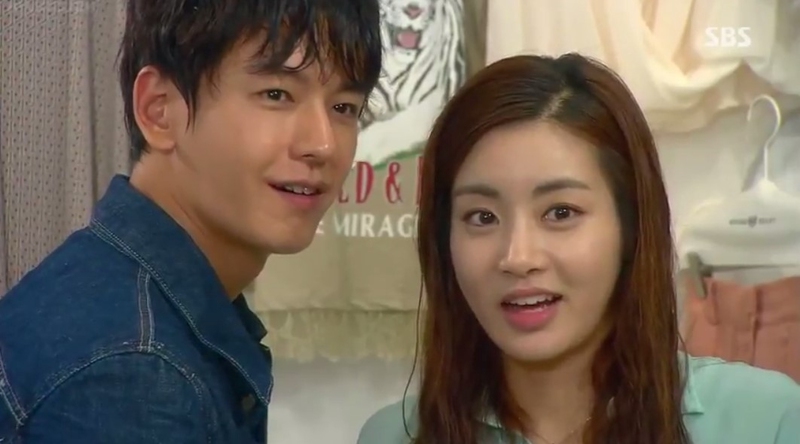 I was really scared taking on a 133 episodes drama (my record was 24 so far) but after reading a few comments that caught my curiosity I decided to give it a try and I'M SO HAPPY I DID!
*******************************************************
My Username - sa6abe - WHY? (Warning: it's not exciting..)
My full name is Alexandra. I'm originally Russian (Born in Ukraine) and in Russian Alexandra is Sasha (I know, weird). So ppl who speak Russian call me Sasha.
In Russian we sometimes type 6 instead of "sh" (I KNOW, WEIRD).
so sa6a = Sasha
And "be" are the first letters of my last name.
So It's "Sasha Be.."
---
My lists:
Top Dramas - Most Unique
Top Dramas - Most Funny
Top Dramas - Most Couple Together Time
Top Dramas - Made Me Cry
Top Dramas - Favorites for Rewatching
Top Dramas - Favorite Male Lead Character
Top Dramas - Favorite Female Lead Character
Top Dramas - Favorite Dramas
Top Dramas - Best OST/Music
Top Dramas - Best Kisses
Top Dramas - Best Cast (As a whole)
Actresses / Actors I Suspect I Like
Actresses / Actors - Favorite
Actresses / Actors I like but hate all their dramas!
Actresses / Actors I do not like
Bottom Dramas - Most Wasted Potential
Bottom Dramas - Good Start But Loses Momentum/Interest Towards The End
Bottom Dramas - Dragged Down By The Female Lead
Bottom Dramas - Disappointing Last Episode
---
My Drama List
Here's a list of what I watched in the order of how much I loved it:
Got utterly obsessed with: 
The ultimate all-time favorite TV pieces that destroyed me:
  *)

The Princess' Man


  *)

Ugly Alert


  *)

Scent of a Woman


  *)

Coffee Prince


  *)

Que Sera, Sera

 
Guilty pleasures that got me seriously addicted:
  *) The Greatest Love
  *) The Masters Sun
  *) W
  *) 49 Days
  *) Secret Garden
  *) Marriage, Not Dating 
Really Loved:
  *) I Need Romance
  *) My Name is Kim Sam Soon
  *) Lovers
  *) Romance
  *) Padam Padam
  *) Reply 1997
  *) Biscuit Teacher and Star Candy
  *) Chuno
  *) What Happened in Bali
  *) Shut Up Flower Boy Band
Loved:
  *) I'm Sorry, I Love You
  *) Alone In Love
  *) Witch's Romance
  *) Delightful Girl, Choon Hyang
  *) Queen In Hyun's Man
  *) Dal Ja's Spring
  *) 9 End 2 Outs
  *) History of the Salaryman
  *) Couple or Trouble
  *) Marriage Contract
  *) My Girl
  *) The Moon Embracing the Sun
  *) Boys Over Flowers - The drama what sucked me into dramaland.
  *) You Who Came from the Stars
  *) Flower Boy Ramyun Shop
  *) Loveholic
  *) I Hear Your Voice 
Was indifferent to:
  *) City Hall
  *) Protect The Boss
  *) Faith
  *) Time Between Dog and Wolf
  *) Fated to Love You
  *) The Woman Who Still Wants to Marry
  *) Oh My Ghost
  *) The Bridal Mask
  *) Cruel City
  *) City Hunter
  *) Goong (aka. Princess Hour)
  *) Nine: Nine Times Time Travel
  *) I Need Romance 3
  *) Rooftop Prince
  *) Full House
  *) Lie To Me
  *) Secret Love Affair
  *) Queen Of Housewives
  *) Gu Family Book
  *) Arang and the Magistrate
  *) When A Man Loves
  *) My Princess
  *) Personal Taste
  *) Cunning Single Lady
  *) I Remember You
  *) Kill Me, Heal Me
  *) Sungkyunkwan Scandal
  *) Secret Love
  *) The Heirs 
Didn't finish:
 *) I Miss You- I get why people love it but I lost interest towards the last episodes.
 *) Incomplete Life - Zzzzz...
 *) King2Hearts - So much potential yet it's terrible.
 *) Stairway To Heaven - Too... huh?
 *) Can You Hear My Heart - I didn't get it.
 *) A Gentleman's Dignity
 *) White Christmas - Great cinematography and music but the story is week, the acting is bad and the dialogs are awkward.
 *) Pasta - I wanted to love this drama so bad! If it was just a liiiittle more eventful...
 *) Lovers In Paris - Maybe I wasn't in the right mood for it but it was just boring.
 *) Heartstrings - I guess it's aimed toward younger audiences than me. I dropped it after the infamous kiss.
 *) Dream High - It's also aimed toward younger audiences.
 *) The Innocent Man- One of the first I tried to watch, I found it all over the place then. Maybe I'll give it another try after some more experience with kdramas :)
 *) Operation Proposal - I began watching it with no high expectations, but it exceeded every (low) expectation I had. It's just BAD - the dialogs, the story, the acting, the characters.. BAD.
Statistics
64d 9h 1m
ALL TIME
1,513 episodes, 84 shows
List Updates
Not Interested

24 days ago