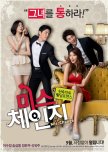 Mischange
18 people found this review helpful
Warning: This movie contains nudity/sex scenes.
The story might sound like it's been done before but don't let it fool you. It's actually a quite different and unique story.
For me in order to have a good soul-switch story there must be a killer cast behind it to pull it off and this movie definitely has it.
All four leads are great in their roles, especially the soul switchers.
The characters are very different from one another which obviously makes it even funnier to see them in each other's shoes.
There isn't that much music involved, only in a few scenes.
The only problem I had while watching it were the sexual scenes which took me off guard but I understand they were relevant to the story so I wasn't annoyed by them, just... surprised.
This is a great popcorn movie, to just sit back and relax while enjoying it.
I'll probably watch it again in a few months.
Was this review helpful to you?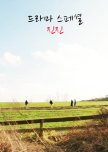 If you like investigation dramas with lots of twist and turns then this might be right up your alley.
I have to say when I started watching this I had no idea about the plot and I'm glad that was the case because I feel it made everything more intriguing than it already was.
I'd only seen one of the actresses in a movie before but I have to say the entire cast is superb; they all give the right emotion and present each story flawlessly.
It hit all the right notes and since it's only an hour long I'll definitely watch it again because it's one of those dramas that gives you a lot to think about long after finishing it.
Was this review helpful to you?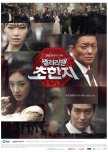 There's not much to say about the plot because the title says it all.
After marathoning it during a long weekend I can clearly state that it's one of a kind and so I believe it's one of those dramas that you either hate or love.
I personally enjoyed how flawed the four leads were; made it seem more realistic than other stories I've seen.
Lots of 10s because it was truly outstanding. I'm not sure I'd rewatch the whole thing though because it's 22 episodes long but I would definitely find my favorite scenes to have a good laugh again.
You'll laugh a lot, you might cry and you will definitely want to choke a few characters but hey, it'll be a fun ride.
Was this review helpful to you?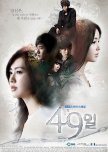 49 Days
7 people found this review helpful
49 days?
More like 49 hours because that's basically how long it took me to watch this.
This drama had been on my to watch list for so long because I had this feeling I'd be disappointed with it (don't blame me, I've been hurt before) but I decided to give it a shot anyways.
I'm so glad I did.
I don't usually write reviews because I'm not good with words but if this helps somebody pick this drama over another one then I've done my job as a fan.
The thing that stands out the most for me is the acting. Every single actor plays their role amazingly and makes you feel their pain or joy (but let's be real, mostly pain) as if it was your own.
Oh, let's not forget the chemistry all the leads have with each other. I mean what's up with that? Makes you crazy to decide which couple you want to end up together.
I also happen to love stories that don't have an obvious ending and this one was the real deal; you will encounter many plot twists and gasp-worthy moments along the way.
The music in this drama is beautiful, every song hits the right spot and I'm sure you'll be searching for it online once you've heard it.
The settings and overall appearance is great; beautiful locations, decent special effects and a very good looking cast.
If possible, try to watch this when there's nothing else on your schedule (ha!) because once you start it you won't be able to leave it alone.
Was this review helpful to you?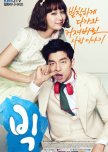 Big
8 people found this review helpful
Watch this drama if you like to get attached to a story and then have it ruined by the worst ending ever.
The acting was great, some characters were annoying and unnecessary (even though I love the actors playing them), the music was good as well, and it was beautifully shot.
Too bad the ending is the WORST EVER.
Was this review helpful to you?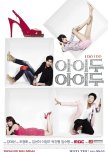 I love a noona romance as much as the next girl and it was the main reason why I watched it in the first place but I can't shake the feeling that this drama's story wasn't told in the right pace. They rushed the ending by stretching the first part too much.
Her character was too cold for my taste and he was too sweet for her.
However I did want them together but only because the second leads weren't right for the main ones either.
Was this review helpful to you?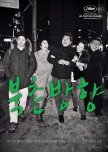 A great indie film.
Everything about it; cinematography, cast, script and music made this an amazing experience.
At certain parts I felt like I was hanging out with the characters rather than seeing a movie.
I recommend it if you're looking for something relaxing and interesting.
Was this review helpful to you?