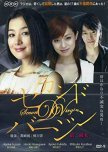 This is a dark romance with well executed plot and great acting. While it is not my favorite drama, I had to give it a 9 because it was so well done. This is one of the first serious J dramas that I did not get frustrated with due to large quantities of seemingly unnecessary tragedies befalling the characters. The story was resonant, the characters were complicated and round, and I never got bored. The ending was fitting, poignant, and took time to properly wrap all the ends. Nothing was rushed or overlooked.
I continue to be quite impressed with Hasegawa Hiroki's acting. It wasn't just believable, it was real. The chemistry between the lead couple was some of the best I've seen in a J drama.
The soundtrack was strong, and unique. There was one piece that had a wild Celtic sound to it, another that was reminiscent of "Once Upon A December" from Anastasia, as well as a variety of other music. It was used to great effect to enhance the action and different moods.
I will be rewatching this. I may already know the basic story, but the story is so rich in detail and characterization that it really doesn't matter. I also have a good ending to look forward to again.
Was this review helpful to you?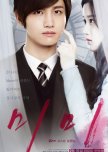 Mimi
10 people found this review helpful
This is such a sweet, beautiful story. The mystery element to the plot is quite well done but even having finished it I think I will like this show more and more after rewatching.
The soundtrack is excellent and matches the moods of the story well. There are of course ballads but I especially liked the instrumental bits that reminded me of Joe Hisaishi at times.
The acting is not half bad. Moon Ga Young especially impressed me, she has matured quite a bit since I saw her in Heartstrings.
The best part for me is how visually aesthetic this drama is. Every scene drew me in and uses scenery and setting to communicate a lot.
Not too long, not too short, bittersweet in a perfect melding of happiness and heartbreak, this is perfect for a rainy afternoon. Mimi is going right next to Pride and Prejudice on my list of things to watch when I'm sick in bed and just want to relax in front of some lovely cinematography with a majestic soundtrack and touching dialogue.
Was this review helpful to you?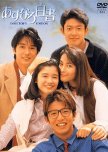 I decided to watch this drama because I enjoy stories about students, I've been trying to watch some older dramas recently, and I am somewhat of a Takuya Kimura fan.
The story was a little melodramatic for me, and that got frustrating at times, but the acting was decent and nothing felt fake. I enjoyed all of the cast, and think the actors fit their characters well. Narumi was my favorite character because she was very relatable and had complexity.
The soundtrack was sweet and romantic and I especially liked the opening "True Love" by Fujii Fumiya.
As far as rewatch value, I might rewatch it someday since the story was character driven and I enjoyed the characters and their interactions, but it will be awhile. While some plot points were a little predictable, I thought the ending was pretty good and came with a few twists.
If you are looking for a bittersweet, somewhat philosophical drama that explores friendships, relationships, and all the shades of gray in between, you will probably enjoy this one. It is also interesting to see what Japan looked like during the 90's.
Was this review helpful to you?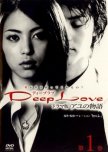 This is definitely a melodrama. There are several plot holes and a rather ridiculous amount of horrible things happen to the main characters. However, the plot wasn't necessarily predictable, although this may be because some of the events were thrown in randomly and not because the plot was well crafted. That said, I was able to look past the script problems due to some good performances and a few unique story lines.
Some of the acting fell a little flat in the first episode, but after that I didn't notice it. I thought the cast did a decent job. I especially enjoyed the performances from Obaachan and Reina.
The music was not the best I've heard in a drama. I wan't crazy about the ending credits song. I doubt I will rewatch this soon, though the scenes with Ayu, Obaachan, and Pao left me with a warm memory. The ending ending was dramatic and a touch contrived, but not bad in the scheme of things. I believe this drama is a manga adaption, but I don't know how it compares since I have never read it.
Was this review helpful to you?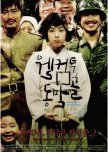 This is a funny, thoughtful, and touching movie set during the Korean war. The main themes are friendship, the kind of friendship that overcomes language barriers and ideological differences. The story is unique in character and setting, if not so much in plot, and very well done. The cinematography is excellent and conveys a lot of emotion.
I don't know any of these actors well (I actually watched the Japanese dub of this film in one of my classes), but I thought the main actors in the Korean cast did a good job, carrying both the humor and the serious bits well. I was not impressed with actor who played Neil Smith, however. His acting was flat, and his accent was...a complete mystery.
The music was great! If you are familiar with Studio Ghibli films, this soundtrack was very reminiscent of Spirited Away. Beautiful, soaring score to match the luscious scenery of the mountains in Korea.
I will watch this again. It does not drag at all, it's visually aesthetic, I liked the music, it's funny, and very heartwarming. The artistic style and some of the acting reminded me of YMCA Baseball Team, the only other Korean movie I've ever seen, but that could also be due to my unfamiliarity with Korean film.
Do be warned that the ending is a little bittersweet, it is a war movie, but overall it left me feeling warm. Its best point was the viewer sympathy it created for all three sides presented, the Americans, the North Koreans, and the South Koreans, not to mention the villagers of Dongmakgol. The power of this film is all in the emotions it so vibrantly displays and instills.
Was this review helpful to you?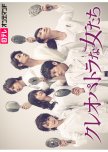 The acting in this drama was good, and I especially enjoyed the performance by Sato Ryuuta in a role different from his usual ones, but the unique script was what kept me watching. I didn't know much about cosmetic surgery before watching this drama, and story really challenged me to reconsider my opinions about it.
The story was somewhat episodic, but kept a nice balance with the long term plot arcs. The different clients visiting the clinic all had different stories and reasons for pursuing body modification, and the story did a good job addressing associated issues. One of my favorite parts was at the end of each episode, they included short interviews with people on the street. Each week was a different question about beauty, or self-confidence, or what makes a person shine, all questions brought up and dealt with during the drama.
The characters were pretty convincing, and I especially enjoyed watching the interactions between Mine-sensei, his father, and his roommate, as well as everyone at the office and all their drama. The music wasn't much to speak of, but it was ok. This has a good rewatch value in my opinion. The mood was light-hearted, yet the drama had a lot of content that was seriously addressed, and I think I could get more out of it by watching it again.
Was this review helpful to you?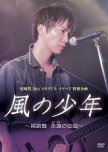 This special is a great tribute to Ozaki Yutaka, and Narimiya Hiroki did an excellent job in the lead role. The story was well written and paced, and the characters are well developed through their interactions with one another, especially between Ozaki and his manager.
Narimiya recorded several of Ozaki's hits for the soundtrack. While he does not sound like a professional singer, he did decently well with them, and his charisma makes up for any lack of singing skill. He was coached by Ozaki's former producer/manager in preparation for the film. Compared to Ozaki's original tracks, Narimiya does a good job capturing the original style and feel of the music.
I will definitely rewatch this again. It's a heartwarming and enjoyable two hours. Covering themes like growing up and finding one's place in society, growing as an artist and going through dry periods, and struggling with family issues and drug abuse, it is pretty inspiring. This is Narimiya at his best.
Was this review helpful to you?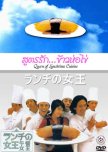 This was pretty good as jdramas go. Not my favorite, not disappointing. I found it because I was looking for something with Takeuchi Yuko in it. If you've seen her in Pride, which I really like her in, this is a totally different side of her. The drama also has Tsumabuki Satoshi (Kei-kun from Orange Days) and Yamapi (you all know who he is!) in supporting roles. The premise is a little out there, but in an amusingly quirky way.
The acting was decent for a comedy, although I was expecting a little more of Takeuchi. I especially liked the character development between the sons and their father. I will probably rewatch at some point. It was pretty funny, and the ending wasn't disappointing.
Was this review helpful to you?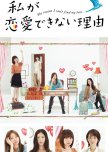 This drama is about three young women who are roommates, and their path to finding love, developing their professional lives, and being true to themselves. Although a main part of the story focuses on their love lives and developing philosophies about romance and love, I would say this is more of a friendship drama than anything else. The ending was not necessarily what I would have chosen, but appropriate.
The cast was great. I enjoy Karina's dramas (Airu from Love Shuffle, Asuka from Bambino!), and here she played a different character than the strong personalities I am used to seeing her portray. The cast also includes Katsumura Masanobu (the boss from Tokyo Friends), Nakao Akiyoshi (Junpei from Brother Beat), and Yoshitaka Yuriko (Kairi from Love Shuffle).
The soundtrack was nice and appropriate. I especially enjoyed the insert song, Amuro Namie's "Love Story".
Rewatch value, I give this an 8. It is a good story about friendship, philosophical yet well paced. I enjoy dramas that follow multiple main characters and their interactions and have interesting sub-plots besides the main story.
Was this review helpful to you?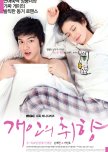 The pace of this drama is a little slow at times, but don't give up on it! The ending is perfect and so rewarding! The cast was great, the acting was good, the characters were very real and heartfelt, and the chemistry wasn't bad. The premise was what initially attracted me, but the plot was also good. Less cliche and melodramatic than I was expecting, and then there was the whole mystery of Sanggojae to keep me watching!
The soundtrack was a mix of a couple of K-pop songs, some piano pieces, and also famous classical music pieces most often used to comic effect. I really enjoyed that aspect, it really enhanced some of the funny scenes.
I would rewatch this. Even if the pace is a little slow, it is slow in the sense that the script writers took their time to develop the characters through dialogue and situation. I enjoyed all the heart-to-hearts the different characters had with one another. Try this drama if you want a nice blend of funny, serious, and romantic. It definitely gave me a warm and cozy feeling overall.
Was this review helpful to you?