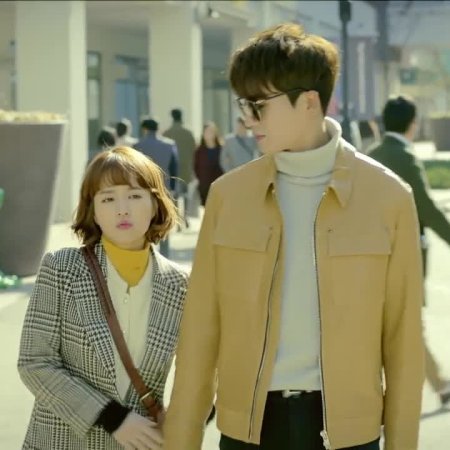 Strong Woman Do Bong Soon Episode 2
Culprit's Thought
---
---
As Min-hyuk spends the day shopping and playing, Bong-soon is forced to follow him around. While at a park, they spot a suspicious man spying on them. (Source: Netflix)
Strong Woman Do Bong Soon Recent Discussions
Reactions
To be quite honest this episode was a hot mess. I'm really nervous about the drama. So Minn Hyeok owns a software/gaming company. Then he's a criminal expert because he "wanted to be a criminal when he grew up"! WTF! Not to mention how this sudden creepy murder/kidnapping case is taking center stage for the drama. The plotlines are all over the place and I'm seeing a lot of things I don't care for.
For instant Gook Doo apparently has a girlfriend. That immediately knocks him out of the running for Bong Soon. Bong Soon needs to find out soon and get over him. Also, Min Hyeok treats her like a jerk. There's not to much likeable about him. The ending alone was super annoying. Both guys yanking on her arm (*cough*wrist*cough*) and saying what she should do. I hope next episode she tells them both up! Not to mention that Min Hyeok needs to get better romancing techniques. I'm now realizing that complex love triangle is in the synopsis.
So negative aside I got tons of laughs out of this episode. All those older women swooning over Min Hyeok and getting excited that he's Bong Soon's boyfriend. Not to mention I love her friends reaction to her still be obsessed with Gook Doo. Preach girl! Not to mention her holding her food while Bong Soon set those bullies straight. (Ha-ha! Threaten a mans "jewels" and they'll always back down.)
What was with that plot with stealing the victim? That guy would have had to beat the nurses! Considering she is in critical care I find the whole think unbelievable. *sighs*
In the end this was such a mess. Still some fun, but it's making me super nervous for the rest of the episodes. This is one I hope does not get extended past 16 episodes.) There's still plenty of promise. Yet there is so much going on her it could go south fast. Especially trying to find a balance with the over the top humor, and this creepy murder/kidnapper.
Was this review helpful to you?
Really glad the ratings are up! The start of this episode made me nervous. It was a new scene, but Min Hyeok was saying what he had said before in a different scene. Then suddenly it jumped to a scene from last episode. Timeline mess up. I know sometimes a drama picks up where the last episode left off, but then it's slightly different wording/things. However, this was a total oopsy. Especially as they were eating in the office and this one had them at a restaurant repeating what they'd said about her working for him. Then back to the office again. Then the same threat happened!