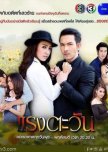 A evil male lead force a woman to stay with him for the sake of her family. The woman stand up towards him and doesn't stop to fight which somehow attracts the male lead more, change him and finally make him fall in love with her.
Both male leads are no disgusting women-haters and stick to some principles. Both do have a soft side and can be really cute... if they want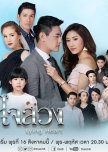 Strong, impressive female leads.

Heroes who want to use heroine for revenge... but are so terribly bad at this revenge stuff because they are so much in love with her to hurt her. Re Rerng Fai is more of a revenge drama than Lying Heart. In Lying Heart, he never remembers the revenge until someone reminds him, then he forgets 2 seconds later. RRF is the more intense drama, but he also loves her more than his revenge.

No rape in either, just lots of chemistry and consensual bed scenes.

Both have easily forgiving heroines. Both have happy endings.

Lying Heart is more comedic and sweet than a revenge drama. RRF has so much sweet scenes, I'm surprised I didn't drown in a vat of sugar. RRf is more a slap kiss than Lying Heart, though in both (LH especially) there was really no slapping lol, just kissing.