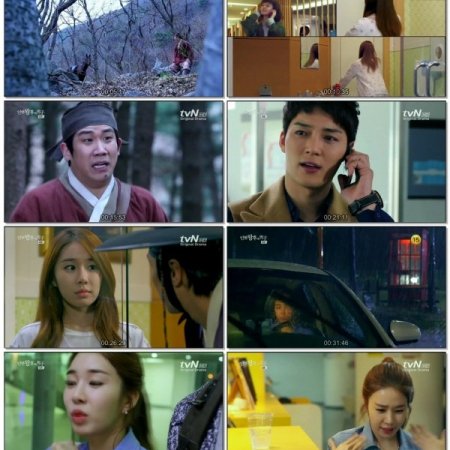 Queen In Hyun's Man Episode 4
---
---
Boong Do figures out how the talisman works and puts it to the test. Once he's in modern times, he asks Hee Jin a favor. She complies and, when he plans on leaving, she teaches him the modern day "etiquette" for farewells.
Queen In Hyun's Man Recent Discussions
Reactions
Was this review helpful to you?
I thought this episode was pretty much perfect. Sincere, pure attraction between the two leads with a splash of comedy here and there. The mystery is unravelling nicely. It's unique in the sense that the viewers are pretty much on the same page as the heroine rather than knowing exactly what's happening or about to happen and having to shout at the leads to get their act together. The only thing that prevented me from rating this episode as a 10, is a bit of confusion I have with the whole time travelling jazz. Boong Do mentioned he re-appears in modern day Seoul at the same location he left it at when he uses that talisman, but then why on earth did he manage to appear at the park where she was waiting for him? Shouldn't he have appeared inside the shower box again considering the fact that, that is where he left for his own world previously? The same for when he appeared the second time in the forest on horseback. Surely he would have appeared in the room filled with books, scripts etc where they planned to film the drama seeing as that's where he went to return back to his time period the first time? I may have just missed something and am merely being dense, but it doesn't quite make sense and has left me puzzled :S.
Was this review helpful to you?
Quite liked this episode. Hero & heroine have really nice chemistry. Loved her lesson in proper modern etiquette! haha & for once the typical frozen kiss so prevalent in Korean dramas wasn't inappropriately used! Still think Boong Do adapts waaay to easily to the modern world, though. I would have liked to see him being overwhelmed by all the technological stimulants he comes across.
Really nice etiquette indeed. :)
I like how both of those characters are so calm and sincere ..so cute. I'm starting to like this drama. Even though it's completely different from Rooftop prince. I still like it, because it's different. I'm really looking forward to the next episode.
Was this review helpful to you?
I loved this episode. They are both so sweet ;)
Was this review helpful to you?
wow this show is getting better and better. the modern "etiquette" she know she wanted 2 kiss him lol lol. so far the drama is a 9 to me :D
I find myself repeating this again, but I have to say it. The main guy is not eyecandy, but I just can't help but melt a little when he smiles. It's adorkable. I love how he basically only needs to be shown things once to get the hang of things. And the way he was so at peace trapped in her shower, it was priceless. He almost looked like a statue in a museum.
And I love how she teaches him the modern day "etiquette" for farewells. And how he seems to enjoy to be able to hug a woman without it being a big deal.
I also like that he asks "You are considered a beauty here?"...jejeje
Was this review helpful to you?
I'm loving this drama more and more. It's cute, funny (without being overboard), yet it has a serious note under it all.
And He's really smart,I'm really excited about next episodes
Was this review helpful to you?
Omoo! such a good episode... I'm loving the way that she's teaching the "etiquette" to him :P
Would love to see Hee Jin to travel back in time with Bong Do :) and for my extertainment only I think she should wear the clothing they wear, looking absolutely gorgeous and Bong Do would fall for her :) COULD HAPPEN! AHAHA!!
Was this review helpful to you?
So far so good! I'm really enjoying this series - very lighthearted and easy to watch. Love how Bong Do learns about the modern world and the interaction between Hee Jin is sooo cuute! Excited for the next series and how it would develop.