Where to Watch I Hear Your Voice Episode 7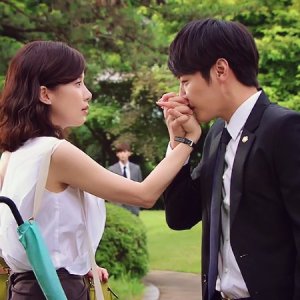 I Hear Your Voice Episode 7
Why Is a Sad Premonition Never Wrong?
---
---
Jang Hye Sung's mother has a premonition that she is in danger. Everyone in the office is upset with each other after a client causes a scene, but this inspires Cha Kwan Woo to take on the case and confess to Jang Hye Sung about his feelings for her. Park Soo Ha persists to locate Min Joon Kook, as Min Joon Kook puts his plans into action.
I Hear Your Voice Recent Discussions
Reactions
This episode was chilling. Warming. And then chilling again! The emotions I went through! Man I feel like I went through some kind of meat grinder. Raw, yes total raw emotions. The way this series is acted and written is pure perfection. The characters click so well that everything hits so hard. Not only am I totally torn over the love triangle, but I am in so much love with the majority of the cast.
That said this episode ends on quite the cliffhanger. One that is taking this series somewhere . . . This episodes beginning foreshadowing haunts every second. Even as more lighter, heart warming, and humorous moments make up most of the episode. The writing here is superb. Make time to junk out on this episode and the next so that the cliffhanger doesn't sting so bad.
Was this review helpful to you?
All right before I get into how brilliant this episode is I have to state how annoyed I was that Hye Sung has not made real progress. Despite the lessons she's learned. Man is she stubborn. Sure she changes her tune, but why did it take that long? Also, I hate how she still has to lean so heavily on others to do her job. Though I will give points for the fact that the tables turned and she had to help Soo Ha take the cap of his bottle!
I thought Min Joon Gook would wait till the weekend to kill Hye Sung .. why did he change his plan? Why has it to be her mother? Her mom was such a nice person and I liked her a lot. I hope there is some plot twist and he didn't actually kill her. I hate this person and I hope he gets what he deserves at the end.
Wow, this episode got to me. I feel like crying Q_Q
Was this review helpful to you?
I've just finished the episode and I have the worst goosebumps that I have ever had. This is NOT what I expected. The episode started happy go lucky and I just started to like the whole thing .. what .. what was that?
Was this review helpful to you?
I was hoping that Park Soo Ha would find out in time and rescue her just in time. If this drama doesn't end with Min Gook dead, I will be pretty upset!
Then I could not believe that Hye-sung is really falling for that dorky Kwan-woo. But I don't blame her as well because the guy turns into Lee Min Ho - City Hunter like: when he's defending someone in the courtroom. But then there's Su-ha who is doing everything in his power (mind-reading, money and martial arts skills) just to protect her. He's the guardian angel she never asked for. *sigh* I want one like him. Now.
Was this review helpful to you?
Jeez, I am seriously distressed with this episode. I hate the fact this happy moments between our main character's will not last.
I'm finding Yoon Sang Hyun's character portrayal of Lawyer Cha very interesting. Idealistic yet conflicted, he stays safe within his comfort zone. I wonder if he'd ever come out of it. Bravo with harabuji's case!
Jung Woong In's Min Joong Gook is diabolical although I hope to find out a deeper reason why his anger drives him into madness. More or less the twist with Hye Seong's omoni, I think I half-expected that to happen the moment he stepped into the chicken store. The man's smile is enough to send your skin crawling! O_O
Do we get to see the noona-dongsaeng relationship blur between Hye Seong and Soo Ha??
Was this review helpful to you?
Well done! Stories and characters are advancing at all levels.
I'm pretty sure Hye Seung's mom isn't going to die, but it's still horrible. D:
Was this review helpful to you?
Oh dear, I hate Min Joon Gook! Such a horrible person to hurt someone who's been so good to him. :(
Was this review helpful to you?
The ending KILLED ME! Crying while saying "Please don't kill her" repeatedly! I was emotionally exhausted. I LOVE HER MOM SO MUCH! They can't do that! I hope she maybe falls in a coma then wakes up or something? I mean, I believe that the purpose of that part was to make Hye Sung want revenge now? So, if her mother doesn't die she'd still want revenge, right? I just hope so... ;n;
Was this review helpful to you?
One of the most impressing episodes so far! Soo Ha in suit, Cha's confession, grandpa's case, hug
Was this review helpful to you?
Love it!! I'm feeling so bad for Soo Ha after this ep, and the cliffhanger made me think that I'm probably gonna cry next episode! But still amazing, they are moving quite fast in this series, barely gives you time to breathe, but that's just what makes this show even more awesome! ;)
But was what with the ending??! So scary! looking forward to next ep omg
Was this review helpful to you?
I love how they eventually dealt with the grandpa case!! Lawyer Cha's confession was absolutely adorable, dut wea weaaa??? In front of Soo Ha?! I feel so bad for him (he was even wearing a suit!! and he does everything for her, so sweet)
Was this review helpful to you?
This episode...EPIC!! wow that final, wtf?? mom died??? NOOOOOO and that sweetheart/stupid lawyer Cha confessing his love -.- i want her with So Ha ahhhhh!! the good part....we see Lee Jong Suk with suit........