In this part I will present some wonderful Korean actresses and will add two new segments; A reader's comment and actress pick; chosen randomly.
---
 Uhm Jung Hwa (45)
I have only watched two works by this Korean icon and realized that if I don't watch more, I'll be the one losing.
I only watched her in Witch's Romance and Five Senses of Eros and the two are not considered to be of her top works, but I liked her so much in the first, I set my mind to stalk her one day. Uhm Jung Hwa was so good, so funny and so charismatic, I was bewitched. I'm sure her fans have more to say about that.
You know she's a singer as well, right?! This is one performance of her most famous and controversial song, and my favourite; Invitation
---
Kim Sung Ryung (48)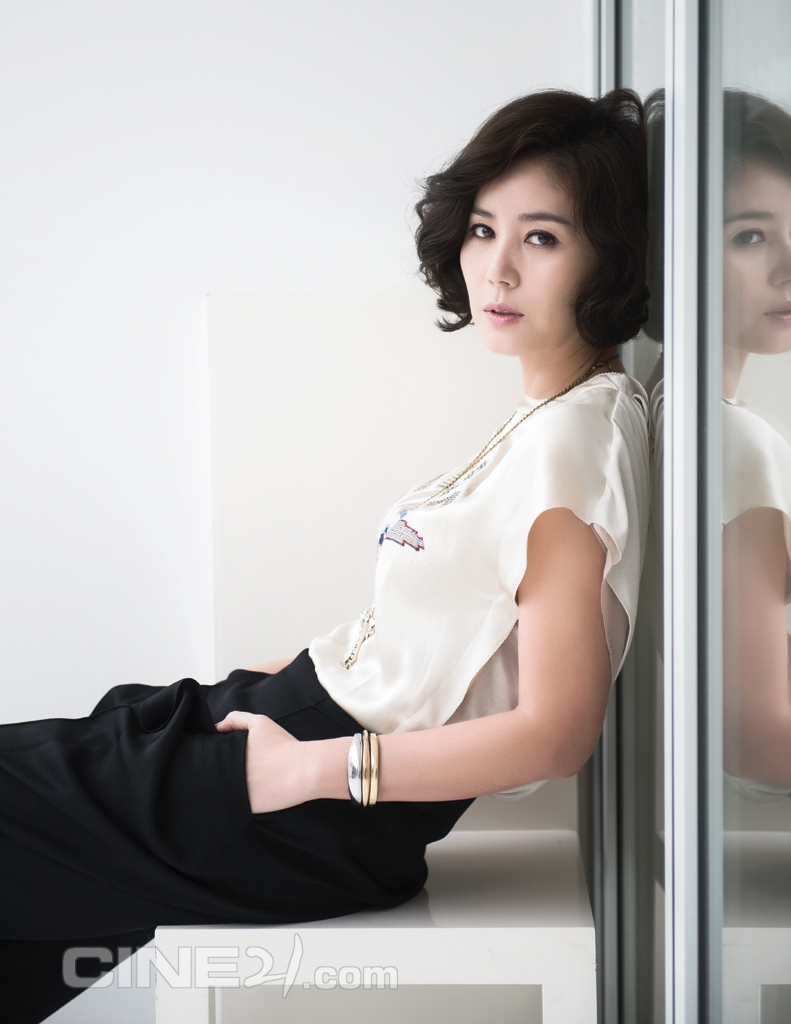 This beautiful beautiful woman who won the Korean pageant always impresses me as an actress. I always smile whenever I watch her. She's so lovely and so good.
My introduction to her was so memorable. It was in You're Beautiful and oh how I hated her. But she was so good at being so evil. Then I watched The Heirs, and to think it was there that I fell for her. I started to think of the drama as less waste of time. She was so adorable in it, so pitiful and so depressing. I hated everyone who gave her a hard time.
Her character in Queen of Ambition was hard to fathom. I couldn't like her or justify with her actions, but I did sympathize with her a lot. And poor her, she lost everything in the end; everyone in the drama did anyway. That was her best role for me so far.
In Ja Myung Go and Ijimae she played similar roles with different settings and circumstances. She acted the beautiful and miserable wife. In the first she shone with all the splendid dresses and jewellery and broke my heart. And in the second she just broke my heart.
In Codename: Jackal she was just so adorable; well, for me!! And I loved her role as the rich woman in an affair with a younger man. Especially if the younger man is Jae Joong. Though her role in 71: Into the Fire was small, she made me cry. Poor T.O.P oppa!!
So what I'm saying is that I love this lady so much and she's so beautiful and a really good actress. People don't you see that?!!!! *fan mode*
---
Oh Yun Soo (43)
I still need to get to know this goddess more. I know and I'm feeling guilty already.
So I fell for her in A Bittersweet Life. Now, that was one helluva epic performance. Oh god the conflict she was in and dragged us into. Those complicated feelings and that inner struggle became so real whenever she was on screen. No matter what your principles or ethics are, you'll find yourself sympathizing with her, because she brought her pain to life. And because she was so good as being miserable. That drama left me staring at the screen; she was the main reason.
In Triangle, she didn't give a strong performance. Her character didn't help her, but I liked her anyway. Many of her works are on my list. One day! One day!
---
Kim Mi Kyung (51)
Here comes my favorite ahjumma. How can someone be this awesome and act so frequently?! You know like, I know some actors always acting the same role everywhere, even if they have different roles. Only K-drama fans would understand this contradiction.  But Kim Mi Kyung is one of the few who gives a distinguished performance every time. Shall I start from her latest and mind blowing Healer role??
God damit! Well, the whole drama was a complete hit, but it wouldn't have been the same if Kim Mi Kyung didn't play Jo Min Ja. I don't think two people would disagree on that. As the hacker who quit life and its complications and worked in some hidden office, KMK presented a perfect character in every aspect; fun, genius and humanity. I loved her with every cell of my existence. God bless her soul.
I'm going backwards now. In Plus Nine Boys, she acted one hilarious mother believing in superstitions and bugging her children and brother to carry talismans all the time. She was the funniest of all.
She played a darker role in It's Okay, That's Love and she made me cry. I couldn't blame her at all. On the contrary, I only disliked Hae Soo when she heavily misunderstood her mom.
Her role in Big Man was small; again a hilarious mom. I loved her scenes in the dark drama.
She was one exception in The Heirs; adult actors were. And she really did well as a mute mother. I cried because of her, again.
She was the best thing about The Master's Sun. How I laughed at her scenes with Joo Joong Won! I laughed more in 7th Grade Civil Servant. There she and Lee Han Wi presented the most adorable and amusing parents EVER.
Missing You was her second most unforgettable role, for me. Though, I disagreed with her methods to avenge her cause. I could not, for one second, blame her. I supported her and I cried with her. She brought the role to life.
In Faith, Baby-Faced Beauty, Sungkyunkwan Scandal, A Man's Story, she played darker and more serious roles. In each of them she gave a superb performance, but I want to emphasize the latter. Her detective role in the hit A Man's Story will always stick in mind. They should teach her performance there for acting students; if they don't already.
Kim Mi Kyung has been in so many dramas and films I can't mention all. But I guarantee one thing. In those I haven't watched and might never watch, I'm sure she'll just shine.
---
Chohwa's Special Actress:

In every part I'll mention one of my special actresses over 40; an actress that might not always amaze, but one I enjoy watching so much. We all have those actresses, don't we?!
Lee Ah Hyun (43)
I love this lady. She's adorable, beautiful and fun. Though her roles, especially when she was younger, were similar, she always made me laugh. Lately, they've been giving her mother roles and stuff and I'm knitting my eyebrows at the thought, but I still like her anyway. 
I fell for her in My Name is Kim Sam Soon where she presented one funny couple with Kwon Hae Hyo. I laughed my heart out at each scene they were in. In Mary Stayed Out All Night, she performed a similar character but as a mother. She was annoying at times and adorable at others. The adorable one won over the annoying. I am biased!
Golden Cross was too dark and that was the same for her role but I liked it. I didn't like HER acting dark, but she did a good job at it. Tomorrow's Cantabile's role was a letdown for me. First, she is not that old as to play Joo Won's mother people!!! Can't help but remember Lee Il Hwa. Second, there was nothing about the role; NOTHING. I didn't even laugh because of her. IMAGINE!! 
In South of the Border and The Windmill Palm Groove, her roles were small and there were nothing to them. I wish one of her roles on my list is a really strong and memorable one so I can fangirl all I want.
---
Now to the new segments where your comments count.
A Reader's Comment:
Orion:
''Sadly, ageism and sexism are not imaginary concepts in entertainment and the South Korean one is no different. It is much harder to find prominent ladies over a certain age. They are there, but they are usually not given the exposure and strong roles they could carry, so they kind of fade in the attention of audiences. 
Thank you for bringing some attention to them, because they are awesome and deserve much better for their talent than what they are getting. The industries would be poorer without them.''
---
A Reader's Actree Pick:
Junebee:
''I really like Choi Ji Woo and in two more days, she'll qualify for your list!''
I was planning to cover Choi Ji Woo anyway. She comes earlier for you Junebee.
Choi Ji Woo (40)

The famous actress has only turned 40 this month and she's qualified in our series now. Yaaaay. 
Choi Ji Woo is one actress I feel great reverence for. She starred in my second and third dramas ever and therefore she's on the pedestal of my first actors. 
I watched her in the ever-popular Winter Sonata with Bae Young Jun. She presented a mindblowing and heartbreaking performance as the woman who lost her boyfriend and found him years after, but with amnesia. And you'd wish that was the end of it. Looking back at it, WS had so many depressing subplots. I remember crying my heart out then. She was impressive.
Then a year afterwards, she switched roles and was the one with amnesia in the other hit Stairway to Heaven. Now this one had even more depressing subplots. I would never recommend it to anyone because it'd be like giving them a suicidal weapon. CJW was really splendid and heartbreaking, co-starring with the one and only Kwon Sang Woo. I fell sick after finishing the drama; literally.
In The Suspicious Housekeeper, she took up a total different role. She played Park Bok Nyeo; a suspicious, cold and mysterious housekeeper. Though the drama was lacking in some aspects, CJW did an admirable job. I was surprised. 
Temptation, mmmmm. That drama with amazing acting, flawed writing and an annoying annoying second lead. CJW did a good job but didn't impress. There was something about her that was, rather mechanical. Botox maybe!!! (my drama eonni's idea). I didn't love her there, not my oh-my-god-this-girl-is-a-role-model-i-must-meet-her-someday kind of love. 
In 8 Love Stories, her character was cool; nothing special. But in Everybody Has Secrets she swept me off my feet with a hilarious performance of one nerd falling in love with a playboy. You should watch that film if even for her.
P.S The playboy is Lee Byung Hun!
All her other works are on my list and I can't wait to feel impressed. 
Junebee, what are your best performances of her??
---
Please mention your favorite Korean actresses over 40 because I might forget some. And I'm eager to know who your special actresses would be.
Tune in for part 3 ^^
---