Name: Kim Min Hee
Native name: 김민희
Also Known as: Kim Min Hui
Nationality: South Korean
Gender: Female
Born: March 1, 1982
Age: 37
Kim Min Hee began modelling when she was in middle school and soon appeared as a cover girl in teen magazines. Thanks to her unique facial features and slender figure, in 1999 she was cast in the campus drama School 2 as a rebellious high school girl, which launched her to stardom. She became a popular young star at barely 20 years old, appearing on TV dramas and movies. However, a string of poor acting performances brought her negative criticism. Critics and viewers disparagingly called her an "attractive but blank actress". more famous for being a fashion icon and actor Lee Jung Jae's then-girlfriend
Her succeeding movie roles helped solidify her career reinvention. 2008's Hellcats (also known as its Korean title I Like It Hot or Some Like It Hot) is a light-hearted comedy that explores the lives and loves of three women at different stages of womanhood. Kim played a twenty-something aspiring screenwriter agonizing over her insecure career and shaky romance with a deadbeat musician boyfriend, and reviews praised her "compelling performance". She later won Best Actress at the Baeksang Arts Awards and the Busan Film Critics Awards.
After her contract with Lee Byung Hun's agency BH Entertainment ended in late 2012, Kim signed with Management Soop, which also handles the career of her friend Gong Hyo Jin.
In 2013, Kim again earned raves for her performance in Very Ordinary Couple (also known as Temperature of Love or Degree of Love). Unlike the typical romantic comedy, the relationship drama tells a more realistic story of an on-and-off couple of three years. During her acceptance speech as Best Actress at the Baeksang Arts Awards, Kim thanked her costar Lee Min Ki and director Roh Deok, who "helped shape (her) character Young on the screen.
(Source: Wikipedia)
Drama
Title
Rating
Love Marriage

Korean Drama,

2008

, 16 eps

Lee Kang Hyun

(Main Role)

6.9

Goodbye, Solo

Korean Drama,

2006

, 16 eps

7.0

She is Nineteen

Korean Drama,

2004

, 16 eps

6.9

Age of Innocence

Korean Drama,

2002

, 16 eps

6.1

Juliet's Man

Korean Drama,

2000

, 17 eps

6.4

Look Back in Anger

Korean Drama,

2000

, 16 eps

Lee Hye Jung

(Support Role)

0.0

School 2

Korean Drama,

1999

, 42 eps

7.5
Movie
Title
Rating
Hotel By The River

6.9

Grass

7.4

The Day After

6.6

Claire's Camera

6.0

On the Beach at Night Alone

6.7

The Handmaiden

8.6

Right Now, Wrong Then

Yoon Hee Jeong

(Main Role)

6.6

No Tears for the Dead

7.6

Very Ordinary Couple

7.3

Behind the Camera

5.6

Helpless

Kang Sun Young

(Main Role)

7.5

Moby Dick

Sung Hyo Kwan

(Main Role)

7.3

Actresses

7.4

Hellcats

6.4

Surprise Party

Hwang Mi Ryeong

(Main Role)

6.7

Asako in Ruby Shoes

6.7
Special
Articles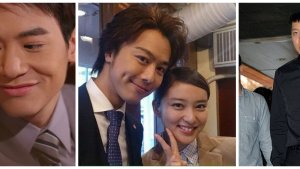 Editorials

- Dec 29, 2017
What are the most surprising, exciting and shocking moments of the past year in the world of Asian dramas? Happy Holidays and let's check out the 2017 wrap up!