If you're still experiencing technical difficulties, please report it
here
.
Name: Han Chae Ah
Native name: 한채아
Nationality: South Korean
Gender: Female
Born: March 24, 1984
Age: 33
Han Chae Ah is a Korean actress who was born on March 21st, 1984 in South Korea. She first began acting in 2006, when she appeared in a music video for a Son Ho Young song. Then, in 2007, she was awarded a spot on the variety show called Fantasy Couple. The show was very popular with fans, and she continued to appear on it regularly until 2010.
During her time on Fantasy Couple, she also acted in several other television shows. Her first television drama was in 2008, and was called Kokkiri. The same year, she appeared in a second music video, this time for a song by Ryu Shi Won. In 2009, she appeared on the television show Style. The following year, she appeared on another show, called Definitely Neighbors, and I Believe in Love in 2011.
However, it was not until 2012 that her career in acting really took off. She acted in her first movie, called The King of XXX-Kissing. She also acted in three different television series. Her role in the series Hero was highly praised. Another 2012 show, Bridal Mask, was a big hit with fans, and made her a true star. Her newest show, Oohlala Spouses,/ has already gained a large fan following.
~dramafever.com
Drama
Title
Rating
Introverted Boss

Korean Drama,

2017

, 16 eps

Chae Ji Hye [Ro Woon's older sister]

(Support Role)

7.9

The Merchant: Gaekju 2015

Korean Drama,

2015

, 41 eps

6.8

You Are The Only One

Korean Drama,

2014

, 120 eps

7.2

Marry Him If You Dare

Korean Drama,

2013

, 16 eps

Seo Yoo-Kyung

(Main Role)

6.6

All About My Romance

Korean Drama,

2013

, 16 eps

7.6

Ohlala Couple

Korean Drama,

2012

, 18 eps

6.6

The Bridal Mask

Korean Drama,

2012

, 28 eps

Ueno Rie / RaRa / Chae Hong Joo

(Main Role)

8.7

Hero

Korean Drama,

2012

, 9 eps

7.4

I Believe in Love

Korean Drama,

2011

, 62 eps

Kim Myung Hee

(Support Role)

7.4

Definitely Neighbors

Korean Drama,

2010

, 65 eps

Yun Ha Young

(Support Role)

6.2

Style

Korean Drama,

2009

, 16 eps

Cha Ji Seon

(Support Role)

5.9

Kokkiri

Korean Drama,

2008

, 124 eps

Gook Chae Ah

(Support Role)

8.5
Movie
TV Show
Title
Rating
Knowing Bros

Korean TV Show,

2015

, 102 eps

9.2
Articles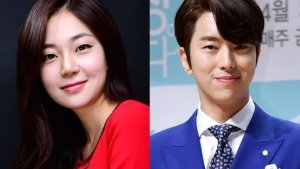 Choi Ji Woo and Choi Won Young in a romantic comedy. Cha Hwa Yun is a mom seeking revenge on her children. Yoon Hyun Min takes his first lead male role and so much more!