Name: Yuen Biao
Native name: 元彪
Given name: Hsia Ling-Jun Ling-Jun
Also Known as: Yuen Biao;Yuen Piu;夏令震;Yuen Biu;Bill Yuen;Jimmy Yuen;Xia Ling Zhen;Yuan Biao
Nationality: Hong Konger
Gender: Male
Born: July 26, 1957
Age: 62
Yuen Biu is regarded as one of the most acrobatic martial artists ever. Unfortunately, he is still underrated and not as popular as other contemporaries such as Jackie Chan, Sammo Hung Kam Bo, and Jet Li even though he is the most critically acclaimed out of all of them and the most talented as well. And now he is receiving a cult following due to word of mouth. Born of his parents Ha Kwong Tai (father) and Ha Sau Ying. Yuen Biu was first enrolled in the China Drama Academy at the age of 5 (he was the youngest there). He met Sammo Hung Kam Bo and Jackie Chan while attending the Academy. Jackie Chan took him under his wing, and they became lifelong friends. Yuen Biu stayed at the Academy until the age of 16 where he moved with Master Jim Yuen to America. However, two years later he came back, citing there were no opportunities for Chinese martial artists to star in American films. After being in some bit part roles in films such as Stoner (1974) (aka Stoner), Shao Lin men (1976) (aka Hand of Death), he didn't receive his first major breakthrough role until Sammo Hung Kam Bo cast him in Za jia xiao zi (1979) (aka Knockabout). However, his first role which gave him full exposure and established his status as a A-list star was The Prodigal Son (1981) (aka The Prodigal Son), which also starred and was directed by Sammo Hung Kam Bo. After that, 'Jackie Chan' cast him in the classic Project A (1983) (aka Project A). After starring in some other films with Sammo Hung Kam Bo and/or Jackie Chan, he decided to go his own way and to forge his own career to get out of the shadows of Jackie Chan and Sammo Hung Kam Bo.
He met his future wife DiDi Phang Sau Ha in 1984 while working as a stunt coordinator on the film DiDi Phang was working on: Tai fong siu sau (1982) (aka Carry On Pickpocket). They have two children. His daughter Yi Bui was born in 1986 and his son Ming Tsak in 1988.
The film Mong ming yuen yeung (1988) (aka On The Run) confirmed his abilities as a brilliant actor as his portrayal as a married man seeking vengeance for his wife's brutal murder was critically acclaimed. The following year he starred in probably his best film, Ji dong ji xia (1989) (aka The Iceman Cometh), in which he starred with acclaimed actress Maggie Cheung. The film is regarded as a cult classic and is remembered not only for the fantastic fighting scenes and hilarious comedy, but also the wonderful acting of Biu Yuen and Maggie Cheung and the wonderful simmering sexual chemistry between them. After starring in the acclaimed Once Upon a Time in China (1991) (aka Once Upon a Time in China, in which most of his scenes were cut), he directed his first movie (Xi Zang xiao zi (1992). aka A Kid From Tibet), in which he also starred. In 1994, he worked for the first time in years, with Sammo Hung Kam Bo in the gloriously titled Mou mian bei (1995) (aka Don't Give a Damn). In recent years, Yuen Biu has complained of poor scripts, so he appears in films sparsely nowadays. He also has a second home in Canada where he spends most of time pursuing his hobby of golf.
Articles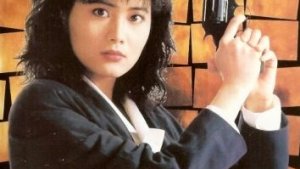 Editorials

- Mar 28, 2019
Ebisuno92's retrospective look at Hong Kong's "Girls with Guns" phenomenon. The article outlines the genre's history, its most prominent actresses, and the most interesting movies.