If you're still experiencing technical difficulties, please report it
here
.
Name: Chen Ella
Native name: 陳嘉樺
Given name: Chen Chia Hua
Also Known as: Chen Jia Hua; Ah Hua; Chen Ai La; Jia Hua; Mao Mao; Han Bao; Bao Bei; Ah Fa Fa; 陈嘉桦;
Nationality: Taiwanese
Gender: Female
Born: June 18, 1981
Age: 36
Ella was born in June 1981, making her the oldest member of the Chinese pop group S.H.E In 2007, she was voted by online fans as Taiwan's most unpretentious artist. The name Ella was chosen by her record company following a personality test of the singer.
In 2002, Ella started to participate in the acting industry, starting with the drama Magical Love. She showed that she can not only sing, but she can even act as well. In 2003, Ella was chosen as the female lead character in The Rose. Her band mates, Selina Ren and Hebe Tian were also involved in the drama as supporting characters. After a successful year of releasing albums and concerts all over the country, S.H.E rose up again with the drama Reaching for the Stars. All three of the band members were the three main female characters.
Drama
Title
Rating
The Lying Game

Taiwanese Drama,

2014

, 13 eps

6.0

Down With Love

Taiwanese Drama,

2010

, 16 eps

7.6

Lollipop Idol Drama - SHE

Taiwanese Special,

2007

, 1 eps

Ella / Chen Jia Hua

(Main Role)

6.1

Hana Kimi

Taiwanese Drama,

2006

, 15 eps

7.4

Reaching for the Stars

Taiwanese Drama,

2005

, 22 eps

6.5

The Rose

Taiwanese Drama,

2003

, 26 eps

7.1

Magical Love

Taiwanese Drama,

2002

, 20 eps

6.9
Movie
Articles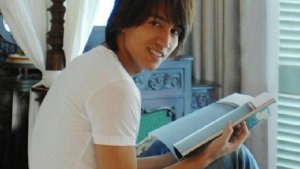 He is definitely more than Meteor Garden's Dao Ming Si. Get to know one of Taiwan's finest actors more in this Stalker's Guide!