Let's Eat
16 people found this review helpful
This drama was the biggest surprise for me as far as i am here, in dramaland. Surprise, in a very good way. :)
When i first saw the promos, read the title and the plot, i was like "Hm, okay, another drama about a restaurant/cooking/food…" Not my favourite theme (actually one of the last i like to watch), so it didn't moved me at all.
And one day, when i was out of new episodes,and this drama was in its middle, i decided to give it a try… and I didn't regret my choice at all.
1)... STORY ................................
This drama is fresh and crunchy like a really good salad. :)
If you (like me) expect a quite boring story with a lot of delicious food - you are half right. Because THERE ARE a lot of delicious food. :D
But the story was not boring for me at all. It was probably thanks to the kind of mysterious crime-plot, because the producers made it very interesting and it keeps your curiosity from episode to episode.
Okay, now let's talk about the eating scenes, because OH HOLY GOD OF ALL DIETS… these are perfect crimes.
Are you not hungry when you start to watch it? You will.
Are not there any food near to you while watching it? There will be.
Are you not the truly fan od korean dishes now? You will.
Be prepared, i awared you. :)
The only "bad point" for this drama (from me) is the "almost nothing" romance, which is evolving really slowly and when it's finally bloomed it is nothing special. In my opinion they didn't made the best of the couple(s). Also i couldn't feel too much chemistry between the leads.
2)... ACTING/CAST ................................
To be honest, there are a lot of new faces, whom i've never seen acting before. For example the four leads, so i didn't expect anything special, but i have to say that, i am quite amazed.
The main leads did a very good job, and played their character really well, especially the male ones.
I see a lot of potential at Yoon Doo Joon's acting skills, but favourite was Shim Hyung Tak (as Attorney Kim), he and his character made laughing and sad through the drama, and the progress of his character was noticeable and well acted.
There was something loveable in every character, so everybody find their favourite.
3)... MUSIC ........................................
Nothing memorable, but the music during the eating scenes can't be better. :)
4)... REWATCH ........................................
I am not the type of rewatcher, so probably i won't, but i will show some FOODPORN scenes to my friends from it.
5)... OVERALL .......................................
All in all, okay, this drama probably isn't a masterpiece, and it hasn't got really deep message, or something.
BUT, if you like the delightful ones, or just need some enjoyable, funny and delicious moments with a little of romantic seasoning, this drama is definitely for you and YOU WILL EAT IT WELL! :)
Was this review helpful to you?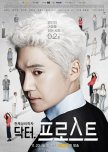 I think OCN does a pretty good job nowadays with their original dramas. They are original indeed, and quite delightful to watch if you got a little bit sick of other networks romcom/melodrama-flood and want to try something different. Dr. Frost is just like that.
... STORY ....................................................................................
The story has a nice flow, and it was enough for 10 episodes. Not too slow, not too fast, just enough.
I liked the beginning better, with the new episode - new case scheme, maybe because when they starting to turn into the "main" storyline, it became obvious to me soon who is the culprit, and i lost the greater part of my interest. The only question which made me get through 'til the end is the "Why?" but the answer was pretty good and entertaining, so i wasn't dissapointed at all.
I enjoyed the psychological cases, found the episodes really informative, and i wished they put some more of the unique cases into the last few episodes instead of stucking only with the main plot.
I won't lie, i did expect a bit of romance between the leads in the beginning, but somehow during the episodes i accepted that, romance just not fit in there and didn't even miss it anyomore.
... ACTING/CAST .........................................................................
Almost everybody in the main cast was a new face to me, new imression.
I liked Song Chang Eui as Frost, he did a good job with his so-no-emotion character, but i can't say that his acting was extraordinary. Sometimes he just can't convince me about Frost's coldness and emotionless.
Besides, the main actress, Jung Eun Chae was one of my favourites, i will definitely look forward for her next works, because she and her skills were really enjoyable to watching.
I also really liked Choi Jung Woo (our favourite Secretary Kim from Masters Sun :D), and Sung Ji Ru as Detective Nam, they are never dissapointing me with their acting.
... MUSIC ....................................................................................
Nothing really memorable. I liked the title melody, tho, it suits well for the drama.
... OVERALL ................................................................................
Don't expect too much from this drama, and you won't be dissapointed. Dr Frost is a nice drama for those rainy sunday afternoons, when you just want to chillin' a little bit with a nice tea. Nothing too exciting, nothing sappy from romance (nothing at all, really), but really informative and well-done, with nice and loveable cast.
Was this review helpful to you?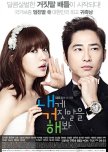 Huh, finally i finished this drama, it was a (quite) long journey with lot of breaks, but i finished the last few epidsode today.
...THE STORY.......
I think the main problem with this drama is that, it's too long.
10 episode will be more than enough for the story line, but with this 16 episode it became more and more tiresome beacuse of the (unrealistic) problems and the "i love you, you love me, but we can't be together" repeating. (Just like in the Heirs.)
In the beginning it seems very promising, i enjoyed the funny situations and misunderstandings caused by the fake marriage, it was fresh and quite interesting but (about) from the middle of the drama it started changing, the (waaay to much) tears and suffering started dominated the story, and it's okay and understandable for a couple of times, (love is complicated, or what) but when i saw the main leads (especially the female ones) crying the third and fourth times in an episode for just almost nothing - well, it just killed the show for me.
...CHARACTERS and ACTING.......
It was problably because of the character of Ah Jung, whom i can't understand, she also can act really stubborn (on a positive way) and confident in situations, which was quite likable, but sometimes (mainly in the end) she was just the opposite and act weakly, or just walk away while crying. Also, she was on my nerves, because she never talked about her problems with the man she loves (and whom can maybe solve the problem, or at least cheer her up) no, she just usually said "It's nothing" and was suffering alone with a smile on her face.)
I also wasn't keen of the male lead, Ki Joon, but it wasn't beacuse of the character but the acting. That was the first time i saw Kang Ji Hwan playing a role, and (sorry for the big fans, but) i found his acting unnatural and overact. He's handsome, no doubt, but his acting skills didn't convincing me. (Maybe he improved since this drama, and get better.)
The most likable characters were supporting ones, Manager Park and the assistant guy of Ki Joon, they were always themselves, and almost every words of them were pure gold (especially Manager Park). And of course it also thanks to the good acting, both Park Ji Yoon and Kwon Yool performed their characters really well, it was delightful watching them.
...THE ENDING.......
The couple of last episode was just an overwrought suffering with too much tears and unnecessary situations (with newspaper articles and what's people thinking), so mostly didn't happened anything significant.
Maybe, the very last episode was some kind of returning to the starter mood of the drama, it was quite lovely and i think it was a worthy ending to this drama, but the way while we get to this end, it was a little bit too long-drawn.
Was this review helpful to you?